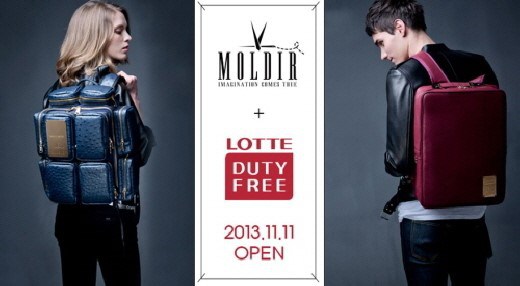 'Moldir', which became a hot topic for having products designed by Hallyu star Kim Jaejoong, has already sold 30,000 products in four months and is now confirmed to open a store at the Lotte Duty Free Shopping Centre.
Loved by many trendsetting celebrities, Moldir is a Korean brand that makes handmade leather bags and has become a hot topic for featuring designs by JYJ's Kim Jaejoong.
A representative of Moldir Korea announced, "Moldir will begin selling its products at the Lotte Duty Free Shopping Centre from today.The confirmation has come after a strict evaluation of the brand's high quality and sophisticated design, and the brand will now stand toe to toe with foreign designer brands."
The representative continued to state, "We believe our entry into Lotte Duty Free was possible because word-of-mouth spread that Kim Jaejoong, a well-known trendsetter, was contributing designs to the brand, and because consumers keep coming back to our brand for our high-quality products. We would like people to know just how great Korean products are, and that they are just as good as foreigner designer brands."
It's rare for such a small-scale domestic brand to enter a duty-free shopping centre, and the move has drawn the attention of the industry. To commemorate their entry into Lotte Duty Free, Moldir will be participating in active marketing strategies, which includes giving out free key rings to all consumers till they run out.
Source: [mt news]
Translated & Shared by: dongbangdata.net
JYJ Fantalk Source: dongbangdata.net
Share This