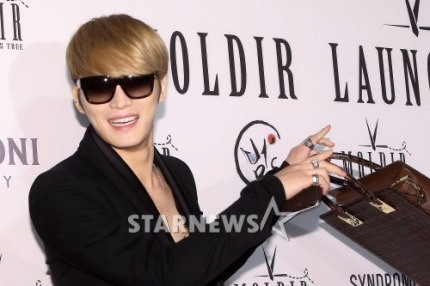 JYJ's Kim Jaejoong has expanded his resume and become an art director.
Kim Jaejoong, who is currently active as a solo singer and a member of JYJ, drew the attention of many when he attended the launching party of Moldir on the 24th as the brand's art director. He has participated in designing the brand's bags.
Proving his power as part of a group and as a solo singer, the star has also made his mark in the drama industry through productions like 'Dr. Jin' and 'Protect the Boss'. With a new job of acting as the designer of Moldir's bags, Kim Jaejoong has proven that he is a multi-talented star. He has become a visionary model for other idol stars.
Since releasing his solo album, Kim Jaejoong has greeted a total of 100,000 fans in the Japanese leg of his Asia tour, which took him to Yokohama, Osaka and Nagoya.
Every performance was sold out, even with the addition of seats with a limited view. The thing that stood out most was the singer's transformation into a rock star. By taking on rock music, he has expanded his talents from ballads and dance music.
With never-ending success as a singer under his belt, he has been able to juggle both his singing and acting career at the same time.
A representative of C-JeS Entertainment stated, "Kim Jaejoong is an art director who has great taste, and is able to catch trends and marketing techniques. The launching party of Moldir was attended by various trendsetters, singers, fashion designers, models and actors, proving just how well-liked the star is amongst other celebrities," and "Kim Jaejoong has showcased a variety of talents as a singer, actor, director and designer." The representative continued to add, "Kim Jaejoong will continue to showcase his talents in a variety of fields in the future."
Meanwhile, Kim Jaejoong has been flooded with celebratory messages on his various SNS accounts as he celebrates his 29th birthday on the 26th.
Source: [mt starnews]
Translated & Shared by: dongbangdata.net
JYJ Fantalk Source: dongbangdata.net
Share This