Tracking Isaac: The Latest On The Storm's Path
By The Associated Press | Associated Press – 1 hr 24 mins ago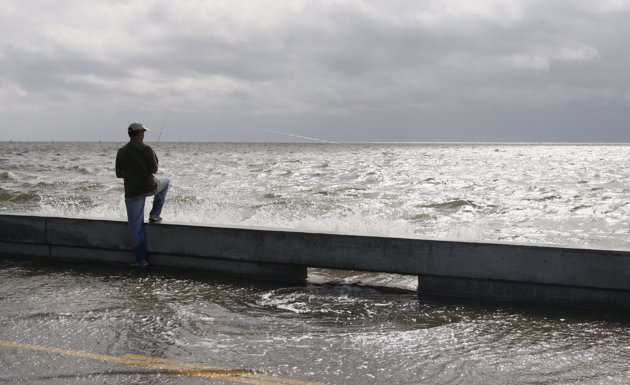 Hurricane Isaac is expected to hit over southeastern Louisiana, possibly the New Orleans area, sometime Tuesday night or early Wednesday and is gaining steam with sustained winds swirling at 75 mph.
The center of the storm that was about 75 miles from the mouth of Mississippi River at midday. Landfall would come during the seventh anniversary Hurricane Katrina that devastated the area. Isaac is expected to maintain hurricane strength, making it the first to hit the Gulf Coast since Ike in 2008.
WHERE AND HOW STRONG?
As of Tuesday morning, the U.S. National Hurricane Center predicted Isaac would maintain at least Category 1 strength. Winds would be at least 75 mph and can be as high as 95 mph.
Southeastern Louisiana is in its crosshairs, but the track could still veer farther west, or to the east in Mississippi. Regardless of where it hits, Isaac's reach is large and it will dump heavy rain as far east as Florida.
DAMAGE
While people across the coast were boarding up their homes to prepare for damaging winds, the even bigger fear is potential flooding. Isaac could push storm surge as high as 12 feet into parts of Louisiana and Mississippi, and 1 to 3 feet high as far away as Florida's west coast.
Around New Orleans, residents hunkered down behind levees fortified after Katrina.
Isaac already left a trail of destruction in the Caribbean, most of it blamed on flooding that killed 24 people.
REPUBLICAN NATIONAL CONVENTION
Isaac veered well west of the Republican National Convention site in Tampa, but it was soggy over the weekend in the bayside city. The GOP pushed back the start of speeches a day to Tuesday and protesters' ranks have been small, in part because of the soaking brought on by Isaac and in part because of the huge police presence in the city.
The coming storm has also altered some Republican governors' plans to attend. Florida Gov. Rick Scott canceled a speaking engagement, and Louisiana Gov. Bobby Jindal and Alabama Gov. Robert Bentley canceled their trips to Tampa.
EVACUATIONS
Officials in Louisiana's St. Charles Parish near New Orleans and Terrebonne Parish that includes Houma closer to the Gulf have told about 73,000 residents total to leave ahead of the storm. Some coastal residents in Alabama have also been told to evacuate. However, officials haven't ordered the kind of evacuations that have in the past clogged interstates, with both sides of the highway heading one direction. In New Orleans, Mayor Mitch Landrieu said evacuations would not be ordered and told residents to prepare carefully and ride it out.
Momma's Source: yahoonews
Share This