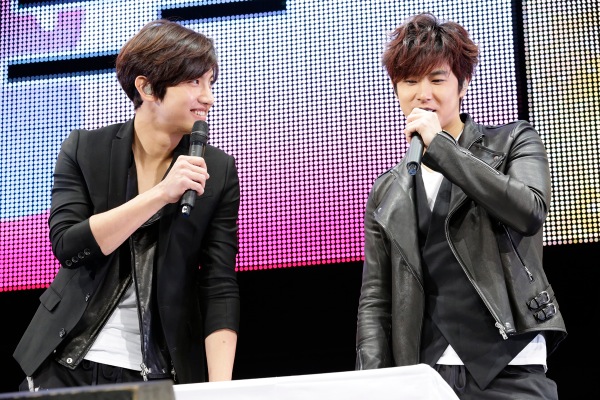 The popular unit Tohoshinki started their fan club event "THE MISSION ll" on November 23rd in the Saitama Super Arena, which brought in 100 thousands people(2 locations, 8times).
The venue filled with 18 thousand fans, with the call of "Tohoshinki" the two came out on a segway from the back of the fans, and challenged many "Missions". Just like last year they borrowed fans items and had a coordinate fight, which the theme was "make the room Christmas(ish)". They coordinated by using aroma candles and wine, coordinating the room set. After finishing their coordination, Yunho's theme was "a house date with the person I like" and Changmin "a shut-in's fire works" (shut in refers to people who don't like to go outside/withdrawal from the society). After lighting the borrowed candle, Changmin was for sure of his victory but dropped his shoulders when Yunho won.
Also, they played games such as pick the number 1 of the survey fans took beforehand, put in order of items by price and others. Even though they were supposed to play together, Yunho who leaded on by himself, Changmin gave a bitter smile saying "my thoughts, aren't even any % in". Even with that complaint, it didn't affect Yunho at all. The venue was filled with laughter because of the two.
In the solo corner, they revealed a "specialty they have confidence in". Changmin played ping pong with a fan who won out of 4500 people.Changmin, who seemed to not know about it, seemed a bit unconfident. Even after scoring a smash, he lost. Yunho complimented, "it was a good game. It seems like Changmin's abilities came back". Changmin who couldn't hide his mortification told him "Saying so bossy as if your a ping pong god" and brought laughter. On the other hand, Yunho showed his cooking skills again. Yunho who seemed high spirited commented "I will show a leveled up Yunho chef!", and showed a "Yunhoghetti" (yunho+spaghetti) which was "fluffly egg and cod roe spaghetti" and appealed his skills. How he handled the cut vegetables (how he cleaned it / cooked it) brought a stir from the audience, but confidently said "(don't worry) since I'm Yunho chef!". After Changmin who tried it commented "its good, but whats the meaning of putting spaghetti inside the egg? Since you eat it separately anyway…." and made the venue hotter.
In the second half live, they sang 6 songs including "SCREAM". Yunho "Its a Christmas present from Tohoshinki", and sang his solo song "繋がれた舟" (A boat tied to a pier) and "Gold Dust" by Changmin, they had prepared for this event, Changmin even showing his guitar skills. Also they revealed for the first time their new song that's going to be released on the 27th of this month "Very Merry Christmas", "White", and music video. At the end Changmin started "We have a important notice", Yunho "We will start a live tour from next April!" it's exciting" and when it got announced the theme colored light stick all turned red, bringing joy to the audience.
Tohoshinki will start their tour including the dome's from next April (11 locations 26 concerts).
source: ticket-news
tranlated by: trans by: rieko@sharingyoochun
JYJ Fantalk Source: sharingyoochun.net
Share This