[News] 110624 2PM, TVXQ, Kim Hyun Joong, and Super Junior get together for UAM Grand Opening
This conglomerate has an agenda. Hwaiting for JYJ and HoMin. Momma Cha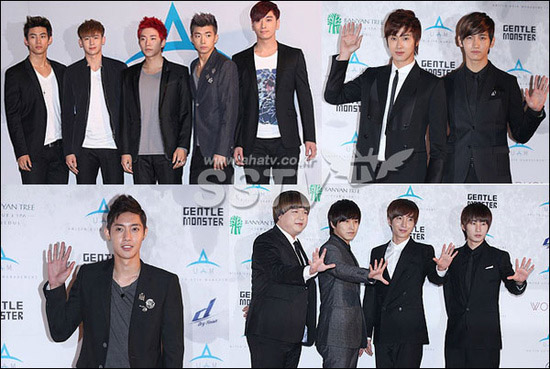 Top male idol groups, TVXQ, 2PM, Super Junior, along with SS501's Kim Hyun Joong and many others came together to attend a launching event.
On a rainy afternoon on June 24th at 'Banyan Tree Club and Spa' in Seoul, these top artists gathered for the 'UAM (United Asia Management) Launching Party'.
UAM is a newly formed collaboration management agency of the top Asian entertainment companies, composed of KeyEast, AMENT, StarJ Entertainment, SM Entertainment, YG Entertainment, and JYP Entertainment.
Reaching further than the Hallyu movement, UAM was founded together by the 6 agencies, setting base on Asia as a whole. UAM plans to set their core focuses on online mediums, managing networking, and promoting through movies, dramas, and video footage production, as well as acting as a global agency for the artists in all 6 companies.
On this day, UAM is starting things off with a bright beginning as JYP, Soo Ae, Kim Hyun Joong, Kim Soo Hyun, TVXQ, Super Junior, 2PM, Lee Yeon Hee, Go Ara, Miss A, Yoo In Na, along with other artists, actor/actresses, directors, staff, and producers affiliated with UAM and its related companies appeared at the event.
Source + Photo: ahaTV
Credit: allkpop
Momma's Source: sharingyoochun.net
Share this: