[TRANS] 111210 TVXQ Blitzes Into Taiwan, Indomitable Charm Cripples Songshan Airport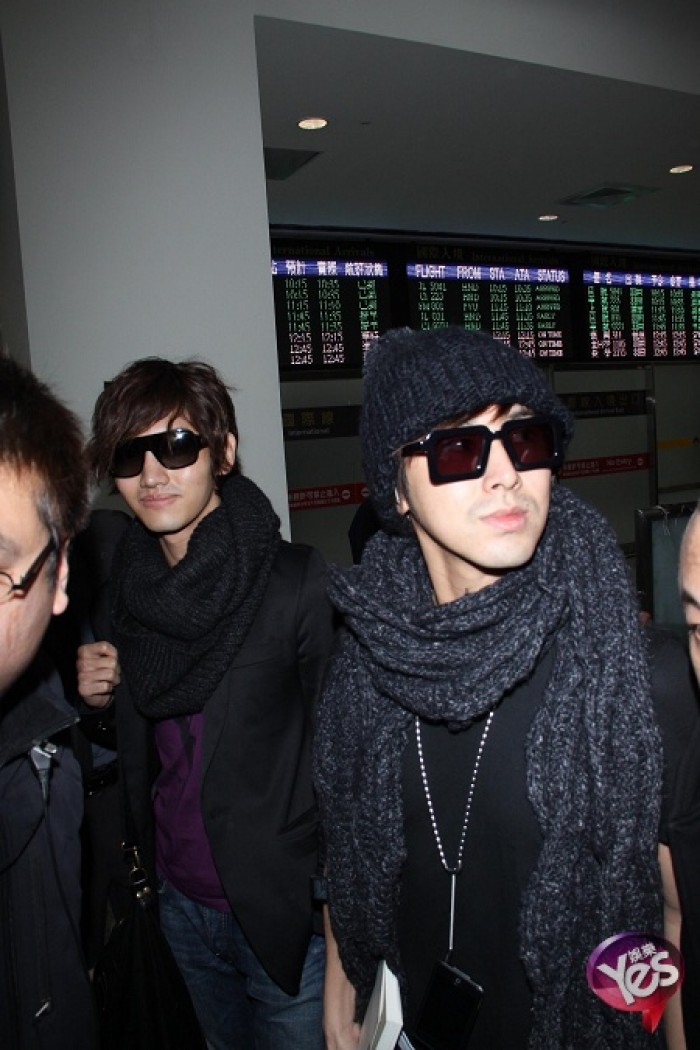 TVXQ's Yunho and Changmin arrived at Songshan Airport today at 11.15am, and caused another Hallyu explosion. Despite the rainy weather and low temperature of around 10 degrees, hundreds of fans were gathered within and outside the airport, showing that TVXQ's charm is truly indomitable. The fans who spent a long time waiting for Yunho and Changmin to appear, would randomly practice their cheers. Even with the cold spell, Songshan Airport remained feverishly passionate!
Accompanied by thousands of cheers, Yunho and Changmin finally appeared. With their tall figures, wearing sunglasses, and dressed in black, and in the latest Korean student fashion style. In an instant, the media and fans swarmed towards them, practically crippling  Songshan airport, and the two men, ushered by the security personnel, walked slowly towards and boarded their vehicle, leaving their exhilarated fans. Despite former TVXQ members Kim Jaejoong, Park Yoochun and Kim Junsu forming a new group due to contractual issues, their hallyu power was not diminished, and fans continued to follow them wildly.
Ever since the "It's been a while, How are you?" video clip suddenly appeared, leading everyone to wonder if TVXQ would be coming to Taiwan to meet the fans, and truly, after 3 years, this afternoon TVXQ blitzed their way into Taiwan, and will be holding their fan meeting tomorrow. This event titled "Fan Party 2011 in Taiwan" will see Yunho and Changmin challenging the extreme of two performances in one day. This is a tough challenge on their stamina and spirit, so fans must prepare to clear their throats and use their screams as a show of support!
 Source : [Yes Entertainment]
Translated & Shared by : dongbangdata.net
Momma's Source: dongbangdata.net
Share This