[TRANS] 111212 PRESIDENT Magazine : Tohoshinki – Discussing The Secrets Of Success From Their Perspective As Koreans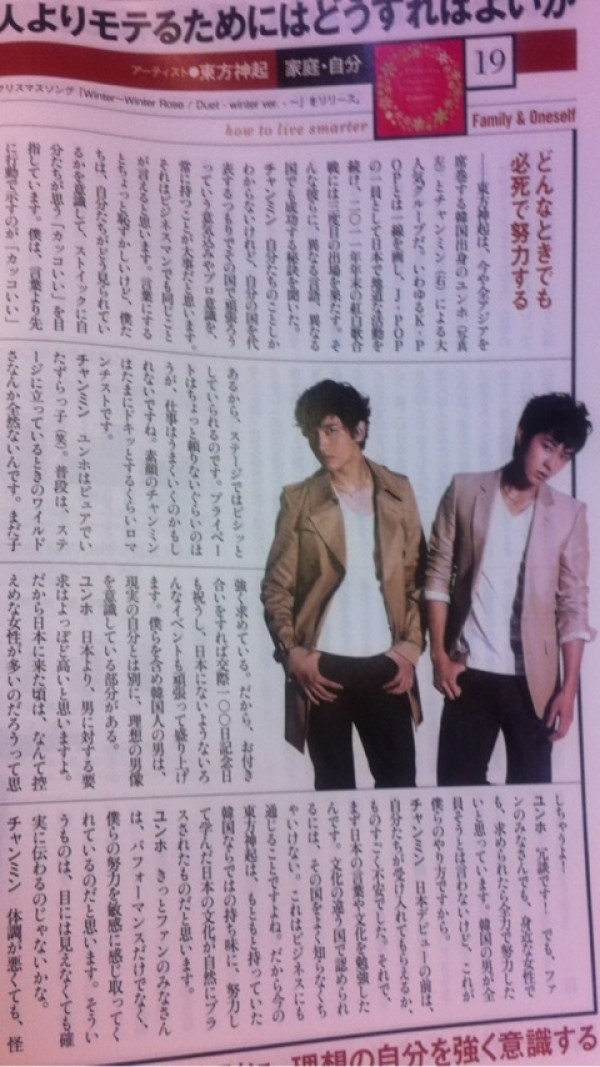 Tohoshinki is an immensely popular group from Korea, formed by Yunho and Changmin, which has taken Asia by storm. Unlike (using) what is known as K-pop, they carried out activities steadfastly in Japan as a member of the J-pop community. They will be appearing for the 3rd time,  in the 2011 year-end Kohaku Uta Gassen. We asked the two about the secrets of their successes in a foreign country with a different language.
Changmin: I can only speak from our own experiences, but I think it's very important to always have the passion of "I'm representing my own country, let's work hard even if its a foreign land," determination and a professional attitude. I think this would apply to businessmen as well. Although it's quite embarrassing to express this in words, we've always been very conscious of the image we portray, and set high expectations for ourselves and to work hard towards our own standards of what 'charismatic' is. To me, "Compared to words, expressing oneself through actions is more charismatic,"so I feel that there is a need to work towards (creating) a better stage, towards a higher goal…
Yunho: But once we're off the stage, we are very ordinary guys. There are times when we space out, and aren't that charismatic. It's precisely because we can regulate our moods and pressures suitably, that we are able to maintain our intensity and focus on stage. Perhaps it's precisely because we are just a little unreliable in private, that allows us to do our jobs successfully. The real Changmin is occasionally such a romantic that I feel touched by him.
Changmin: Yunho is a pure, mischievous child (laughs). Normally, he does not have any of the wildness that he portrays on stage, and has many childish sides (to him). But as children, we watched Korean drama serials that had ideologies such as "Men must treat women in a gentle way" and "Ladies' first is a given." Korean women have similar expectations towards the men. So after they start dating, they would have to celebrate the 100th day anniversaries, and prepare for a lot of events that are not celebrated in Japan. Korean guys, including us, all have an 'ideal guy' in our hearts that is different from how we are in our actual lives.
Yunho: Compared to Japan, I think that Korea has much higher expectations towards men. So when we first came to Japan, I was puzzled as to why there were so many reserved females in Japan. But recently, after seeing the females among the staff, there have also been instances that have changed my perspective. (Now) I think, "Ah, no matter what country it is, it's all the same, there are all types of people."
Changmin: Saying such things will get you into trouble with the female staff…
Yunho: I was joking! But regardless if it's the fans or the females around me, as long as you have expectations of me, I want to do my best to fulfill them. Although I can't say that all Korean men are like this, this is the way we do things.
Changmin: Before we made our debut in Japan, because we were very insecure about whether we would be accepted by the Japanese audience, so we first worked hard at studying the Japanese language and culture. In order to gain recognition in a country with a different culture, you need to first understand that country. I guess this is the same in the business world. So I think the Tohoshinki now is a group that has the colours of Japanese culture which we worked so hard to learn, added on to the unique Korean characteristics that we originally had.
Yunho: I think the fans not only appreciate our performances, but are able to acutely sense the hard work that we have put in. Although this hard work isn't  tangible, but I feel it has definitely been conveyed to everyone.
Changmin: Even if I do not feel well, even if I get injured, I do not want to compromise.
Yunho: In order to be loved by people, there is no other way but to work hard with everything you have. In order to face work in a natural manner, I think this is necessary.
Wisdom in books! 50 key words of success
Tohoshinki's key word: 'Growth'
It's been a year since we've restarted activities. For us, next year will be a busier and more exciting year.
Next year, we will showcase even more mature sides of ourselves, and it would be good if we could bring energy to the Japan that has always supported us.
(We) want to fill the hearts of everyone in Japan with excitement and anticipation.
We ourselves are also looking forward to the "Tohoshinki of 2012″ that never stops growing. It's a very unbelievable feeling.
Source : [PRESIDENT Magazine + smokycross + onlychangmin]
Translated & Shared by : dongbangdata.net
Momma's Source: dongbangdata.net
Share This