[Trans] 130221 TVXQ Chosen As Cover Models For A Famous Japanese Magazine, 'The First In 10 Years Since The Beckhams'
TVXQ have been chosen as cover models for the famous Japanese magazine 'ViVi', which will be celebrating its 30th anniversary soon.
According to 'Sankei Sports' on the 21st, TVXQ have been chosen as the cover models of ViVi's April edition, and recently completed a photoshoot with the Japanese model Lena Fujii.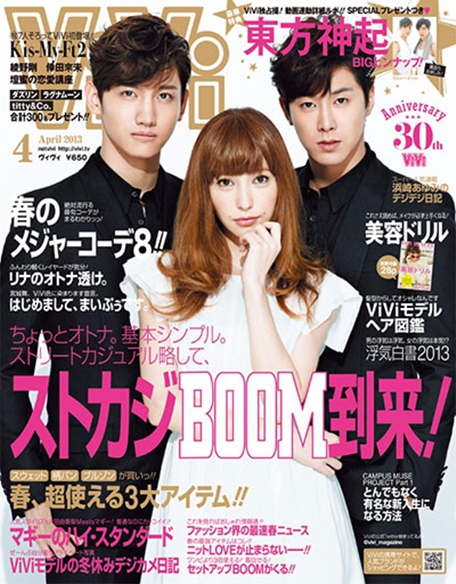 This will be the first time that singers and a ViVi model will be on the cover of the magazine together. This will also be the first time in 10 years that a man makes the cover of the women's fashion magazine 'ViVi' since the English soccer player David Beckham and his wife Victoria Beckham.
According to media reports, TVXQ were chosen as the cover models because the 'past-present-future' theme of their new album 'TIME' matches with the concept that the magazine is looking for as the season changes.
Meanwhile, TVXQ will be releasing their 6th Japanese album 'TIME' on the 6th of March and will begin their '5 Dome' tour in late-April.
Source: [enews24]
Translated & Shared by: dongbangdata.net
Momma's Source: sharingyoochun.net
Share This