[TRANS] 130226 JYJ's Side States, "ChannelA Should Apologize To Its Viewers, Not Just The Fans"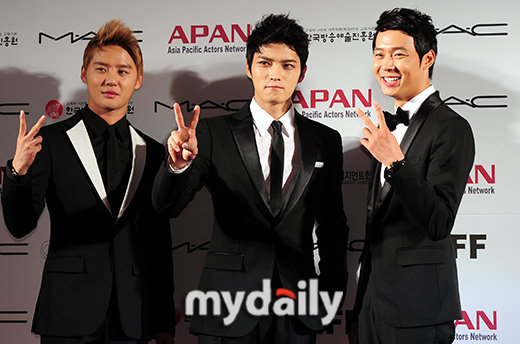 Group JYJ's agency C-JeS Entertainment revealed their stance on the apology recently given by ChannelA.
A representative of C-JeS Entertainment stated on the 26th to MyDaily that, "The basis of any broadcasting channel is to relay information. To provide the proper information about guests and programs the channel is airing to viewers. It is unfortunate that this fundamental principle was not kept during a large-scale, state event. It is not an issue that ends with an apology to just us or JYJ's fans. It's an issue that needs to be addressed to all the viewers."
They also added, "The Transition Committee, which was in charge of the event, had already issued a press release that contained information about the guest performers, as well as the reason they had been invited to appear in the ceremony, but it is unfortunate that this information was not relayed." They concluded by stating, "We see no reason to respond to the other statements and apologies made."
Ahead of this, JYJ performed at Park Geun Hae's Presidential Inauguration ceremony on the 25th at Yeoido. On this day, ChannelA's Anchor Park Jong Jin and Reporter Lee Hyun Soo covered the live broadcast of the event and made subjective comments instead of objective explanations when they talked about JYJ, including statements such as, "They're a group called JYJ, you don't know much about them, do you?" and "They're the ones who dropped out of TVXQ…"
Anchor Park Jong Jin continued to add, "Seeing them like this instead of under the bright lights of the concert stage makes it feel like they're singing in a karaoke room." Reporter Lee Hyun Soo tried to smooth things over by adding, "Though it does seem disordered, I'm sure this performance means a lot to JYJ."
The comments that were made soon sparked a controversy amongst netizens and JYJ's fans. Not only did the comments show a lack of understanding about JYJ, but they also failed to relay objective information to viewers. ChannelA made an apology through one of their programs when they stated, "We weren't trying to denigrate them. We ask for the forgiveness of JYJ's fans," and "We meant to say that they were a group who had separated from TVXQ." They also provided a clarification of the statements made about JYJ's performance.
Source: [MyDaily]
Translated & Shared by: dongbangdata.net
Momma's Source: dongbangdata.net
Share This