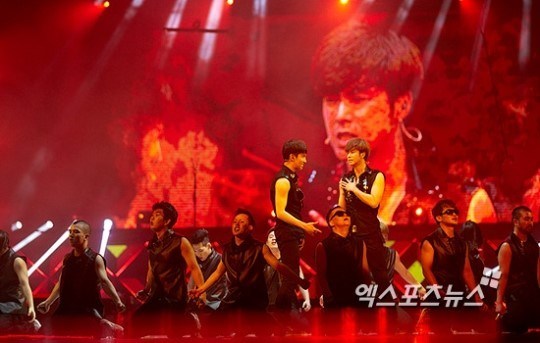 TVXQ (U-Know Yunho, Max Changmin) have reached the pinnacle of the Hallyu Wave's popularity. They will be holding a concert at Japan's Nissan Stadium (seats 72,000) for two days.
On the 17th and 18th of August, TVXQ will be holding the finale of their 'TVXQ LIVE TOUR 2013 ~TIME~' Five Dome tour at the Nissan Stadium in Yokohama, Japan.
A Five Dome tour is a tour that is held in Japan's five major dome stadiums (Tokyo Dome, Osaka Dome, Nagoya Dome, Fukuoka Dome, Sapporo Dome). Each performance attracts at least 30,000 people and Tokyo Dome can hold the largest capacity of 50,000 people per performance. If two concerts are held in each dome, a Five Dome tour can attract a total of 300,000 people.
Only a handful of singers have held such a tour. Singers who have held such Five Dome tours leave their mark in the music industry as 'legendary singers'.
What is more impressive than a dome concert is a concert at the Nissan Stadium. With approximately 70,000 audience members per performance, many call it 'the concert of dreams'.
The Nissan Stadium (formerly known as the Yokohama International Stadium) was built in 1998 and boasts the largest seating capacity of 72,327. It is the place where the finals of the 2002 Korea-Japan World Cup was held. There have only been nine singers who have held concerts in the stadium, and they are the Southern All Stars (2004, 2008), Mister Children (2007), B'z (2008), Glay (2009), X-JAPAN (2010), L'Arc En Ciel (2012), Eikichi Yazawa (2012), AKB48 (2013) and Momoiro Clover Z (2013).
Singers who have held concerts at the venue are called 'the legend of all legends', 'the nation's singer' or 'the rookies who have taken the nation by storm'. What must it feel like to hold a concert for 72,000 at once? Singers who have stood on the stage of Nissan Stadium say, 'It feels like you're God, looking down at the people of the world.'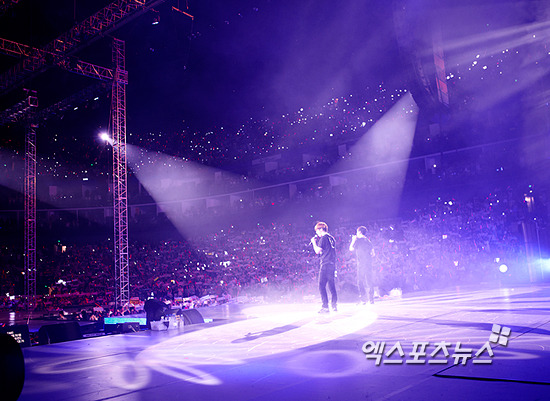 TVXQ are now set to be the first non-Japanese singers to hold a concert at the Nissan Stadium.
It could be said that this will be the pinnacle of K-pop's Hallyu Wave. A Five Dome tour followed by a concert at the Nissan Stadium. Such a task is not an easy feat that any popular singer can accomplish. When looking at accomplishments in Japanese concerts, TVXQ have climbed as high as they possibly can.
However, TVXQ's Nissan Stadium concert does not guarantee the longevity of the Hallyu Wave's popularity in Japan.
TVXQ are basically considered the founders of Japan's Hallyu boom of K-pop boy bands. It's already been more than eight years since they made their Japanese debut. Therefore, their Nissan Stadium concert should be seen as the rewards that come from eight years of hard work and experience that TVXQ have put into their Japanese activities.
For K-pop's Hallyu Wave to continue in Japan, TVXQ's juniors have a big task ahead of them. The domestic music market should focus more on helping talented rookies with new contents grow and develop rather than being swept up in the euphoria that TVXQ's Nissan Stadium concert signifies the power of K-pop's Hallyu Wave.
Source: [xportsnews]
Translated & Shared by: dongbangdata.net
Momma's Source; dongbangdata.net
Share This