[TRANS] 111031 JYJ "Challenges Japan Using J-Pop, Battles It Out In Europe With K-Pop" (Interview)  Posted on November 1, 2011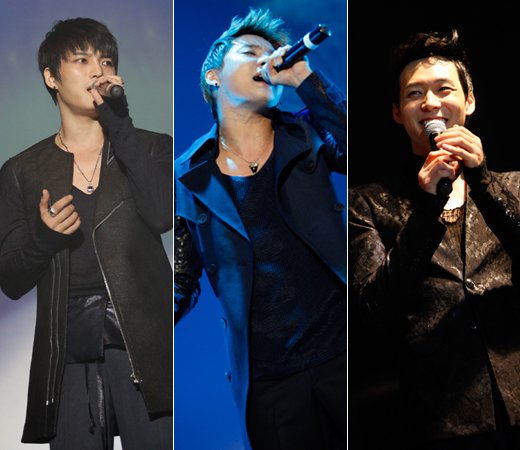 JYJ has successfully taken their first step into Europe with a successful concert, partying it up with 3,000 fans on 29 October at Poble Espanyol, ending the Spain leg of their European tour in triumph. This day, JYJ and the 3,000 fans became one, enjoying this historical moment of JYJ's first European concert together.
On 28 October, at the same location, a Korean-Spanish press conference was held, and JYJ spoke honestly about their feelings, worries as well as the gratitude in their hearts. Following their concerts in Asia and America, this is their first concert in Europe, and is also the first time a Korean artist has ever held a solo concert in Spain.
"Hoping To Go To More Places, And Show More Of Ourselves To Everyone"
When talking about his feelings on this concert in Spain, Park Yoochun said "It's the same feeling as when(we were) going to America for concerts, a greed of wanting to go to more places, and show more of ourselves to everyone. When we were in America, I felt a sense of hope as my eyes were opened to new possibilities, and we feel the same way about Europe."
Following which, he said "Honestly speaking, it's been hard to gauge how much influence JYJ will have in Europe. However, starting in Spain and Germany feels like we've created a stepping stone to slowly but steadily getting JYJ's name out there. This may not be a large-scale concert like those held in Asia, but this concert is our motivation and in our hearts, we feel that we could possibly hold concerts on the big stages of Europe and America in the future."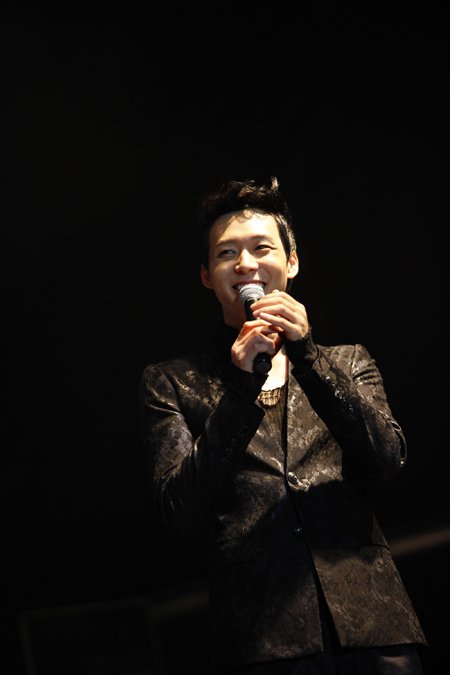 After the concert in Spain is concluded, JYJ will be holding their second European concert in Berlin, Germany on 6 November.
With regards to the selection of Spain and Germany as the European concert locations, Junsu said, "Although it would be great to be able to hold concerts in all parts of Europe, this is still not possible (as of now.) We still do not know the degree of our influence here, and instead of just challenging it in an unreasonable manner, we felt that it would be better to do this in a geographical manner,  gathering the fans in Western Europe to Spain, and those in Eastern Europe to Berlin. We want to say that in the future, when we do concerts in Europe for a second time, it could be possible to include more countries, and hold more concerts for everyone to see," his words brimming with anticipation for the future.
When the reporters asked, "Was anything special prepared for the Spanish Stage?" Kim Jaejoong replied "We are working together with local dance group Rafa Mendez's dancers, and we're working on the choreography together to do a simple performance. Even though JYJ already has the basic dances, we've prepared a concert that includes the passionate performance methods unique to the Spanish as well as a skillful stage with acrobatics."
"More People Than Expected Knew About Us, Gave Us A Shock"
During the time of the press conference, fans could already be seen a day before the concert, setting up tents outside the gates of Poble Espanyol. These fans carried the flags of Italy, France and other countries and cheered for JYJ. A concert management personnel said that these fans were willing to stay out overnight so that they could get better seats for the concert.
On the topic of whether they could feel their popularity in Europe, Kim Junsu said, "There were more fans than expected, which was a shock. Actually, we all knew that Spain was a country that was famous for its football, but we didn't know very much beyond that, so when we found out that the (concert) tickets were sold out, we were shocked. "
"Yesterday I went out and walked around for the first time, and quite a few people recognised me which was another shock. There were two (people) at Starbucks, and when I was walking on the streets I was recognised two or three times, once by an Italian fan who was holding our CD and was hoping for my signature, it was truly amazing. Because of this, I'm even more determined to do well during the Barcelona and Berlin concerts. "
– How do you feel about standing on a stage that is smaller than your previous ones?
(Kim Jaejoong) Although this stage is smaller than previous ones, it bears a totally different meaning. In Korea and Japan, we started from small stages, and slowly gained the love of our fans. Therefore, although this European concert stage is small, it still feels like a very good starting point. Instead of creating an overly exaggerated large-scale concert in Europe, beginning with a small-scale stage with the mindset of starting afresh seems like a better idea.
– K-Pop has been relatively popular in America, as well as Paris, but the popularity of K-Pop in Spain doesn't seem as visible, so is this a fear or burden to you?
(Kim Jaejoong) I wouldn't call it a K-POP boom, but a K-POP craze that was created from the Korean groups' fanbases that rose up. The majority of the 3,000 or so fans that have come for the Barcelona concert are probably JYJ fans. Therefore, I hope that they can sing along to our Korean songs, and are looking forward to a Korean style performance. Because of this, there isn't any real burden or pressure.
– As the first Korean group to hold a concert in Europe, surely some mental preparation was required.
(Kim Junsu) I think this is an adequate opportunity for us to show that small-scale performances are feasible and it doesn't always have to be a concert by a big agency. During the Asian concerts, we would work with local dancers, and stacked up some experience on overseas performances. As these are fans who have come for K-pop, we have to consider carefully what kind of European elements to include, what kind of effect it will have and we hope to show a multi-faceted side to everyone.
"Although Japan Was Challenged Using J-Pop, The Battle In Europe Is With K-Pop"
– You are starting with small steps in Europe, but the small starting steps you took in Japan resulted in immense popularity. Although these are just small steps, what is your broad aim for the future?
(Kim Junsu) In Europe, it's K-pop, and we are hallyu (representatives) here. In Japan we always hoped to work hard as J-pop artists, and the starting steps we took are different to that of the steps taken currently by Korean artists entering Japan. When we were rookies in Japan, we stood on a staircase, or on makeshift stages, holding corded microphones while singing and dancing, and these were the ways that we performed. Because of this, I think that our starting steps in Europe differ from that of Japan. Although the process is important, the results produced are important as well. Therefore, we hope that someday, we will have the chance to hold a concert in a venue with 10,000 seats or more. With this kind of thinking, I believe that to do this, we should focus on what our European fans want from us.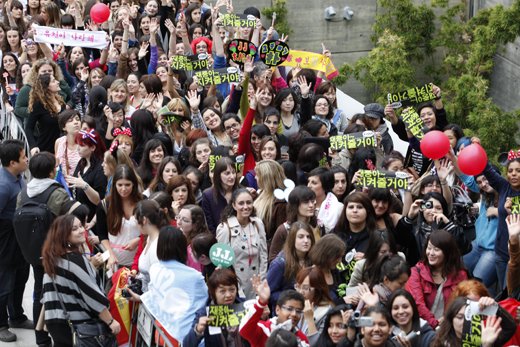 – We heard that you took the No. 1 spot on a Peruvian radio (Recently, JYJ took the no. 1 spot on the Peruvian program "Teen Top")
(Kim Jaejoong) We heard about that, and for people to be able to listen to our music, and like our music, is something that makes us feel really good, and we are really thankful. For those countries that we have not yet been to, we hope that one day, we will be able to go to there and sing. Before this concert in Spain, we attended a global manga event, and I think it was a good opportunity for us to perform on a celebratory stage and sing our songs for a larger audience.
– The worldwide album was released in Spain as well, do you have plans for a second worldwide album?
(Kim Jaejoong) We're in the middle of discussions about this. The worldwide album that was released last year received a great response, so we're currently planning for a second album. There are still many countries that K-pop artists have yet to reach, and we want them to be able to listen to our music. However, due to time constraints, this has not been easy. We've been on a world tour and each of us has participated in individual activities. I often feel that there really isn't enough time, and I often think, "How good would it be if there were 24 months in a year."
– Compared to the concerts in America, will this Spanish concert be any different?
(Kim Junsu) There isn't much change in the set list, but the dance and various elements have been tweaked with acrobatics.  The reason why we didn't make any special changes to the concert set list was due to the fact that the Spanish and European fans are seeing us for the first time, so there is no need for too much of a change. It's going to be a concert that shows the unique colors of JYJ.
"Intensive Choreography And Live Singing Performances, These Are The Key Elements Of K-Pop."
– What do you think are the key reasons why K-Pop has been able to enter Europe and become popular?
(Kim Jaejoong) I heard that it was in 2006 that K-pop made its way into Europe, and that was around the time that we were active as TVXQ, and synchronized group dances were all the rage in Korea. The charm of Korean artists being able to do intensive dance performances while singing live probably attracted fans from then on, and this has slowly become its popularity today.
– When producing the Worldwide album, you worked with Kanye West and Rodney Jerkins and others. Have you considered working with music producers from Europe?
(Kim  Jaejoong) I've heard and studied a lot of European music, and I really like it. When doing activities in Japan, about 50% or more of our songs were European style music. We would buy European music and sing it at times so it's quite familiar to us. If we're lucky enough to get to know some European producers, we would definitely want to try it out. Although there isn't much time for this during our concerts in Europe, we would definitely want to try it out in the future.
– You've done activities in Asia, America and Europe, and your music is known in counties that even Korean singers don't know much about. And yet, it's so hard to see you perform in Korea.
(Park Yoochun) Honestly speaking, being able to appear on programs is not something we think about anymore. I just wish for the system to be more fair. We know that we can't do anything about the fact that we are excluded from ranking charts, but I would like for the objective value of album sales and the love we receive from the public to be recognized, to repay our fans for their love.
– After the concerts in Spain and Germany, what are your plans for the future?
(Kim Jaejoong) We hope to go more places, in Europe, aside from Spain and Germany. If we have other plans, we hope that we can go to other European countries, other cities and if we have time in the future, we hope to come back to Spain and Germany to hold (events) and thank the fans. In December, we'll be having a rest period, but it would be a waste of time to just relax and take a break, so I think we'll be working on some music and preparing for January, 2012.
Source : [BaiduTVXQ + Star News via Nate]
Translated & Shared by : dongbangdata.net
Momma's Source: dongbangdata.net
Share This