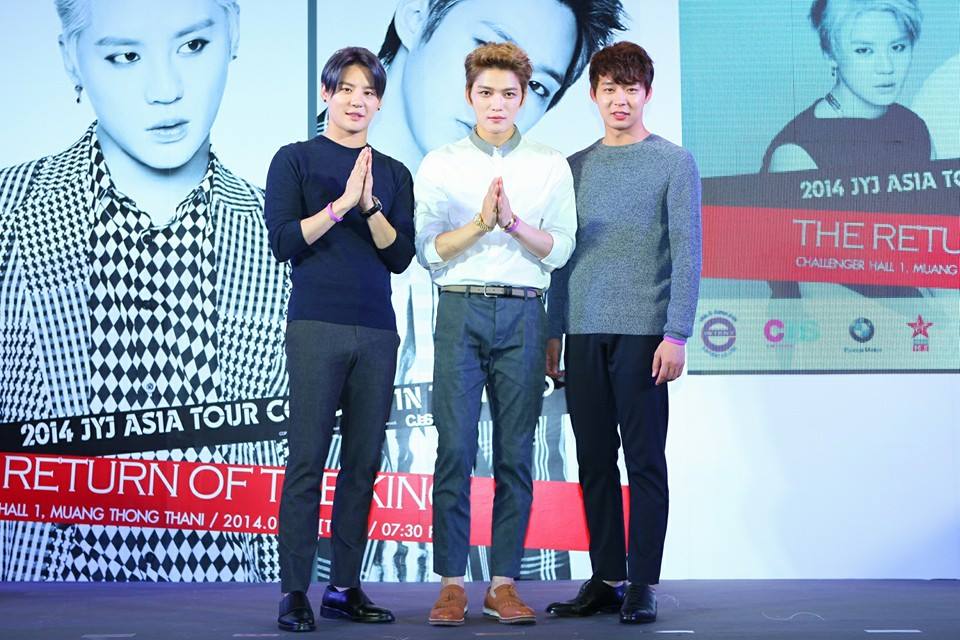 The press conference took place at the Central World on 24 Sept 2014
Q: Please greet the fans and the media.
JYJ: Hello we are JYJ
Q: The 3 of you haven't visited Thailand for 3 years. How do you feel visiting us this time?
JJ: I'm very glad to get a chance to meet the fans again because we haven't been here for 3 years, and I'm glad there are many fans waiting for us until now. I'd like to thank the sponsors for inviting us to have this concert.
YC: I'd like to tell the fans I'm very touched. Although we haven't visited here for 3 years but there are still many fans welcoming us. Thank you so much.
JS: I'd like to thank our fans again and we are having the final 2014 concert here in Thailand which means a lot to us, it's a good opportunity for us to meet our fans this year.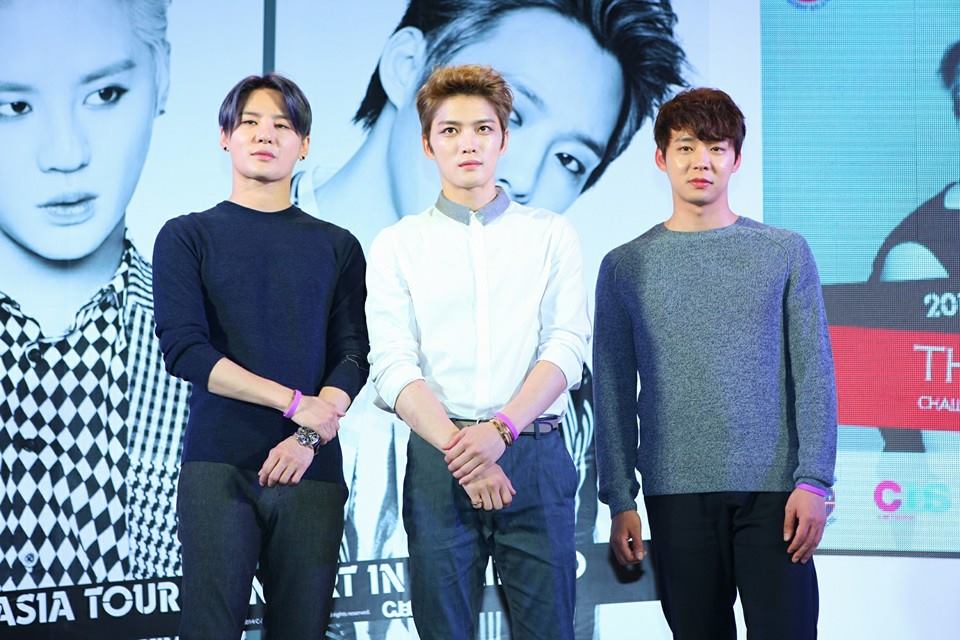 Q: 2014 JYJ ASIA TOUR CONCERT IN THAILAND "THE RETURN OF THE KING" is considered the great comeback, what will the fans see in JYJ – The King?
YC: The concert will take place tomorrow with the theme "THE RETURN OF THE KING", and it has a good meaning. We have also prepared cool shows for the fans so we don't want any fans to miss the concert tomorrow.
Q: JYJ latest album "Just Us" reached the no. 1 all kill spot on every chart right after the album was released and it was also nominated on the music show without being promoted, how do you feel about it?
JJ: We haven't had the album together for 3 years so we gave our whole hearts in "Just Us' album, and you all will get to listen to this album tomorrow. We wish all the fans come to support us.
Q: All 3 of you are very good at singing, could you tell us how you share the lyrics part when you sing together?
JJ: We sat and discussed who was good for each part so we could express our feelings more clearly in that part of the songs.
Q: What are JYJ specialties?
JS: JYJ are different to other singers because we can sing with many vocals, for example, I can sing the high notes and other members can sing medium and low notes to make the best of the songs. This is our charm.
Q: This album is full of JYJ creations, please select a song that suits you the most and tell us why?
JS: I like 'Valentine". This song suits me well because I'm charming and this song is charming. This song can express who I am very well.
JJ: This is a very difficult question. I choose the song "Let me see". I personally like this song because it means a lot to me and we all 3 sing this song together.
YC: I like "Valentine" , it's been a year since this song was recorded but when we sing it again it can still grab my heart. I really like this song.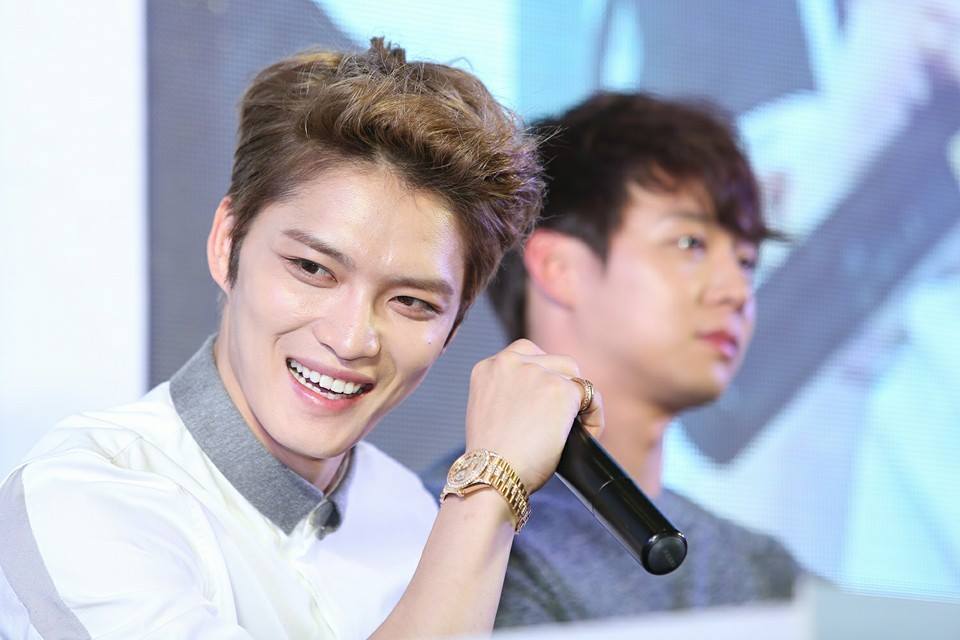 Q: Jaejoong, you once apologized to the fans you didn't have the 6 packs to show them in your drama. So will the fans see them in the concert tomorrow?
JJ: I think it'd be difficult because, honestly, I've been eating a lot lately but if the fans really want to see them I'll reconsider about it.
Q: Junsu, you are considered a musical star and your sexy role in the Musical Dracula has just ended. Could you tell us how you selected the musical role?
JS: When I considered the musical role I'd listen to their musical songs if I liked one of them I'd accept the role right away, but if there's none that I like, then I have to reconsider again.
Q: What if Jaejoong or Yoochun accepted to take the role in the musical Dracula. Which roles would suit them the best and why?
JS: Jaejoong suits the Dracula role because his of facial features but there's another role for Yoochun as the guy who is very into love, I think it suits Yoochun well.
Q: JYJ have been friends for more than 10 years. Is there anything you like to tell each member but hasn't had a chance to do it yet?
JJ: If there's anything I'd like to say but didn't have the chance before, I think it'd be difficult to say it right now on the stage. Talking in private is a better idea.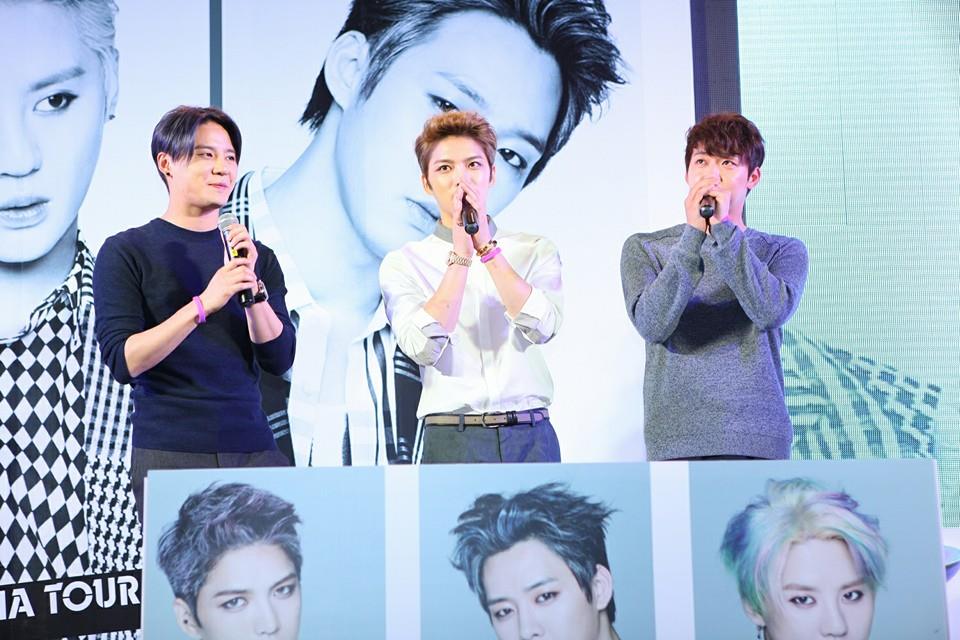 Q: The fans always feel pity for Junsu because Jaejoong and Yoochun always tease him during the interview, is it true?
JS: Yes it's been like this for 10 years. They like to tease me during the interview so if they don't do it now it won't be fun.
Q: We haven't seen you guys for a long time, can you update us your Thai?
JS (Thai) : ma-proa (coconut)
JJ (Thai) : Chon kaew (Cheers)
MC : After you finished your drink you must say "Mod kaew" (The glass is empty)
YC (Thai) : Ting-tong (silly)
MC: Did you specify that to someone?
YC (Thai) : Mai Ting tong (not silly)
JJ (Thai) : A-roi (delicious) and I also learn the word "Pi" and "Nong) Pi is for the person who is older than you and Nong is for the person who is younger than you. I just learned those words today.
JS (Thai) : rak na joob joob (love you peck peck)
Q: JYJ has been appointed as the honorary ambassadors of 2014 Incheon Asian Games and got a chance to sing the theme "Only One" , tell us how you feel about it?
JJ: This Asian games is a great national competition. We are very honored to be invited to sing the theme song at the opening ceremony. We'd like to tell all the athletes to be careful during the competition. Although winning and losing is important but the most important thing is health. We want everyone to be safe.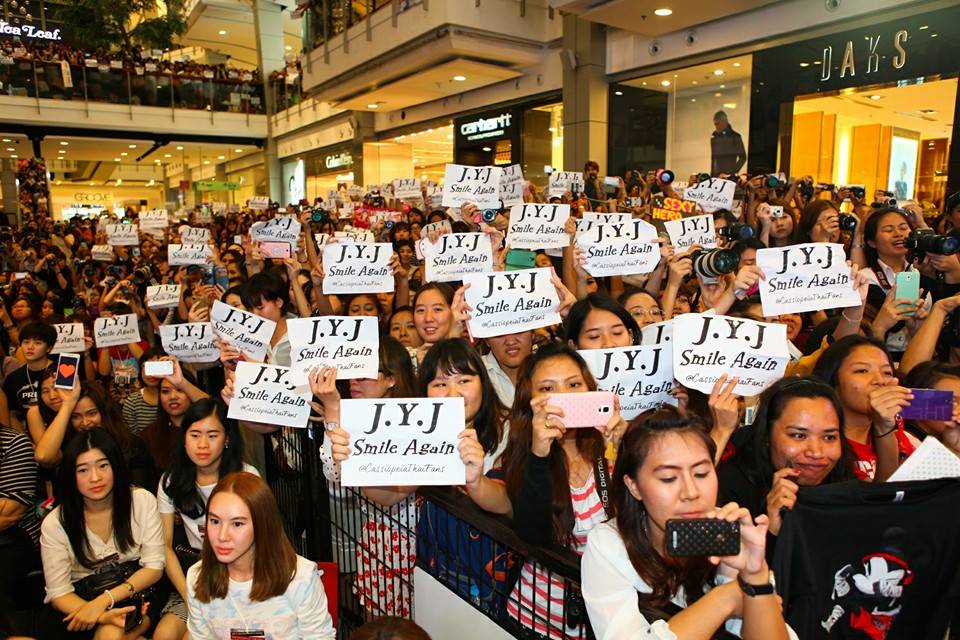 Q: If you were selected to be South Korean national athletes in this Asian games . What kind of sports would you like to take part in and why?
JS: I will choose archery because it is considered South Korean national sports.
JJ: I want to participate in fencing.
YC: I'd just be the manager then. I think being manager for these two must be more tiring because I'd have to take care both of them when they're in the competition.
Q: I think this is the question that the fans want to know, are Thai girls beautiful?
JS (Thai): rak na joob joob (love you , peck) I like Thai girls, they are beautiful and so pretty when they smile.
JJ: Hahahaha I'm not sure if I can ask this but I'd like to know when Thai girls put the make up on, are their eyebrows already thick? I saw my sisters after cleaning their make up , they had no eyebrows but I saw all the Thai girls have the eyebrows.
JS: One more thing, Thai girls got the very beautiful eyes.
YC: This question should have never been asked because I think Thai girls are very lovely. When the boys speak they end up the sentences with "krub" and girls end up with "ka" I think the "ka" accent is very imploring (the MC asked everyone to say Yoochun ka)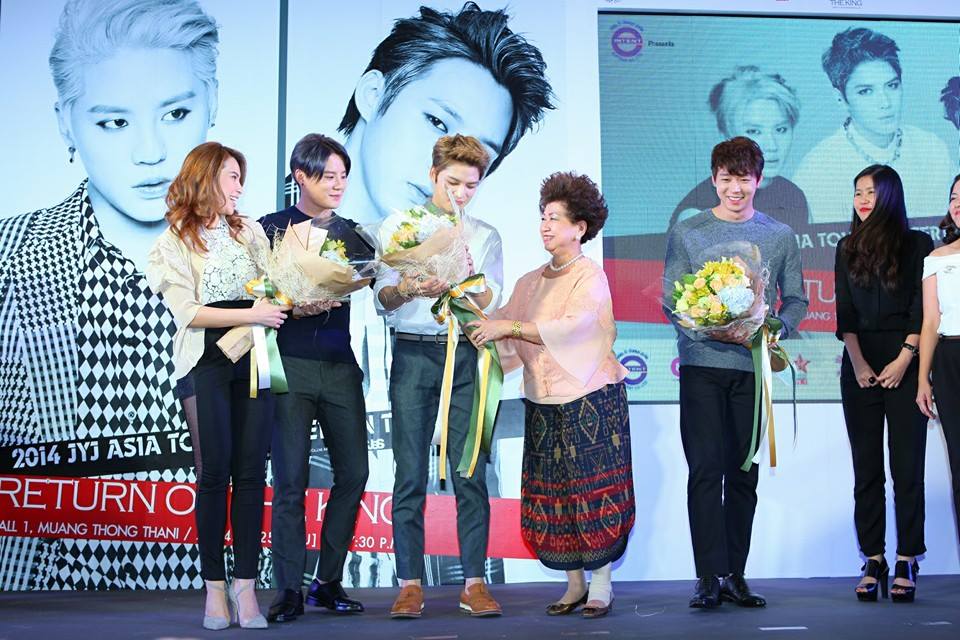 Q: Finally what would you like to say to the fans before going to meet them at the concert tomorrow?
JS: I'd like to thank all the fans and sponsors to give us a chance for the concert in Thailand this time. It means a lot to us because this is the final concert this year. Let's have fun together tomorrow.
JJ: see you tomorrow
(Before Yoochun ending the press conference, the fans showed their support by showing the banner "JYJ Smile Again")
YC: Thanks everyone for coming to this press conference. I'd like you all to continue supporting us in the concert tomorrow. Thank you so much.
source: pingbook
trans by: sharingyoochun.net
JYJ Fantalk Source: sharingyoochun.net
Share This