[TRANS] 111107 "The Ability To Survive On Their Own, We Caught A Peek Of That Possibility"… JYJ And The Hope That Was Found In Germany
Posted on November 11, 2011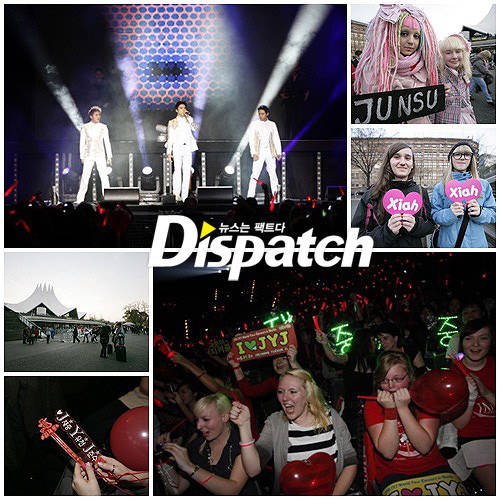 Three members walked onto a dark stage. The concert venue was filled with the hum of people talking before it was suddenly swamped by the screams of female fans. Stable vocal skills and extravagant performances. You could properly feel the popularity of K-pop that had spread to Europe.
The '2011 JYJ World Tour' concert was held at the TEMPODROM in Berlin, Germany on the 6th of November. This day's performance was the final destination of JYJ's world tour that spanned over thirteen cities in the three continents of Asia, North America and Europe in locations such as Taiwan, Thailand, New Jersey, Vancouver and Spain.
This was the first time that any Korean singer had held a solo concert on German soil. The 2,800 fans who had gathered for the concert from all over Europe were seen milling about around the concert venue four hours before the concert even began. They showcased their passion for JYJ with Korean placards, fans and glowsticks.
JYJ were more energetic than ever as well. They dominated the stage as they ran around it non-stop. Waving their arms from left to right, they poured their passion out for their fans to see. Showcasing live skills that didn't falter, even with intense dance moves, JYJ's varied repertoire from drama OSTs to solo performances lit up that night in 'Germany'.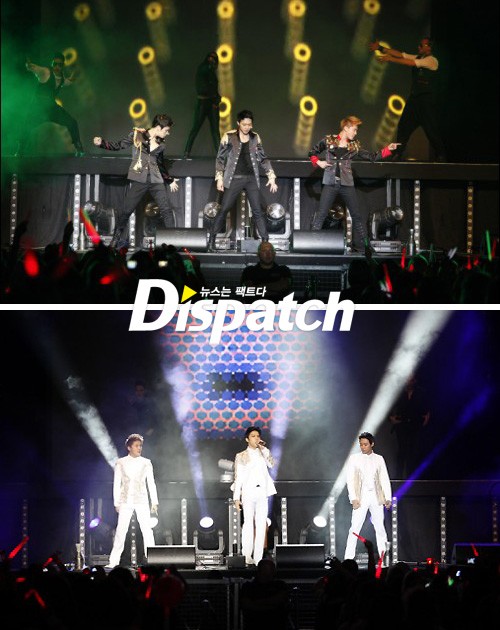 ◆"An impressive beginning, letting the world know who JYJ are"
The concert began with a video of JYJ's new song 'In Heaven'. JYJ, who walked on stage amidst the screams and shouts of their fans, kicked off the concert with a rendition of 'Empty', a dance track from their English album. After the enthusiastic first performance, the members gave their first greeting as they said, "We're happy to be meeting with our Berlin fans."
The exciting stage continued with JYJ rotating between their English and Korean albums as they sang 'Ayyy Girl', 'Pierrot' and 'Be My Girl'. Even with quiet an intense set of dance moves, the members' stable harmony and high notes stood out. The three members of JYJ were in harmony.
The solo performances were repertoires that left one with quiet an impression. Yoochun performed and was followed by Jaejoong and Junsu. The three members captivated the hearts of their female fans with Yoochun pulling of a heated rendition of 'I LOVE YOU' with female dancers, Jaejoong singing 'I'll Protect You' and Junsu singing 'You are so beautiful'.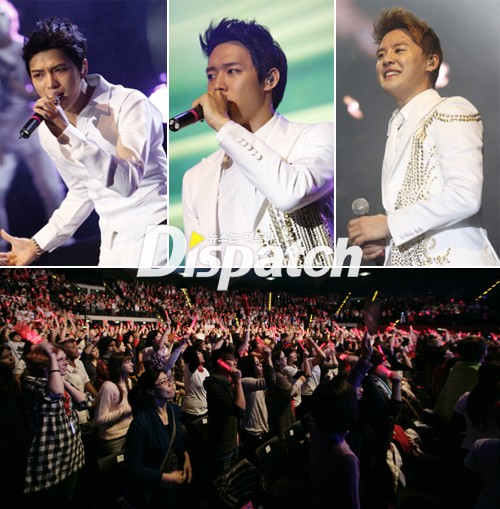 ◆"Their hit songs lead synchronized chants from European fans"
The excitement in the atmosphere kept growing as time went by. When 'Found You', a OST piece from the drama 'SungKyunKwan Scandal', began playing, the fans' screams reached their peak. Though it was an unfamiliar song in Korean, we got the opportunity to see the fans in the crowd sing along in synchronized chants (called '떼창 or 'Ddae Chang') with perfect pronunciations.
This song was followed by 'Be the One', 'Fallen Leaves' and 'Mission'. The members were seen drawing out a response from the crowd as they passionately ran around the stage and made eye contact with their fans. However, we were slightly disappointed by the problem in the sound system during 'Fallen Leaves', which meant that we couldn't hear Yoochun's voice.
Last of all, JYJ sang 'In Heaven', the title song of their first Korean album, and let their fans know that the concert had come to an end. To this, fans shouted "I love you", and "Don't go" in Korean. JYJ catered to their fans' wants by performing an encore piece, looking as though they were promising that there would be a 'next time'.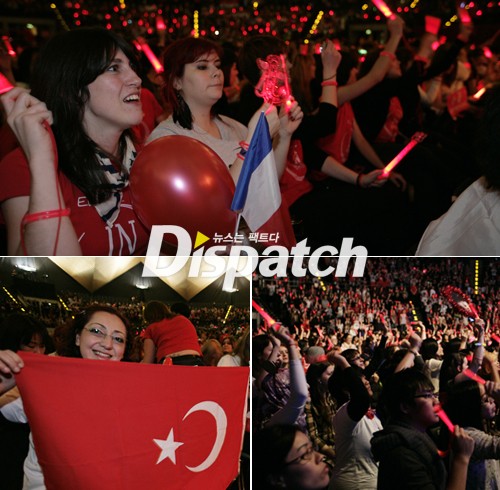 ◆"Europe's fans cried and laughed for two hours"
The support from fans was passionate. The stage continued on for approximately two hours and the crowd was lit up by glowsticks of red, the color of JYJ. The group was also met with a flood of camera flashes. The fans, who filled almost all the seats from the first to the third floor, continued to show their support for the entire duration of the concert, long though it was, and showed just how excited they were.
Though these were unfamiliar Korean singers, the way the fans showed their support was the same as in Korea. They chanted the members' names in between verses of songs and sometimes sang along in synchronized chants. Though they had different nationalities, faces and skin colors, their way of cheering for their favorite stars was no different from that of Korean fans. The shouts and screams sounded louder because it was a small-scale venue.
They had their own way of enjoying themselves. During exciting dance performances, they danced along with JYJ. When a ballad was being sung, they waved their hands from left to right and got lost in their emotions. When JYJ jumped, so did their fans and when JYJ danced, so did their fans. It was a time to enjoy the free atmosphere and the Europeans' passionate concert culture.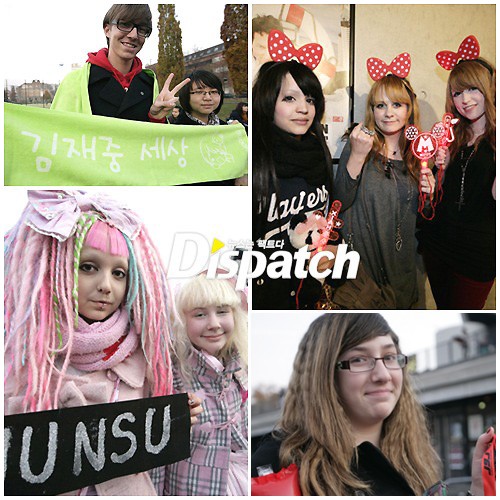 ◆"Early morning tent pitchers show their enthusiasm at night too"
Approximately 2,800 fans gathered for the concert. Dispatch checked and saw that around 2,00 seats were empty in the 3,000-seat concert venue. A representative of C-JeS Entertainment who we met in Berlin explained, "2,800 fans attended the concert. 120 of those tickets were VIP tickets that were distributed."
But the fans' enthusiasm could be felt, even the day before the concert. Some fans came and stood in line from the night of the 5th. Josethine(23), a female college student, stated, "You have to take this ticket and exchange it for a seat number on the day of the concert. You can't help but wait in line from the night before to get a good seat."
A hundred or so fans gathered at 'Potsdam Square', a famous tourist spot in Berlin, to practice on their fan chants. 21-year-old Michaela said, "We came here to practice the cheering moves and chants of Korean fans," and "Though Korean is difficult, I kept practicing and now it flows from lips so easily."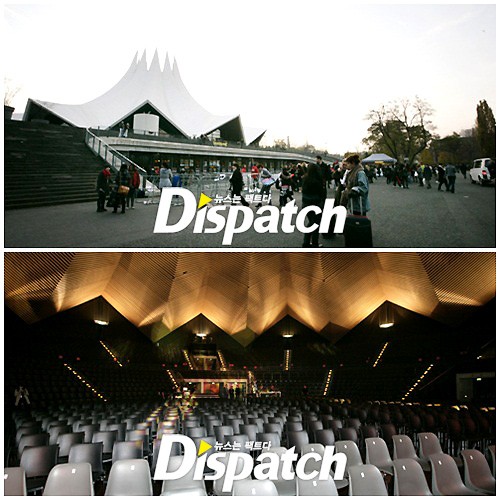 ◆"JYJ, a chance to confirm their chances of surviving on their own"
Through their Berlin concert, JYJ became the first Korean singers to hold a solo concert in Berlin. More than 70% of the fans who attended the concert were not Asian with most being fans who had come from all over Europe. The rest were Japanese, Thai and Taiwanese fans, as well as some Koreans who are currently residing in Germany.
The people who drew our attention the most were the disabled persons who attended the concert in wheelchairs. It was great to see them enjoying the music, regardless of their ailing bodies. Also, there were many families who came together, with children holding on to their parents' hands. It was a moment to witness K-pop's growing influence.
The response for the concert can be determined by the sales made on MD products. More JYJ related goods, such as t-shirts or necklaces, were sold after the concert than before it. Most fans left saying, 'I feel satisfied with the concert' while many of them were seen waiting in front of JYJ's car. They looked like they didn't want to accept that the concert had ended.
JYJ's Berlin concert was more about 'hope' than 'size'. Though it was a small-scale concert with only 3,000 seats available, there was more passion and enthusiasm there than anywhere else. It was also a moment that proved that JYJ could survive on their own as they received support from their fans, regardless of race, skin color or age.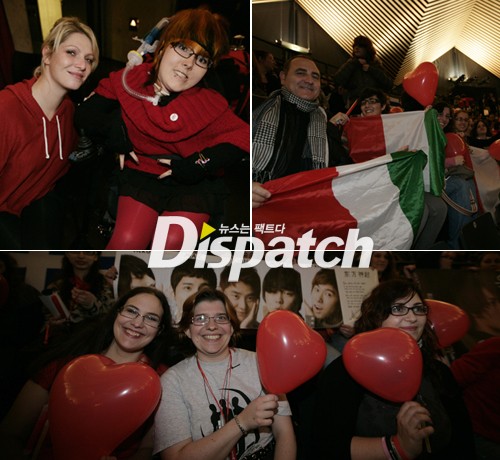 Source: [Dispatch]
Translated & Shared by: dongbangdata.net
Momma's Source: dongbangdata.net
Share This