[Trans] 111107 "JYJ With Tracksuits On vs Fans In Wheelchairs" … The 1mm Outside The Stage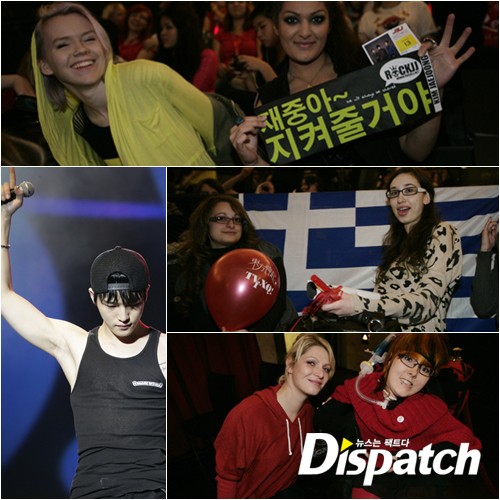 "JYJ in Berlin, what's the hidden 1mm?"
The last concert of the '2011 JYJ World Tour' was held on the 6th of November at Berlin's Tempodrom. JYJ became the first Korean singers to hold a solo concert there. On that day, 2,800 fans from all over the world, including Germany, the Netherlands, Sweden, Poland and Russia, gathered for the performance.
When we met JYJ during their rehearsal, they looked so natural(?). In tracksuits and with no make up on. Watching them dance and sing with ease was quite a different sight to see from their usual concert performances. The audience was quite unusual as well with flags of European countries fluttering in the wind. There was also an abundance of witty Korean placards. Not even disabilities could stop the fans. One of the greatest hidden sights at the concert was watching a fan in a wheelchair, enjoying herself and cheering with enthusiasm.
We've put together the unusual sights, the '1mm', of Berlin, Germany that we saw for ourselves.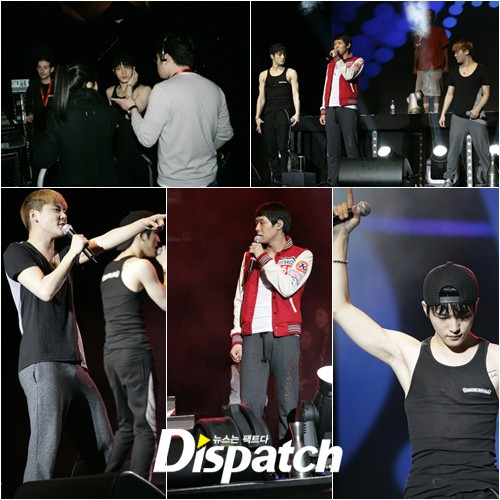 ◆ "JYJ in tracksuits, rehearsing like it's the real deal"
While rehearsing before the beginning of the concert, JYJ looked completely different from what they usually look like on stage. With no make up on, hair unstyled and in comfortable track pants and t-shirts. Their look was so natural and one that we don't get to see often. Though they wore comfortable clothes, they made sure to check every aspect of their performance. Junsu even made sure to check over the volume of the sound systems. Yoochun and Jaejoong went over every move and conversed with the staff members.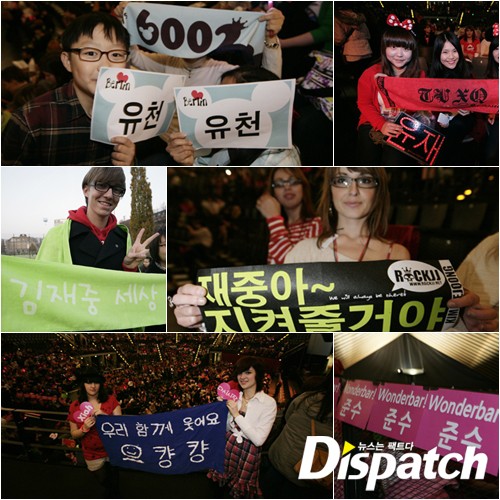 ◆ "Korean? Ok! Eu Kyang Kyang! Let's laugh together"
There were a lot of witty Korean placards at the concert. Though it was an unfamiliar language to them, the fans even used internet lingo as they wrote, "It's OK, let's laugh together. Eu Kyang Kyang." There were others who had witty phrases on their placards like "Jaejoong, I'll Protect You". Some fans even wrote their names in Korean on their placards for JYJ to see and most seemed to be quite comfortable with 'Korean'.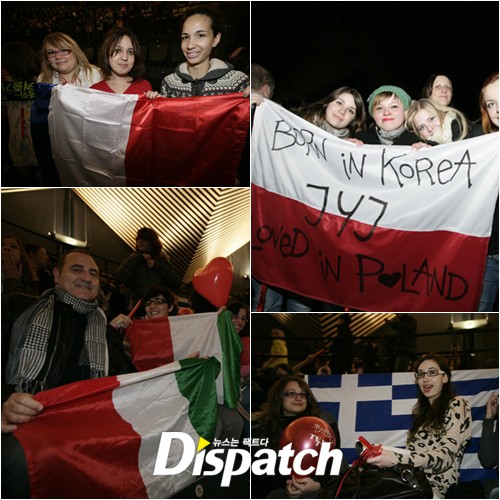 ◆ "From France to Greece, the flags of the world are all here"
They've even transcended nationalities. Fans from all over Europe gathered for JYJ's Berlin concert. You could tell by the flags that were on display. From up close, we could see various flags of Europe representing countries such as France, Greece, Poland and Italy. Even Asian fans were waving their flags from countries such as China, Japan, and Thailand. It was an interesting sight to behold as we could see K-pop's global influence.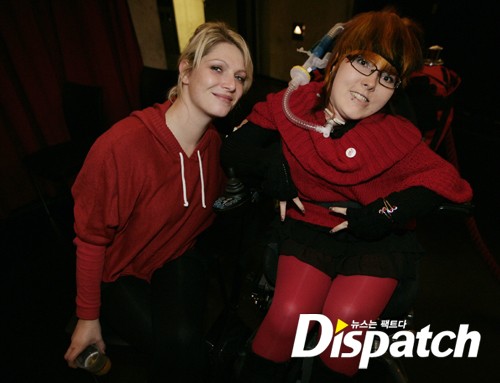 ◆ "Fans in wheelchairs, disabilities aren't a problem"
Not even disabilities can hinder them. We caught glimpses of a fan with physical disabilities at JYJ's Berlin concert. She was in a wheelchair and had a tube connected to her throat. But she was more passionate than anyone when it came to cheering for JYJ. She wore red, the color of JYJ, from head to toe. Moving her arms left to right, she sang along to the Korean songs. Her disability was nothing but a disability. It didn't stop her from showing her enthusiasm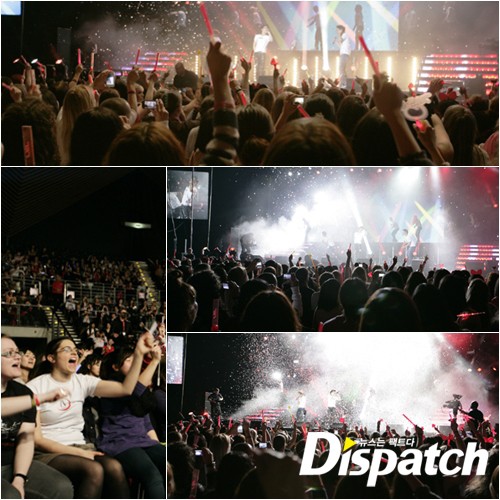 ◆ "Carefree European fans, Shake it!"
It felt like a club. That was how carefree the European fans were. When JYJ danced, so did they. They waved their arms from left to right, and jumped to the beat of the music. They danced for the entire two-hour concert and didn't stop. They were quite different from the slightly passive(?) Korean fans who just wave their glowsticks. With the fans expressing their emotions through their body movements, the atmosphere inside the concert was hotter than ever.
Source: [Dispatch]
Translated & Shared by: dongbangdata.net
Momma's Source: dongbangdata.net
Share This