[News] 120612 The cast of Dr.Jin never let go of script: "No wonder they are all good at portraying characters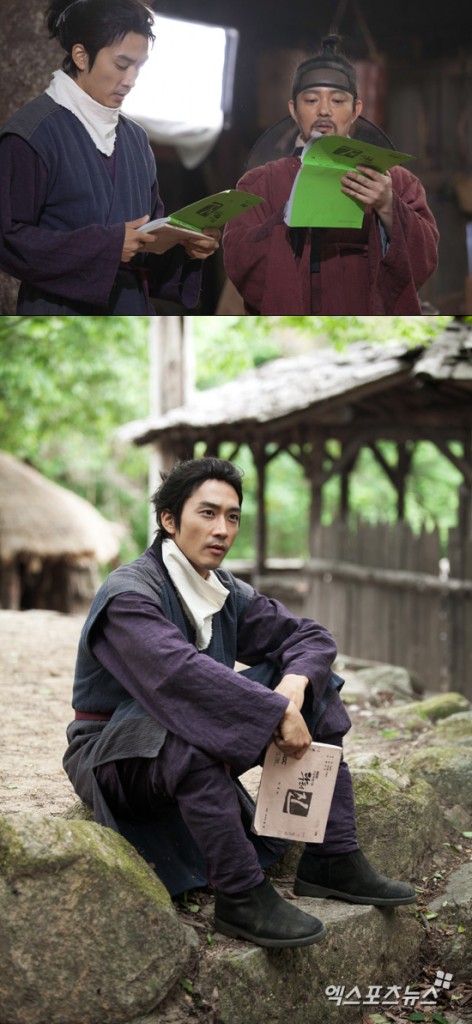 Lately, MBC's TV series Dr.Jin has been receiving positive feedback from viewers day after another with its great storyline and spectacular scenes. The leading actors of the series show particular affection to the script.
On June 12, some behind-the-scenes cuts were revealed.
You can spot actors enthusiastically working on portraying their characters as they are completely absorbed in acting, not letting go of the script.
Because none of the cast has gotten caught up in a controversy over the lack of acting skills, Dr.Jin became very popular. Certainly, the cast who are affectionate toward the characters they play brought a high quality to the series with their love for the script.
Actor Song Seung Hun gradually builds his reputation through his role of a genius doctor of the 21st century who time-travels back in the Joseon Dynasty. Park Min Young plays a double role which goes back and forth the timeline. Although it is his first time acting in a historical drama, Kim Jae Joong shows great acting skills. They grab viewers' attention at once because they are so absorbed in their roles.
 In addition to the cast mentioned above, Lee Bum Soo who is dubbed "the god of acting" plays Lee Ha Eung, "the leader of Joseon." His acting video clip without background music has already impressed numerous netizens and soon, he gained a nickname "genius acting."
A staff member of the production crew says, "On the shooting set, you can easily spot actors who are constantly studying about their characters holding a script in their hand. Before and during the shooting, they communicate, study, and give their best with the director."
With increasing viewer ratings thanks to the enthusiastic cast, MBC's Dr.Jin broadcasts every Saturday and Sunday at 9:50 p.m.
source: Xportsnews
credit: en.korea
Share This