[TRANS] JYJ Unforgettable Live Concert in Japan Released To Commemorate The 1st Anniversary!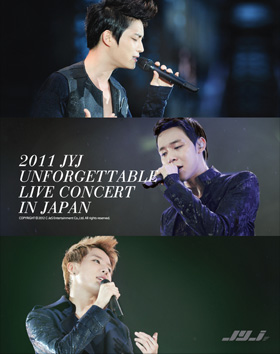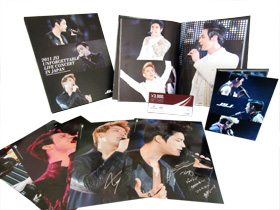 After releasing the Beginning album in 2010 and In Heaven after, JYJ held the long awaited live in Japan, the JYJ UNFORGETTABLE LIVE CONCERT IN JAPAN OCTOBER 2011, for two days.
Live recording of the DVD was made in Hitachinaka, in Ibaraki prefecture, which is located close to the areas affected by the Great East Japan earthquake, the concert was able to mobiize 80,000 people.
Live at outdoor stage began at dusk, around the time the sunset's sky represent the warmth and gratitude of JYJ to the fans, as the night turns dark, JYJ's performances became increasingly glamorous in the night sky.
The concert became a legend that can not be forgotten, DVD has finally been released to commemorate the first anniversary!
In early summer of 2011, thru a concert to help reconstruction for the Great East Japan earthquake, JYJ expressed their honest feelings toward Japan, and showed us their amazing growth and strength. In order to play an active role in the world stage, they did not stop their efforts to develop a gift for fans. In autumn, the Korean album In Heaven was released as a result of this effort.
JYJ wants to convey –
"Warmth and gratitude for the fans who were waiting for us"
"We are trying to jump out to the world to reach as many fans as possible"
"Trust is what bonds JYJ and fans"
In this DVD, you can feel the continuous growth of unity with JYJ.
Details:
List Price 7,245 Yen including tax (6,900 JPY before tax)
– Please bear additional shipping of 595 JPY
– Only 1 order per booking.
– Only 50,000 copies of limited edition DVD
– Limited release in Japan (Korean edition is not on sale)
Disc 1 contains full concert.
Disc 2 contains bonus footage of their rehearsal
Subtitles: Japanese (English subtitles are only for the English lyric parts only)
Setlist:
EMPTY/PIERROT/Ayyy Girl/Be My Girl+Be My Girl Remix/I Love You(ユチョンsolo)/守ってあげる(ジェジュンsolo)/You're So beautiful(ジュンスsolo)/Found You/I.D.S+Be The One Remix/ NINE/Fallen Leaves/Mission/Get Out/In Heaven/EMPTY Remix
Pre-order will start on Oct 18, 2012 at 1 PM JST
Source: JYJ Unforgettable
trans by: @Rubypurple_fan
Shared by: iXiahCassie