[Trans] Interview #1: Kim Jaejoong Says, "TVXQ, The Problem Wasn't Between The Members"
For TVXQ, the nation's top idol group, July of 2009 is an unforgettable moment in time. The group split up when three members, Xiah Junsu, Micky Yoochun and YoungWoong Jaejoong, filed an exclusive contract suspension injunction against SM Entertainment on the grounds that, 'A 13-year contract is unjust'. Fans who had fallen for these five 'pin-up boys' were devastated; everything had looked fine on the outside when it fact, the inside had rotted and collapsed. These three members formed a new group JYJ and chose a path that was independent from their former agency. But the environment that surrounds them in the entertainment industry is not a friendly one. There are times when they must sit in dismay under the scrutiny of cold gazes.
Two years after the group split, we invited Jaejoong to an interview with us over a few glasses of beer to represent his fellow JYJ members as they have successfully hit off their World Tour in Thailand. He showcased all his talents this performance by taking on the role of the concert's director. You could still see the feeling of relief etched on his face from completing the concert successfully; his expression was bright. What stuck out the most was his white and smooth skin.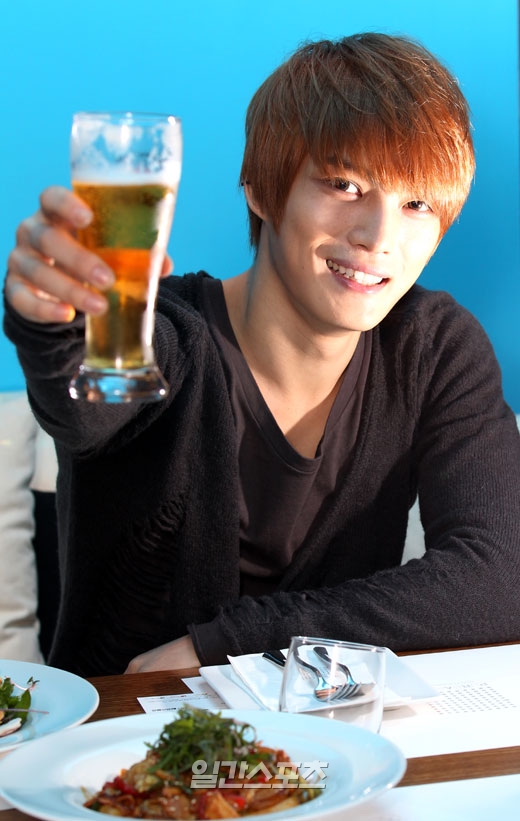 ▶JYJ's Concert in Thailand, Jaejoong's Debut as a Director
-I heard that the concerts in Thailand were a hit.
"It was all thanks to our fans. Though there are parts that I wish I could go back and fix, I was so happy that we created a performance for the sole purpose of singing our songs. I felt a surge of emotions back then."
-I saw that people cheered the loudest for you during the concert…
"No way. (laughter) But if that's the case, then I think it was because of the red, see-through outfit that I wore. (laughter)"
-Then what about the outfits of the other members?
"Park Yoochun has the manliest image in JYJ so he wore blue, and I matched Kim Junsu with green because of his humorous image. I wanted to represent my slightly epicene image."
-You must have had priority because you were the director.
"(laughter) That's right. Because it's all up to the director. I want to keep directing in the future."
-We're having an interview today over a few glasses of beer, but what's your usual drinking capacity?
"I'm a moderate drinker. But when I have a lot to drink, my face gets really red. There are times when I have a glass of sake or beer when I'm at home alone and can't seem to fall asleep."
▶His mobile phone start-up screen is still a picture of TVXQ
-Let's start off with a difficult question. What is TVXQ to you?
"There are still a few rough patches to fix. But I can assure you that the problem wasn't amongst the members. I believe there were lies and misunderstandings that surrounded us. Personally, I think that we could still straighten out all the misunderstandings. I could send the other members a text right now if you wanted me to. Actually, the start-up screen on my phone is still a picture of TVXQ."
-You must have felt very sad during the concert.
"The thought 'It would have been better if the two other members were with us. I'm sure we'd be making greater music then.' was running through my head."
-Any other regrets?
"It's been seven since TVXQ debuted in 2004 with the single 'Hug'. We even have at least 100 songs that we performed in Japan. But we can't sing those songs anymore. It's so regrettable."
During our conversation, he showed me the picture on his start-up screen. He even confessed that he listens to TVXQ albums often, though his friends tell him not to. The funny thing is that he has six mobile phones in total. He said, "It's because I get so many prank calls," and "I thought that it would be better to use five or six phones at a time instead of changing my number on a regular basis."
▶One hot photo: the luxurious interior of your house? "I saw and ordered it online."
-There are a lot of your photos that are becoming a hot topic these days, but what's this about a photo of you as a high schooler with your date?
"Ah, I saw that too. I think it was in the Myeongdong area in Seoul and I'm sure it was when I was in high school because it was before my debut. I was in fact on a date with my girlfriend. But it was such a long time ago and I haven't been in touch with her for a while."
-What about the photo you took with Kang Yebin?
"Oh, that was at my birthday party on January 26th. I met with some friends at a bar near Apgujeong, Seoul and that's when I saw her for the first time. I didn't know her very well but I got to meet her because she had come with a friend of hers who was a screenwriter. She was actually sitting way back and I was sitting up front, but the camera angle made it seem like we were leaning on each other. (laughter)"
-Who else was there at your party?
"Most of them were my non-celebrity friends. A few celebrities who came were Hong Seok Chun and Narsha."
-The luxurious interior of your new house also became a hot topic.
"I created the theme myself. But it's not luxurious at all. 80% of the things in the house are cheap products that you can order online. I really like decorating rooms. When I was living with Kim Hyun Joong, I was in charge of the interior design of the house."
▶He used to live with Kim Hyun Joong but now he lives alone
-I heard that you used to live with Kim Hyun Joong from 'Boys Over Flowers'.
"I lived with him for about a year till the second half of last year. Early this year, Hyun Joong moved to Cheongdam-dong and I moved to Jamshil."
-How did you meet Hyun Joong?
"I got to know him by chance before our debut. We've been friends ever since."
-It must be that handsome guys have some sort of connection.
"I don't think that's it… (laughter). When I first saw Hyun Joong, I thought he looked kind of pitiful. He was a lanky kid who looked like he didn't have any friends. (laughter) I think that's why I felt more affectionate towards him."
-Your friendship with Park Yong Ha was quite special.
"My heart still feels a pang of pain when I think about him. It happened while I was travelling to the US after our Tokyo Dome performance in Japan. As soon as I arrived at the airport in the US, I got a call from Yong Ha. He asked me where I was; I told him I was in the US and he said, 'Ah, okay, good luck with your concert and we should meet up for a glass of soju soon'. Who would have thought that those would be his last words to me… And then two days later, I heard that he had ended his life."
source: [isplus joins]
translated & shared by: dongbangdata.net
Our source: sharing yoochun.net
Share this: