[TRANS] 130405 JYJ "We Have Returned To Tokyo Dome" – Concert Review #1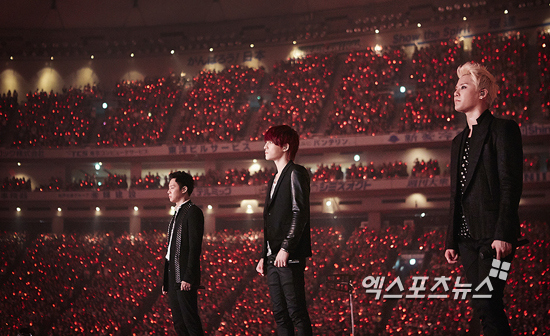 Approximately 50,000 red fan-lights moved in sync as they basked the interior of Tokyo Dome in a red glow.
On the 4th of April at 5:30pm, audience members filled 50,000 seats in Tokyo Dome and chanted "JYJ" in one voice. When the members appeared on staged, the fans screamed and shouted their delight, only to begin waving their fan-lights in sync. 1,300 square meters of Tokyo Dome were lit by a red glow. The first Tokyo Dome concert in three years for JYJ. This was the moment their last concert was to begin.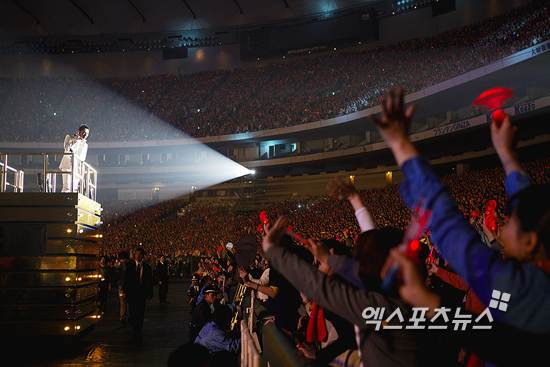 "We! JYJ! have returned to Tokyo Dome."
This is what the three members, including Kim Jaejoong, shouted on stage. And they said, "We wanted to see you. We really, really wanted to see you."
Their voices were filled with power. Park Yoochun kept shouting, "Are you ready to have fun?" Though the other members tried to calm him down and told him, "Save your voice," Park Yoochun's expression was filled with nothing but happiness.
The fans replied by holding up supporting placards that read, "Let's stick together."
Kim Jaejoong looked at the placards the fans were holding up, which had been different for every day JYJ had held a concert. The first day's placards said, 'Welcome back', while the second day's said, 'We wanted to see you.' And on the last day, fans held up signs that said, 'Let's stick together'. It was like the fans were holding a conversation with JYJ.
"What about tomorrow?" was the response Kim Jaejoong gave before he remembered it would be their last day in Tokyo Dome.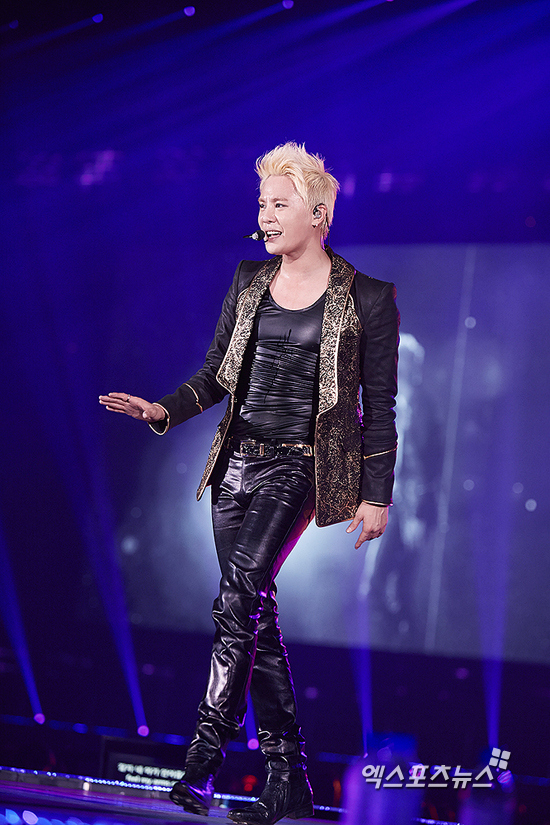 The first portion of the concert had the fans pumped up with each members' individual performances. The first up to the bat was Kim Junsu. He showcased his sophisticated performance skills, vocal talents and rap skills with the song 'Breath'. He continued to sing 'Lullaby' and walked around the large stage set within Tokyo Dome. He closed his eyes and spread his arms out wide, as if he was feeling the support and love of his Japanese fans with his whole body. At the crux of the song, high notes burst forth from Kim Junsu like the breaking of a dam.
Kim Jaejoong followed him soon after and brought out his rocker side as he sang his latest track 'Only Love'. The audience members made sure they didn't miss a single expression that crossed his face. Kim Jaejoong would close his eyes and get into the music in one moment, and suddenly open his eyes and sing to the audience the next.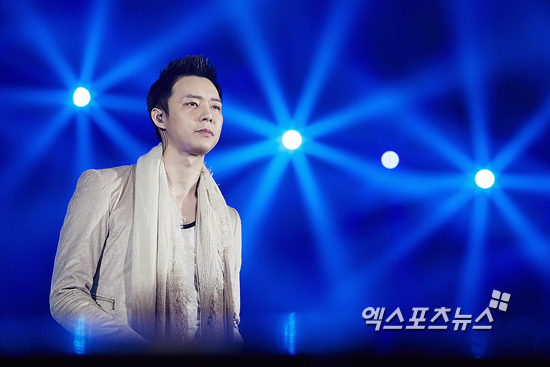 Last but not least was Park Yoochun. Park Yoochun sang 'Friend' by Anzenchitai and 'An Old Song' by Kim Dong Ryul. His emotion-laden voice calmed the energy of the venue down and fans could be heard shouting 'Yoochun-chan' in between the songs' melodies. When he finished his pieces, he was met with warm applause from the fans.
The three members then took their individual stages to another notch and showcased their individual colors on stage.
Kim Jaejoong had everyone up and running with 'One Kiss' and Mika Nakashima's 'Glamorous Sky'. Kim Jaejoong rocked it out with a fur coat worn below his shoulders, getting the fans waving their arms and enjoying themselves. One middle-aged fan who was passionately waving her arms had an expression of pure happiness on her face as he performed.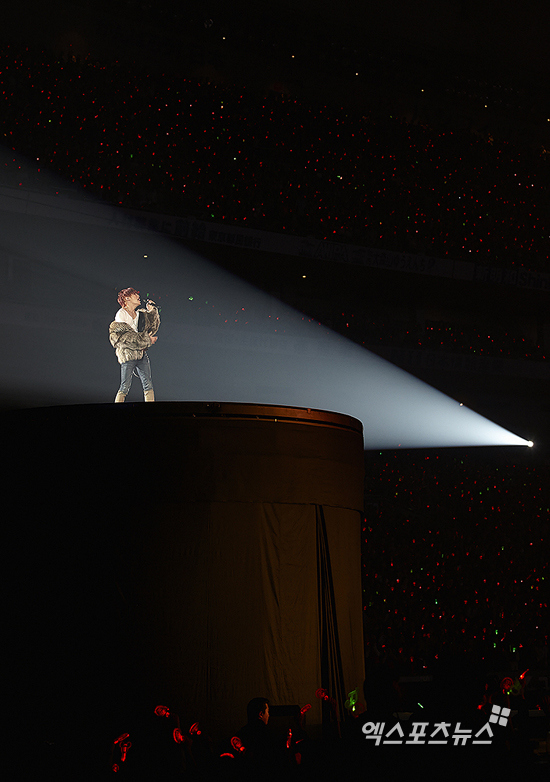 Kim Jaejoong had the audience at the edges of their seats; he knew exactly what would get his fans riled up. At times, he would put on a look of charisma on his face when the instrumental was playing and when his song hit its climax, he stopped singing, said, "It's too hot," and promptly took off his coat. He ended his performance with the smirk of one who knew what he was doing.
Straight after him came Kim Junsu, with his sharp vocal talents.
Starting off with his English solo 'Uncommitted', Kim Junsu also sang 'Everyone Under the Sky'. Kim Junsu's emotional tone and perfect vocal talent created a stage with no faults. He sang the first minute of his song with any instrumental music and was met with thunderous applause that filled Tokyo Dome. Kim Junsu continued to sing with such strong emotions, as though he had locked it all away for too long and was finally letting go. It was like watching Lim Jae Beom on 'I Am a Singer' singing 'Everyone'.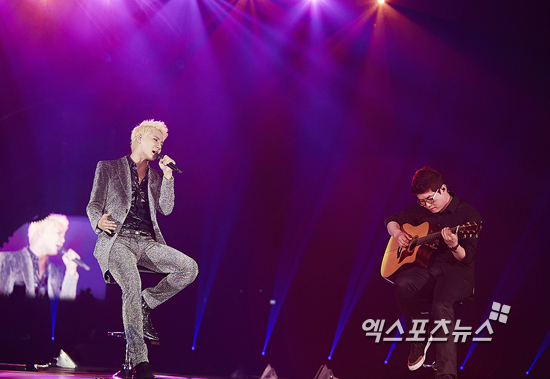 "No matter how hard it gets, I will not cry. Because I've traversed over walls so high numerous times. I'm not afraid of anything. Because I'm not alone." Though the lyrics were written in another language, they touched everyone's hearts with their sincerity. The song was met with applause that carried on for a long time. Kim Junsu's eyes teared up as he took in the applause that was given to him.
It was Park Yoochun's turn to shake things up. Starting off with Masaharu Fukuyama's 'Sai Ai', he also performed his new piece 'Walking in Spring with Her'. As a warm and sweet 'Spring carol', Park Yoochun's new song enveloped Tokyo Dome in warmth. The sweet yet sincere song was met with cheers and applause when it ended.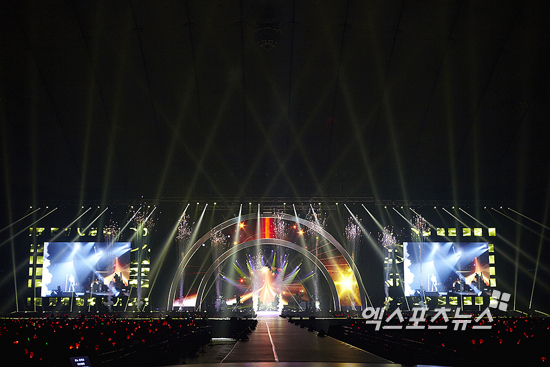 The air crackled with energy for the last of JYJ's solo performances.
Kim Jaejoong started off with his rock-ballad composition 'All Alone', and lit the flame with Mine, the title song of his rock album 'I'. He unleashed his rock spirit with the help of two guitarists, hitting high notes while moving across the stage and head-banging to the riffs of the guitars. Imitating hitting the keys of a piano when the instrumental came on, Kim Jaejoong proceeded to run his hand down his body. Fans went crazy at the sigh of this and even seeing the back of Kim Jaejoong's head had them screaming.
Kim Junsu was the last to perform a solo piece with the title song of his solo album 'Tarantallegra'. He appeared on stage by flying in and his fans cheered along in between the beat of the song. The fans rose from their seats, dancing and feeling the rhythm of Kim Junsu.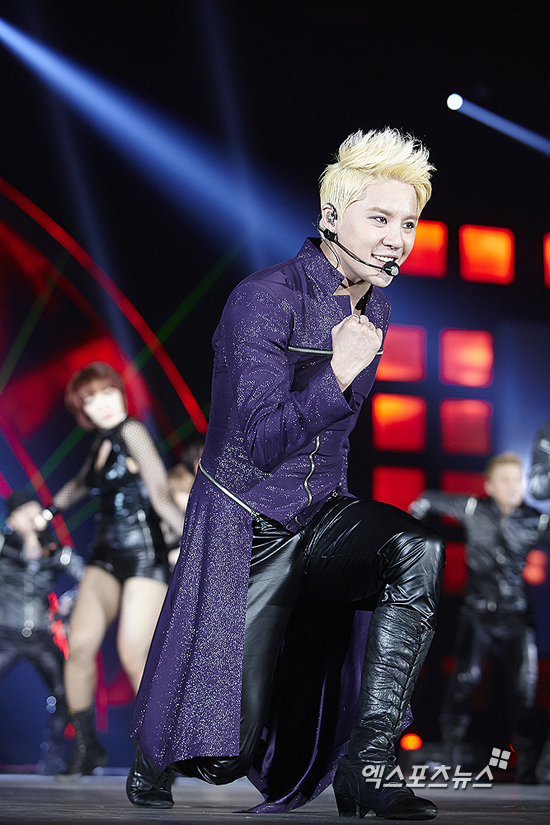 Continued in part 2…
_____________________________________________________________________
[TRANS] 130405 JYJ's 'Sorrow' Of Three Years Is Melted Away By The Cheers Of 50,000 Fans – Concert Review #2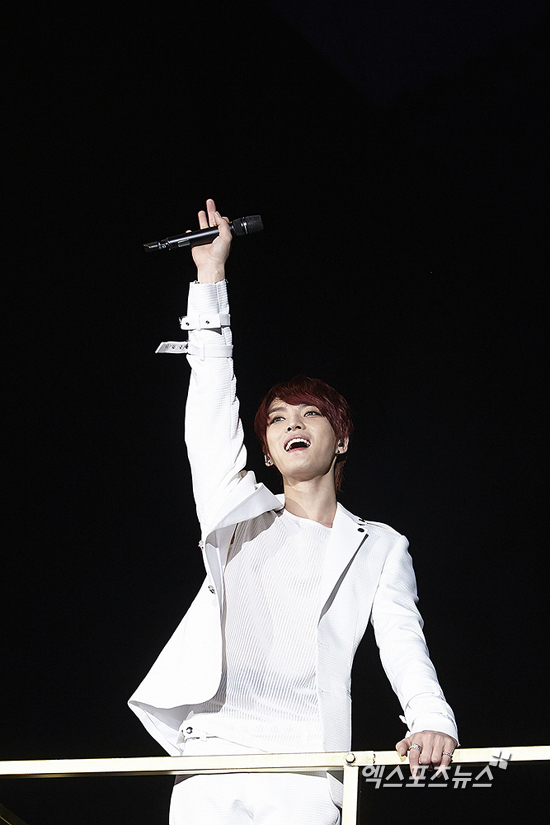 *Continued from Part 1…
The latter half of the concert had all three members of JYJ on stage together. JYJ started off by singing 'In Heaven', the title song of their first Korean album. Their beautiful harmonies filled Tokyo Dome and stayed in the hearts of their fans for a long time.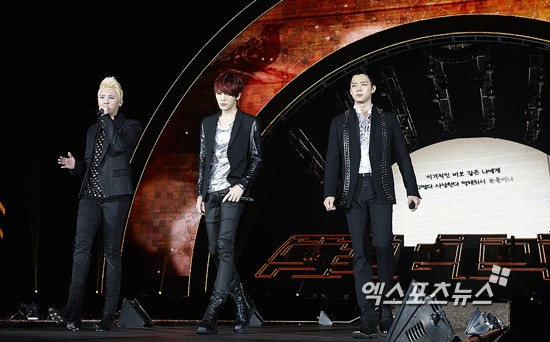 The three members continued to sing 'A Boy's Letter' to express their feelings for their fans. The lyrics of the song depict the grateful emotions a boy feels towards a girl. Like the little boy, the members expressed their gratitude to their fans, but through a heartfelt performance that was met with warm applause.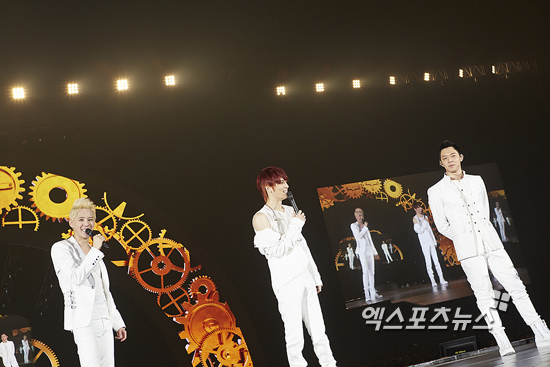 They immediately changed the relaxed pace of the concert with 'Get Out'. With great dancing skills, the three members stuck together as they roamed the stage within Tokyo Dome.
JYJ's car parade kicked things up a notch as they sang 'You're' and 'Found You' on moving cars. They threw rubber balls to their fans and Kim Jaejoong even used gun-shaped equipment to shoot the balls closer to the fans who were sitting further back.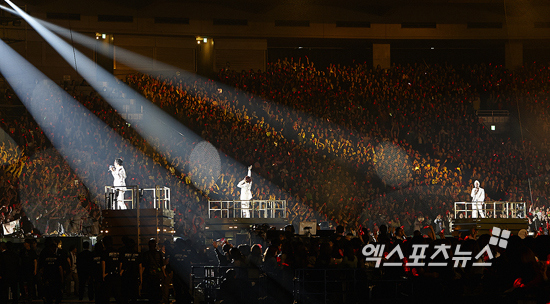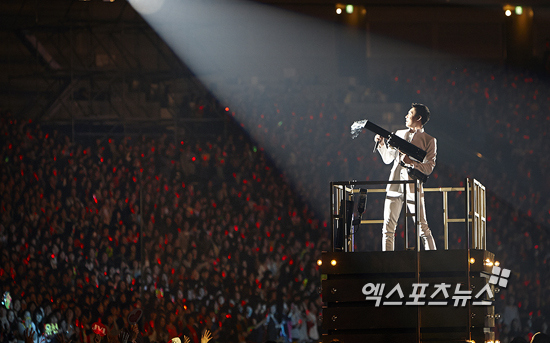 Like so, JYJ continued to make memories with the fans they hadn't seen for three years. The members and fans all waved their arms in sync and finally broke the dam of sorrow that had built up from their three years spent separated. JYJ made a confession through the lyrics, "Found you, my love. The person I've been looking for," and the 50,000 fans in attendance reciprocated by singing, "I love you, I love you."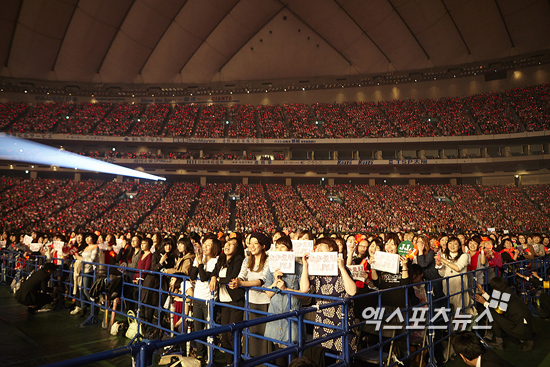 JYJ continued to connect with their fans through special performances. Kim Jaejoong stated, "It's been four years since I've seen the bright lights of this concert venue. We've prepared a song that will bring back the memories of our time together four years ago."
The song he was hinting at was 'Rainy Blue', a popular Japanese song from the 80s that was originally sung by Hideaki Tokunaga but was reinterpreted by Kim Jaejoong and Park Yoochun four years ago. JYJ also sang this song four years ago atop a revolving stage at Tokyo Dome.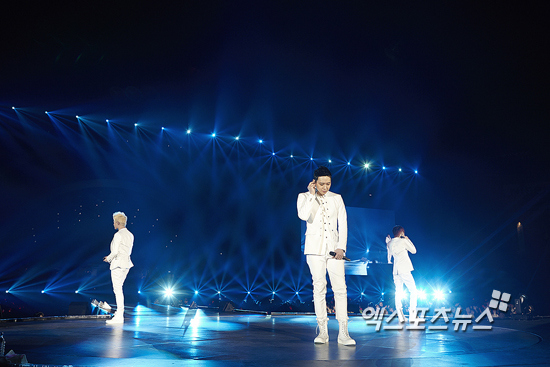 Seeing them performing the same song they had sung four years ago seemed to connect the fans' past and present. The applause and cheers that followed the performance lasted a very long time. After the song, Kim Jaejoong said, "All three members agreed that we needed to sing this song again. It's a song that brings back old memories."
The end of the three-day event, which attracted a total of 150,000 fans, was coming to an end, and the members expressed their disappointment of having it all end so soon.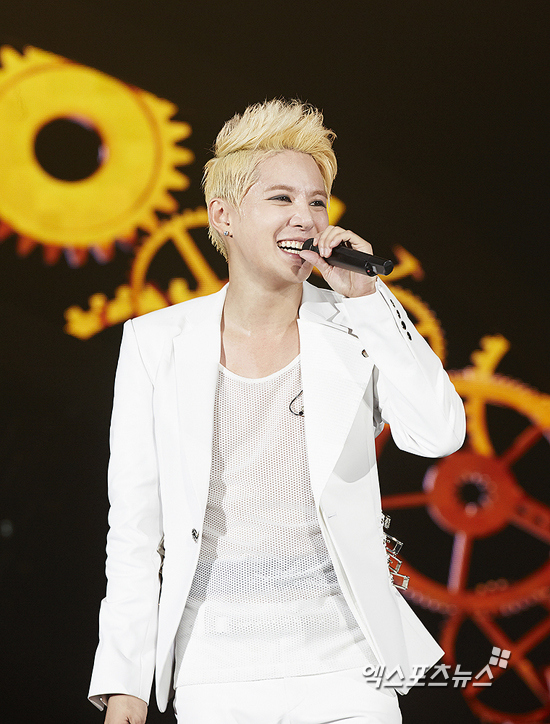 "Though so much time had to pass for us to be able to stand on this stage today, we've been so happy the past three days."
Kim Junsu's eyes teared up but he valiantly held back his tears as he stated, "We will never forget the love you have shown us the past three days and we will perform more often in Japan. For our next concert, we'll hold a tour all over Japan, not just in Tokyo."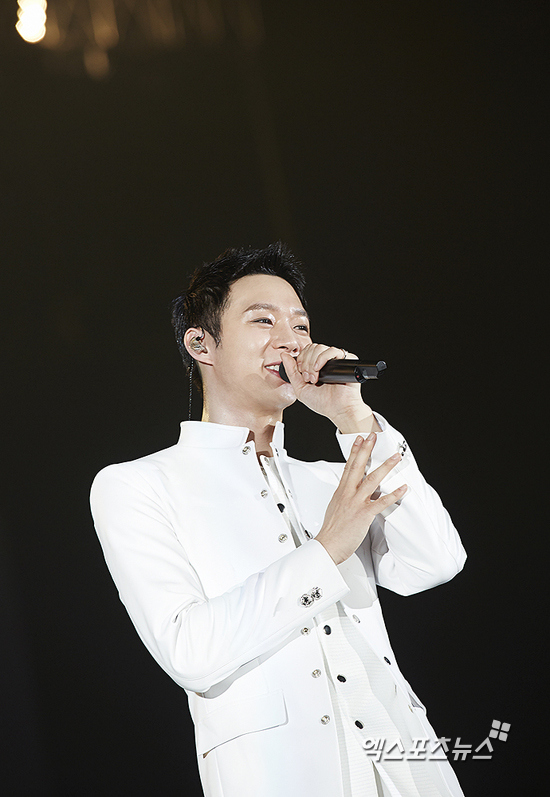 Park Yoochun said, "I'm happy. We'll come back soon. The three of us will always be together. I hope we can keep coming back to show you that." His eyes were also full of tears as he slowly expressed his thoughts.
Kim Jaejoong's eyes were already very red. He said, "We believe that things are okay, things have been okay, and we have nothing but happy days ahead of us. Never again do I want us to say 'Goodbye' or 'Farewell' to you guys. Those words don't fit what you and we have very well."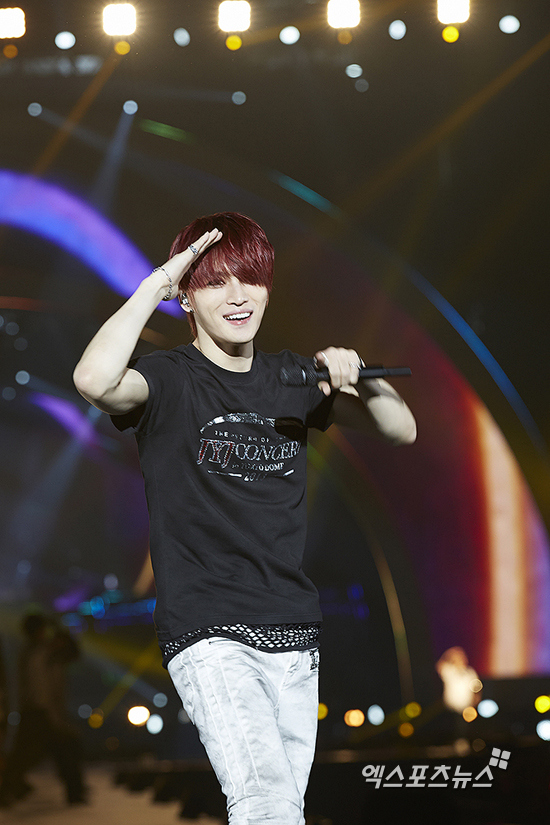 He also added, "We were scared of time, because it would keep flowing so fast against our wishes. The first year wasn't that bad. Because a year can pass quickly. But when it got to the second year, that's when we thought, 'Time is a frightful thing.' Time kept slipping through our fingers and four years passed. I can't express what emotion we're feeling, standing here with you all. Though the three of us are still young, we don't know what's ahead of us and though our future's unclear, we will be strong and keep moving forward because we have you, who believe in us no matter what."
With his words, a look of determination crossed Kim Jaejoong's face and he was met with applause from JYJ's fans.
Kim Jaejoong continued to say, "I feel relieved. We don't have many opportunities to honestly talk about our feelings. And it was great just seeing you all again. I believe that these moments will continue to increase from now on." Kim Junsu and Park Yoochun took on more serious expressions as they listened to Kim Jaejoong talk.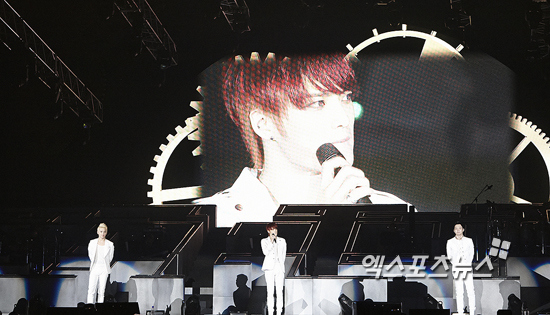 For their last song, JYJ performed 'Fallen Leaves', which contains the lyrics, 'When the flowers fall, we start again'.
Disappointed at having to let the members go, the fans waved their yellow fan-lights and at the end of the song, Kim Jaejoong shouted out, "Thank you all so very much."
After the performance, the members gathered around Kim Jaejoong, held hands, and bowed for a very long time.
With Kim Jaejoong's final words, "We were so happy today. Thank you all," the members of JYJ began preparing for their encore performances.
The encore performance was like a festival, celebrating the members' presence at the venue.
While JYJ sang 'be My Girl', 56 dancers stood on stage and had the fans do the Wave. It was a sight to see 50,000 fans do the Wave together. Like the pink fan-lights the fans held in their hands, a pink wave seemed to dance across Tokyo Dome.
With the final performance of 'Empty' ringing through the venue, Tokyo Dome was filled with colored confetti.
After singing 'Empty', the members walked off stage for a few minutes, only to come running back. Though the Japanese fans had stayed calm and orderly throughout the concert, they began shouting and cheering in earnest, knowing that this would be the last. They were sad to see JYJ go, but vowed to wait till they came back again.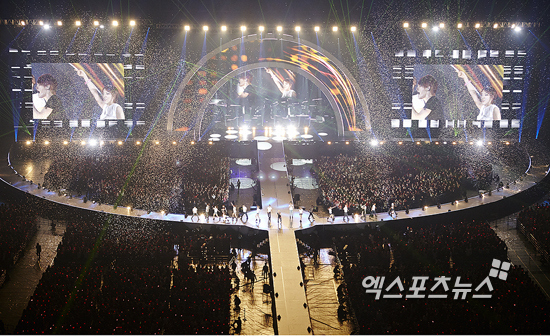 The three members of JYJ ran to the middle of the stage and returned back to their original position, holding hands with their staff members and bowing. After saying their final farewells, Kim Jaejoong and Park Yoochun put their hands around their lips and shouted, "Thank you" to everyone. Park Yoochun seemed especially reluctant to leave, staring at the audience with yearning eyes filled with tears.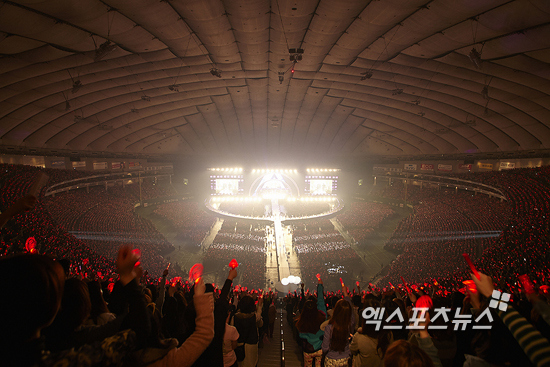 This marked the end of their Tokyo Dome comeback in three years. During the concert, the members of JYJ aired messages that expressed their emotions through short videos that were met with applause. In the videos, such a message was sent.
"It seemed like our time apart would never end. It was like being in a maze and unable to see the end. But now, the darkness has passed and we've exited the maze. Please watch over JYJ as we make our new beginning. We will repay you for the time you have spent waiting. We love you."
Three days spent together after a long and arduous journey. The three days were like a dream but passed too quickly.
Source: [xportsnews]
Translated & Shared by: dongbangdata.net