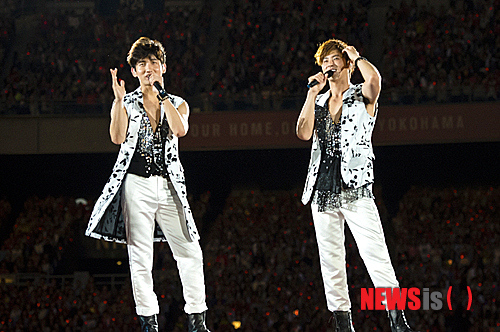 72,000 pearl red fanlights, a clock-shaped stage, a concert with the concept of 'time', the first non-Japanese singers…
Hallyu duo 'TVXQ' held the finale of their 'TVXQ LIVE TOUR 2013 ~TIME~' Five Dome tour at the Nissan Stadium in Yokohama, Japan and it was a blockbuster performance of epic size, concept and meaning.
The Nissan Stadium is a concert venue that can hold up to 72,000 people. Other than the seats needed to set up lighting and equipment, every single seat in the entire venue was filled, a rare sight to see in such a large scale.
Starting off with 'FATED', a track from their latest Japanese album 'TIME', which was released in March, the concert was filled with the sounds of songs such as 'I Don't Know', 'One More Thing' and 'Y3K'. The concept of 'Time' shined through in their concert. The main stage, which was 95m long and 22m high, was decorated with mechanical parts that looked like they were once part of a clock. At both ends of the stage stood time capsule-shaped equipment that helped U-Know Yunho (27) and Max Changmin (25) move around the stage. The entire experience felt like traveling through time.
The lighting effects that used the glow-in-the-dark watches that had been distributed to all 72,000 fans was a highlight of the show. Used once dusk settled in the sky and TVXQ began singing 'Heart, Mind & Soul', the watches changed the color of the fans' fanlights from pearl red (the color that represents TVXQ) to other colors and made the audience a part of the concert. The colors were controlled using laptops and wireless signals.
These watches were similar to the LED bracelets that alternative rock band 'Coldplay' used when performing as 'Xyloband'. The characteristic of these watches is that they give a sense of uniformity and extravagance. The ultimate highlight of the concert was when the second to fourth floors of the seats were controlled separately to create the letters 'We Are TVXQ'.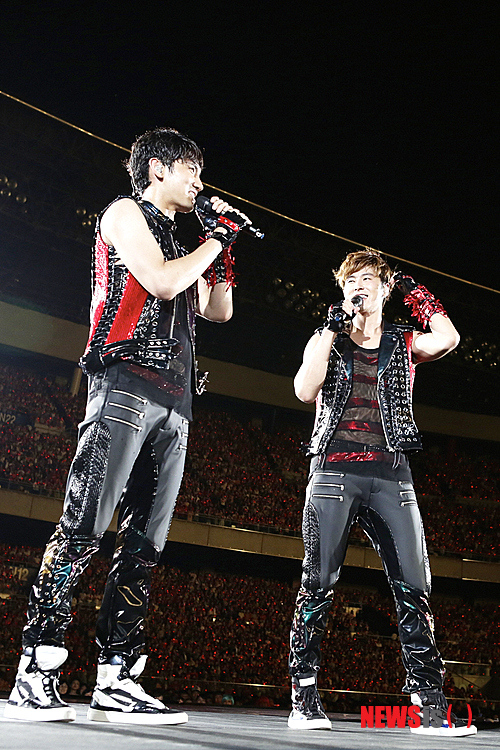 The Nissan Stadium, which also hosted the 2002 Korea-Japan World Cup, has been graced by legendary Japanese singers such as X-Japan, L'Arc~en~Ciel, SMAP and EXILE. Having already held arena and dome tours, TVXQ have become the first non-Japanese singers to hold a concert in the venue, proving yet again how popular they are in Japan.
Though it was a concept with an amazing size, concept and meaning, it would have been too much of a stretch had it not been for the two members' strong foundation. U-Know Yunho's dance skills and Max Changmin's vocal talent exuded a masculine charm, and the duo had their fans laughing with small talk and imitations of celebrities and the animation 'Attack on Titan'.
U-Know Yunho and Max Changmin's teamwork shined through in songs such as 'Catch Me' and 'Why', the last song of the concert and the first song of their encore. Their ability to run around the main stage and the 120m long extended stages on the side for three and a half hours was quite surprising. The 120m long stages also became the route that the members' 3m long monorails traveled around.
The two members were joined by a five-man band that featured percussionist Fukugana Matsuo and drummer Hanato Detsuya, a 20-member dance crew and 100 backup dancers.
If TVXQ's previous concerts focused on creating awe-inspiring performances for the members, tonight's performance focused more on being a 'show' with many sights to see. A good example of this is the fireworks show that took place when the encore performance came to an end with 'Somebody to Love'. Though most of the attendees had been women in the past, many men and families could be seen in the crowd during tonight's concert.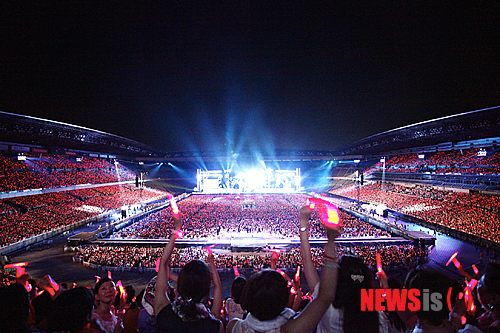 Atsushi Abe (42), who was at the concert with his wife Mana Abe (42), said, "The reason why I like TVXQ is because they're cute, amazing, and can sing and dance," and "At first, I began liking them because I was influenced by my wife, and I like them because they have a lot of male fans and they take care of their male fans."
Eiko Gamiyauchi (66), a long time fan of TVXQ, said, "I like all of TVXQ's songs, and I feel more strength and vitality when I listen to their music," and "I'll be watching the concert with my daughter, and the other four members of our family have gotten seats elsewhere to enjoy the concert. Everyone in our family is a TVXQ fan."
The members couldn't hide their gratitude for their fans. U-Know Yunho said, "The stadium is so big. We're the first international artistes to hold a concert at the Nissan Stadium. And it's all thanks to you all." Max Changmin said, "To be honest, holding a concert in such a large venue can be physically draining, but you all have given us so much power."
They also expressed their pride as they said, "Today marks a new page in TVXQ's history. I'm happy to be spending this precious time with you all" (Max Changmin) and, "Nissan Stadium was a gift for you all. Thank you!" (U-Know Yunho)
There were Koreans in the audience as well. Ms Lee (28), who filed for a break to visit Japan for two days, said, "I thought that Tokyo Dome was the highest one could do, but I was proven wrong by this stadium. I'm so proud of them and I decided to fly to Japan to watch them perform."
Fans arrived at the concert venue in the morning, regardless of the 30 degree weather and the fact that they had assigned seats. The lines that started in the New Yokohama Station, which is 20 minutes away from the Nissan Stadium, were as amazing as the view of the stadium filled to the brim with fans.
Tonight's concert proved that TVXQ, who made their Japanese debut in 2005, are still evolving and becoming more popular than ever. Many of the fans were middle school students who had become fans two to three years ago. Jueri (13) and Gapuyu (15), who had come from Chiba and Nagoya, said, "Not only are they good-looking, but they're also great singers and dancers. We recently became fans of TVXQ."
Youko Kikuta (34), a staff member of AVEX LIVE, the company that's worked with TVXQ since their first Japanese concert, said, "When they made their debut, they started off in a small-scale theater, but they've been able to come so far because they've touched their fans at each other, prompting fans to bring their friends and family," and "Their latest success is more meaningful because they achieved it through only their passion and high quality performances, rather than through a fad or the power of the media."
A representative of the J-POP industry stated, "Though it's true that K-pop and the Hallyu Wave have died down in Japan, TVXQ will continue to grow in popularity with a growing fandom."
TVXQ attracted 72,000 fans in the same venue on the 18th, with a total of 144,000 fans joining them across two days. Fans who were unable to go the concert were able to attend a live viewing that was held in 38 theaters across Japan, including Hokkaido and Osaka.
Source: [newsis]
Translated & Shared by: dongbangdata.net
JYJFantalk Source: dongbangdata.net
Share This