[News] 130501 K-Pop Celebrity Siblings Spotlight: Stars Run in the Family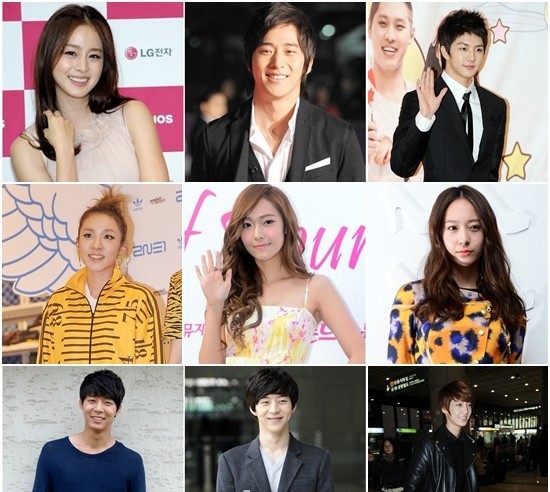 How many star siblings are there and who are they? We will explore the star-studded families here.
In K-pop, there is quite a number of sibling celebrities. Their so-called star genes are often the subject of the public's envy as an average person's family picture pales in comparison to that of self-radiating celebrity families. So how many star siblings are there and who are they? We will explore the star-studded families here.
The Actor-Actress Families
Kim Tae Hee and Lee Wan have both had great acting careers. Kim Tae Hee, after debuting in 2000 as an advertising model, gained a lot of momentum in the widely popular 'Stairway to Heaven' and has continued to build a great track record as one of the most beautiful actresses in Korea. Lee Wan, initially relegated to a title of Kim Tae Hee's younger brother, gradually marked his territory as a talented actor in film industries as well as the small screen.
Um Jung Hwa and Um Tae Woong are also well-known celebrity siblings. Um Jung Hwa has enjoyed a great deal of success as a singer in her 20s and early 30s and now as an actress in the big screen. The brother, Um Tae Woong, made his mark with his work in 'Resurrection' back in 2005 and began to elevate his career.
JYJ's Yoochun and Yoohwan are known as the good-looking brothers. Yoochun, has ventured out to acting and established himself as a well-balanced actor who can spearhead a drama.
The Idol Group Families
Girls' Generation's Jessica and f(x)'s Krystal are probably the best-known siblings. Often called the 'beautiful Jungs,' they are both members of top-notch girl-groups.
2NE1′s Dara and MBLAQ's Thunder are also siblings. After spending their childhood in the Philippines, Dara paved the way for her brother as she got selected to become an idol trainee through a survival audition program and eventually became a member of 2NE1.
Last but not least, there are the Gwangmin-Youngmin twins of Boyfriend. With pretty facial feature, they have build a respectable fan base with their group, Boyfriend.
credit: kpopstarz
shared by: sharingyoochun.net
Momma's Source: sharingyoochun.net
Share This