[TRANS] 130625 JYJ-SISTAR Awarded The Best Male And Female CF Model Awards, "A Great Honor For Us"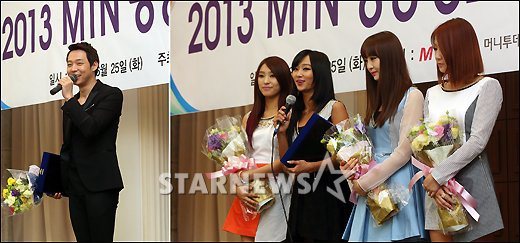 The three member male idol group JYJ (Kim Jaejoong, Park Yoochun, Kim Junsu) and four-member girl group SISTAR (Bora, Hyorin, Dasom, Soyu) received the Best Male and Female CF Models of the Year Awards.
JYJ and SISTAR attended the '2013 MTN Broadcasted Commercial Festival' on the 25th at 4pm to receive their respective awards.
On this day, Park Yoochun attended the awards ceremony to receive the accolade on behalf of JYJ and with the trophy in his hands, he stated, "We're extremely honored to receive such a big award. We would like to thank everyone who contacted us for such great commercials."
With a bright smile on his face, Park Yoochun continued to say, "I'd like for us to continue greeting you all through great commercials."
With members who were some of the first Hallyu stars of Korea, JYJ's myriad of charms have been presented through various commercials for clothing, cosmetics and outdoor brands.
Source: [starnews]
Translated & Shared by: dongbangdata.net
JYJFantalk Source: dongbangdata.net
Share This