YaY!! JYJ are on their way to North America. As the last time resulted in them not being able to obtain a working visa, I pray that this situation has been resolved and that our mancubs can be rewarded for their hard work. I pray that they will make it to Chicago, Minneapolis, or LaCrosse at some point. That would make JYJ a lot more accessible.
Earnestly praying for your safety and success Jaejoong, Yoochun and Junsu. Love you. Momma Cha
News 110509 JYJ's Beijing Concert Concludes and Start of Their North America Tour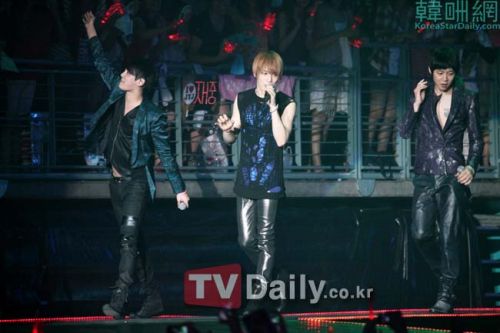 "JYJ World Tour", which started from April for a period of two months, was held in Beijing, China on the 7th. In this performance, JYJ sang the songs from the co-produced album with Kanye West and Rodney Jerkins, "The Beginning" and their own self-compositions, receiving loud cheers from the thousands live audiences with the grandeur of the live stage. Beijing's concert concludes the Asia Tour and this tour proves JYJ's popularity as top star in Asia and Kim Jaejoong's success as a director.
Kim Jaejoong has mentioned before the tour that the theme would be "The Challenge of Creativity", using his experience as a singer to present an excellent concert for everyone. In these four performances, the stability of the structure, the uniqueness of JYJ's performance, the unprecedented style and the stage that allows interactions with the fans, has caused the media from the different countries to write detailed reports. JYJ who has successfully finished the Asia Tour, expressed, "This world tour is JYJ's new challenge and we wanted to express our kind of stage. To meet the fans after long absence through an official performance and to present them with a diverse exciting performance, we are elated and wanted to express our thanks to the fans who wholeheartedly supported us."
Additionally, the four sold-out concerts has attracted a total of 43000 fans and this time around, they will be moving to Los Angeles and North America. The North American tour would begin on the 20th in Vancouver, Canada and would then be held on the 22nd in New Jersey, 27th in Los Angeles and 2nd of June in San Jose.
credit: koreastardaily
trans by: rachui@sharingyoochun
our source: sharingyoochun.net
Share this: