[Translation] 110607 JYJ Completes Two-Month Long World Tour,"Becomes True Artists"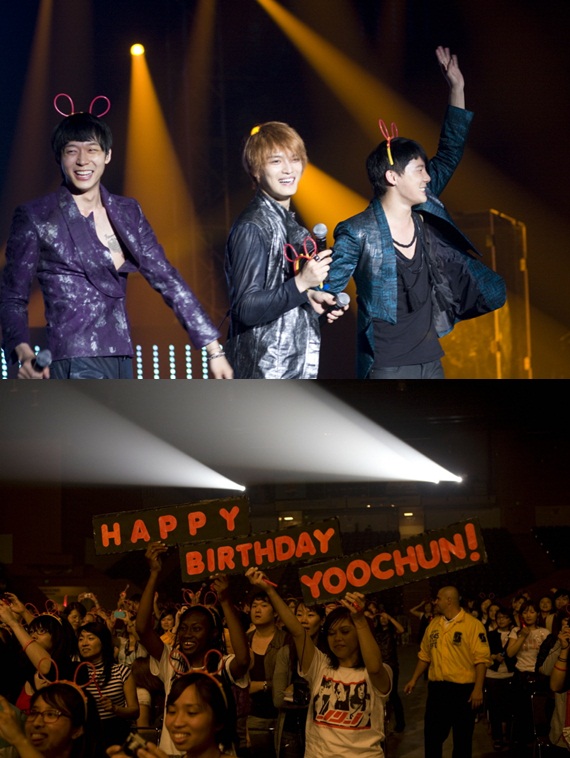 JYJ (Jaejoong, Yoochun, Junsu) visited Thailand, Taiwan, China in the Asian regions, followed by Vancouver, New Jersey, LA, and San Jose, successfully completing their two-month long Worldwide Concert Tour.
JYJ signed a contract with world-class concert production company AEG Live, bringing new and exciting performances to the concert management. JYJ's concerts held in Vancouver, New Jersey and LA were continued successes, and the final show was held in San Jose, ending the "JYJ Worldwide Tour Concert in 2011."
At the performance in LA, not only were there Korean nationals, but fans from all nationalities coming for the performance. After the concert ended, the concert management personnel and fans expressed their satisfaction towards the performance.
Screen technician Kenneth Kasier said, "During the performance, I witnessed the way JYJ enjoyed the stage, and I felt that they were very professional. The members' harmonization blended beautifully. Also, the atmosphere left a deep impression, and the feelings that JYJ showed were well-communicated to the audience"
Among the audience, Tara Wilson expressed her thoughts on the concert, "The atmosphere of Nokia Stadium (where the concert was held) was fantastic. I danced along to JYJ's fast-paced songs, and had a great time with my mother."
Also, on 3 June during their concert at the San Jose State University's Event Center Arena, there was a surprise party prepared in celebration of Park Yoochun's birthday. Overall concert producer Jeri Slaughter personally brought a cake onstage, and celebrated Yoochun's birthday with the fans.
After the San Jose concert, JYJ said, "To the fans who attended our concerts held in various countries, we're deeply thankful," and "we're very happy to meet with fans from all over the world, but to the Korean fans that we will be meeting with soon, we're touched beyond words," showing their anticipation towards the Korean concerts.
C-JeS's representative Baek Chang Joo said, "By holding these concerts not just in Asia but in America as well, JYJ have become true artists. Unlike most Asian artists, they held concerts in the American region, and we're really satisfied with the results."
JYJ, who returned to Korea after their last concert in San Jose, will hold a charity concert on 7 June in Japan, followed by two days of concerts on 11-12 June at the Busan Sajik Indoor Gymnasium.
Source : [jrw8008 + Osen]
Translated & Shared by : dongbangdata.net
Momma's source: sharingyoochun.net
Share this: