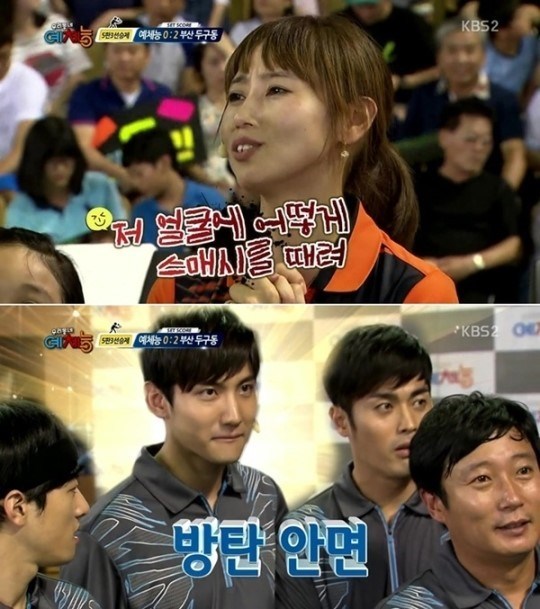 Max Changmin has become the shield of 'Our Neighborhood's Master of Variety and Sports'. During the episode of KBS 2TV's 'Our Neighborhood's Master of Variety and Sports' that aired on the 13th, the celebrity team had their first away badminton match in Doogu-dong, Busan.
On this day, Max Changmin's stunning visuals became a topic as hot as the matches that took place. Though the matches were so tight that it was difficult to guess who would come out on top, the Doogu-dong team began talking about Max Changmin's good looks rather than the game.
With the voices of the female players getting louder, Shin Da Seul, an elementary school student (10) said, "It would have been nice to have gone against Max Changmin," while Lee Shi Jung (27) said, "I would feel great playing against him, even if I lost."
With the phrase, "How could I possibly smash the birdie at that (good-looking) face?" summing up their feelings for Max Changmin, his out-of-this-world good looks may become the celebrity team's greatest weapon.
During the team's first badminton match against the Joonggok-dong team, a woman on the opposing team took one look at Nickhun's burning gaze and said, "I can't serve this birdie." With Max Changmin's good looks now becoming a hot topic and stopping the female players in their tracks, the power of the celebrity team's 'handsome guy' has hit full force.
After the episode, netizens left comments such as, "Changmin's cheers were loud and energetic", "It was great to see families participating in sports together.. It was heartwarming~", "It must be amazing to go head to head in a badminton match against Max Changmin.. I'd be wondering if I was I was dreaming or not."
Meanwhile, the celebrity team's hard efforts are paying off with a rise in viewership for the show. 'Our Neighborhood's Master of Variety and Sports' recorded a 0.2% rise in ratings this week to come to a total of a 7.5%, the highest viewership the show's ever had.
Source: [enews24]
Translated & Shared by: dongbangdata.net
JYJFantalk Source:
Share This