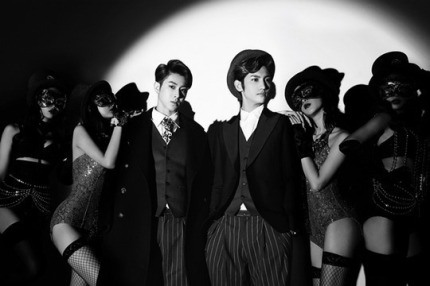 TVXQ, who celebrated their 10th anniversary this year, will be releasing the music video for their new title track on the first day of 2014.
SM Entertainment will be releasing the music video for 'Something', the title track of TVXQ's 7th album, through SMTOWN's Youtube channel and Facebook page at 6pm on the 1st of January.
'Something' is a swing jazz piece that features a Las Vegas big band show with a modern twist. The lyrics depict a man who is tired of all the girls of the world loving him, but wanting a girl who has a special 'something' to approach him soon.
The music video will reflect the flashy extravagance of the music. Motion control cameras, stop-motion, and roto-scoping camera techniques have been merged with TVXQ's performances to captivate their fans.
TVXQ's 7th album 'TENSE' is set to be released on the 6th of January. The group will be making their comeback on the 3rd through KBS2′s 'Music Bank', and will then move on to MBC's 'Show! Music Core' on the 4th and SBS' 'Inkigayo' on the 5th.
Source: [enews24]
Translated & Shared by: dongbangdata.net
JYJ Fantalk Source: dongbangdata.net
Share This