Kim Jaejoong, who exhibited images of various types through his first solo rock album in October last year, came out again with emotional ballad. Kim shows his versatility as an artiste through writing 10 out of 13 songs in the album.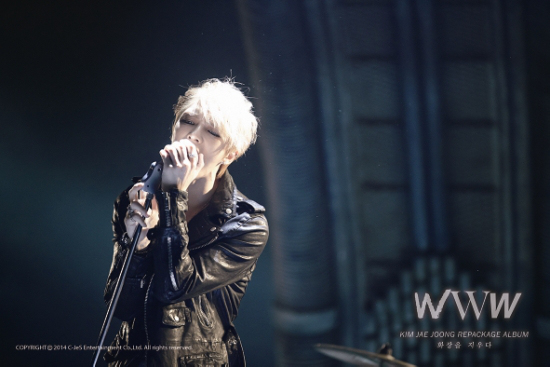 In this repackage album, 2 more new songs will be added and more love stories will be shared.
The repackage album, WWW Erase Makeup, will be released on October 20 and his new song, Heaven, which was sung during his Asia tour, received much love and hence, it will be included in this album. Heaven is a sentimental winter ballad which is of pop and ballad genre.
Kim Jaejoong earned motivation from the movie 'A Moment To Remember' to write the lyrics and a song was created that features Gummy to stand out beautiful harmonies. Kim re-arranged Keshou (Makeup) by Nakajima Miyuku, a famous Japanese singer-songwriter, and it will be included in this album too.
Kim's version of Makeup leaves the original blues and he arranged that song with only the piano and strings to express its simple and moderate feelings.
In the beginning, he chose this song for his fan-meeting tour in Japan and for its sad lyrics. This song recites the sad heart as if one looks at himself into the mirror and searching for the love that left.
"What is this makeup business I had not thought about it deeply. Tonight, I'm fine with dying, I want to be beautiful." and "Don't flow, tears, till the bus leaves here", are part of the lyrics that are smeared with emotion of grieve over the love that is ignored by one's heart. Kim made the song dramatic by a monological chanting and sometimes by weeping.
As Kim made the song pitiful and emotional by interpreting it into a female vocal song by his own colors, the listeners can feel the strength of his vocals. Listeners can recall their emotion that they bury in their memories and shed tears. Kim showed many genres like Britpop, Softrock, Neo Punk that are based on rock, and received much favorable comments.
He also made numerous records that make their way up to 1st place in 12 countries. He succeeded in entering the iTunes Chart in 34 countries including Europe and South America. He topped the Japanese iTunes Chart six times this year while staying 1st place on YinYueTai V Chart in China for five weeks. These achievements made people to realize his popularity.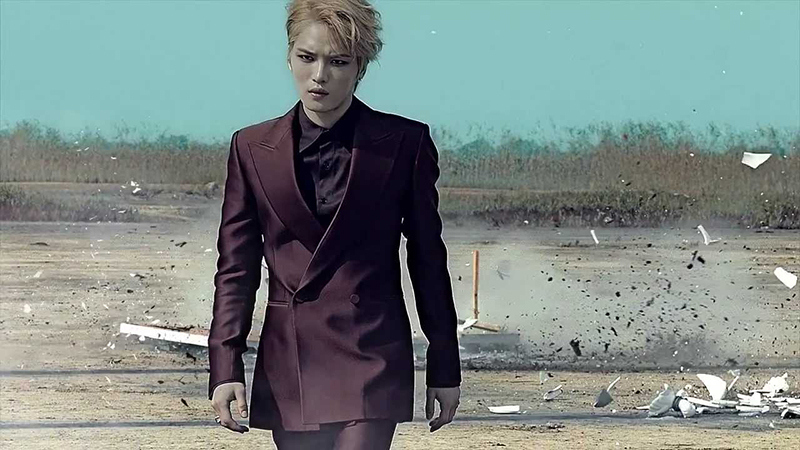 This repackage album will include undisclosed cuts from the music video of the title song in his 1st Solo Album, Just Another Girl, as well as additional new songs, and a DVD that includes Just Another Girl Music Video along with its making film that is constructed in addition to collect anticipation from the fans.
The track listing of the new repackage album and details of the DVD can be found after the jump.
DISC 1
No. Title Lyrics Music Arrangement
1. Makeup Kim Jaejoong Huijang-Nim, Kim Gwangsup Huijang-Nim, Kim Gwangsup
2. Heaven Kim Jaejoong, Miyuki Nakajima Miyuki Nakajima Huijang-Nim
3. 빛 (Light) Kim Jaejoong Jung Jae-Yeop Jung Jae-Yeop
4. Don't Walk Away Kim Jaejoong TEXU TEXU
5. Just Another Girl Kim Jaejoong, D.Brown, Sung Hyeon, Baek Mu-Hyeo D.Brown, Sung Hyeon, Baek Mu-Hyeon D.Brown, Sung Hyeon, Baek Mu-Hyeon
6. Butterfly Kim Jaejoong Huijang-Nim, 2JAJA Huijang-Nim
7. Rotten Love Kim Jaejoong Kim Jaejoong, Kwon Bin-Gi Kwon Bin-Gi
8. 햇살 좋은 날 (Sunny Day) Sung Hyeon, Baek Mu-Hyeon Sung Hyeon, Baek Mu-Hyeon Sung Hyeon, Baek Mu-Hyeon
9. Let The Rhythm Flow Kim Jaejoong TEXU TEXU
10. 그랬지 (It is) Kim Jaejoong Kim Jaejoong Kim Jaejoong
11. Now Is Good Yoon Do-Hyun Yoon Do-Hyun Chu Seung-Yeop
12. 9+1# Kim Jaejoong Kim Jaejoong Kwon Bin-Gi, Jang Insuk
13. Luvholic Kim Tae Wan Kim Tae Wan, 251, High J Kim Tae Wan, 251, High J
14. Modem Beat Kim Jaejoong, TAKURO TAKURO TAKURO
15. Paradise Kim Jaejoong Kim Jaejoong, Park Il Park Il
DISC 2
Just Another Girl Music Video.
Music Video Making Film.
Sound: Dolby Digital
Screen Ratio: 16:9 / LB
Time: 18:32 min
Regional Code: NTSC (All)
Rate: PG-15
Photos courtesy of C-JeS Entertainment
[Article content is translated by Judith and Jewel from All About Cassiopeia. Any copying, republication or redistribution content other than for personal uses is expressly prohibited.]
This article content originally published at C-JeS Store here.
JYJ Fantalk Source; ALLABOUTCASSIOPEIA
Share This