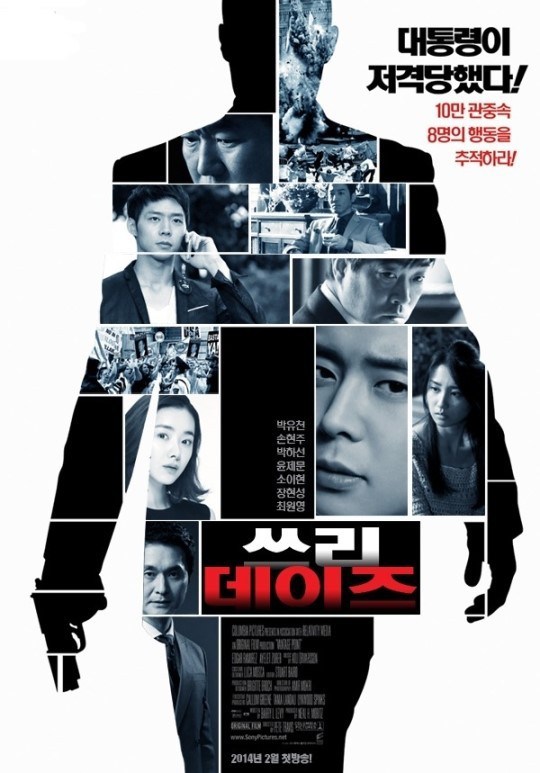 Hypothetical fan-made posters for SBS' new Wednesday-Thursday drama 'Three Days' have already appeared on various online communities, giving support to the claim that the drama is set to be a big hit.
As the drama to follow 'You, Who Came From The Stars', 'Three Days' will begin airing on the 26th of February and is a mystery suspense and melodrama production that depicts the lives of the president's bodyguards.
'Three Days' has already become a hot topic for bringing together the 'dream team' of screenwriter Kim Eun Hee, who has written successful dramas like 'Sign' and 'Ghost', and director Shin Kyung Soo, who directed the high-quality historical drama 'Deep-rooted Tree'. With over a month still left till the drama begins airing, it's surprising to see fan-made posters being created already.
One internet community showcased a poster of 'Three Days' that was parodied off of the 2008 movie 'Vantage Point', which follows veteran bodyguards as they protect the US president during a global conference in Spain.
Taking into consideration that both productions follow a storyline involving a president and his bodyguards, netizens created this poster. The final product features pictures of Park Yoochun, Sohn Hyun Joo, Park Ha Seon, So Yi Hyun, Yoon Jae Moon, Jang Hyun Sung and Choi Won Young, as well a caption that reads, 'The President has been targeted! Follow the actions of 8 in 100,000′.
A representative of SBS' drama sector said, "Popularity continues to rise for 'You, Who Came From The Stars' and netizens have been creating parody posters for the drama. 'Three Days' is already experiencing a similar level of attention and popularity," and "We believe that people will become even more interested in the drama once it begins airing."
With the drama already in the center of the spotlight, 'Three Days' will begin airing on the 26th of February and will greet viewers every Wednesday and Thursday at 10pm.
Source: [sbs funE]
Translated & Shared by: dongbangdata.net
JYJ Fantalk Source: dongbangdata.net
Share This