[NEWS] JYJ Will Be Holding Their Solo Concerts in Europe!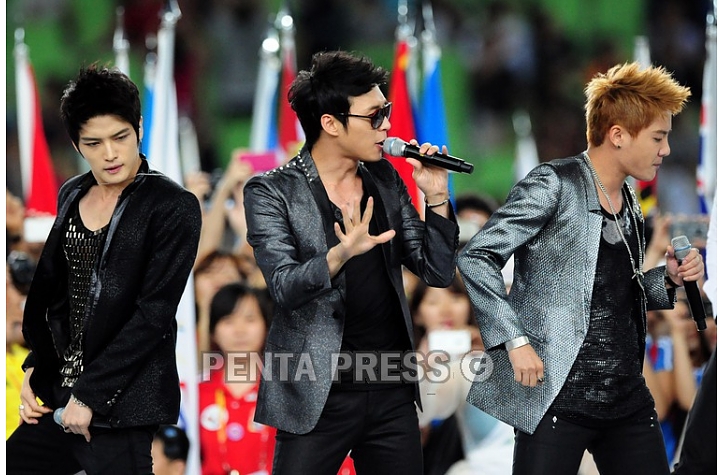 Group JYJ (Kim Jaejoong, Kim Junsu, Park Yoochun" will be holding their solo concerts in Europe.
JYJ's management company C-JeS said, "The JYJ concerts in Europe have been confirmed. In October, they will be holding their solo concert in Spain, followed by Germany in early November."
JYJ will be performing in their first European concert on 29 October in Palau Sant Jordi of Barcelona, Spain. This location once hosted Ricky Martin, Deep Purple and concerts of other world renowned stars. Also, on 6 November they will be holding their second European concert in Berlin, the capital of Germany, and is currently in discussion with the concert venue Tempodrom, who recently hosted the concert for "Britain's Got Talent" winner Paul Robert Potts.
C-JeS said "After JYJ released their worldwide album, love calls for concerts started coming in from Spain as well as other parts of Northern and Eastern Europe. The concerts venue cities were selected in Spain and Germany, which are central to Western and Eastern Europe, and a tactical choice so that it is possible for fans in Northern Europe to travel here as well.
The management and organisers in Barcelona, Spain said "For the European fans, JYJ's release of an English album via Warner Records, a label familiar to them, as well as the group's outstanding live performance abilities have caught the fans' interest in JYJ"
JYJ said, "We don't want the concerts in Europe to be too different from the concerts held in America and Asia. However, we are really happy to be able to perform in new cities, to fans who have not seen us before."
Also, the music video teaser for JYJ's new song "In Heaven" has been released on the C-Jes Website, and news on their Korean album will be put up as well.
Source : [BaiduTVXQ + Hankooki via Nate]
Translated & Shared by : dongbangdata.net
Re-up by: iXiahCassie
Momma's Source: iXiahcassie
Share This