News 111014 TVXQ To Release Japanese Album [TONE] In Korea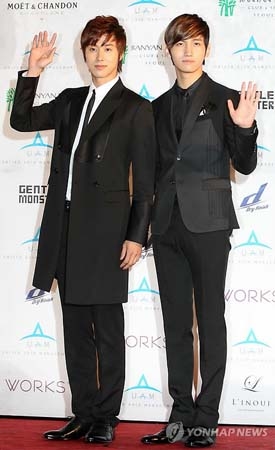 Popular Korean group TVXQ will be releasing their new Japanese album [TONE] in Korea on 14 October.
[TONE] was previously released in Japan on 28 September and conquered both the Oricon Album Daily Chart and the Oricon Album Weekly Chart. Within 3 days of its release, it was selected by the Recording Industry Association of Japan and awarded as a [Platinum Album] for selling more than 250,000 copies, earning its popularity.
The album includes 9 new tracks like [B.U.T(BE-AU-TY)], [Duet], [Back to Tomorrow], as well as their previously released singles like [Why? (Keep Your Head Down)], [MAXIMUM] and [Superstar], making it a total of 13 tracks. Also, both CD only and CD+DVD versions will be available, with the music video and making footage included in the DVD.
Furthermore, on the 23rd of this month, TVXQ will be performing on stage at the [SM TOWN LIVE WORLD TOUR], which will be held in Madison Square Garden, Manhatten, New York.
Source: [Asahi News]
Translation credits: mandasoh@tohosomnia.net
Shared by: tohosomnia.net
Do not remove/add on any credits
Momma's Source: sharingyoochun.net
Share This