[TRANS] 111027 'SMTOWN LIVE' Is Written About In American, Japanese And Chinese Newspapers
The Japanese and Chinese media have followed the American press and have published an array of articles on the '2011 SMTOWN LIVE in New York' concert that was held in New York's Madison Square Garden on the 23rd.
In an article on the 26th, the major Japanese daily newspaper Sankei Sports introduced the New York performance and described the highlight of each SM artiste's performance, saying that, "K-pop has taken over the birthplace of entertainment."
The article described the ending stage as "The moment New Yorkers acknowledged the SM family," when TVXQ's Yunho said, "Thank you New York!" and was met by everyone in the audience standing up and cheering.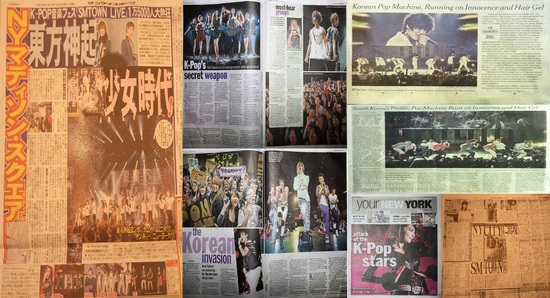 Nikkan Sports had the headline "SM TOWN Appears in New York City, Finishes Off With The Crowd Going Wild" and talked about the passionate response the concert received from its American fans. The article talked about a flashmob that was done in Central Park in July to call for a SM concert in New York, and introduced the immense popularity of the SM TOWN LIVE concert.
The Chinese portal site Huanqui wrote, "The SM concert in New York was a sensation in New York's Madison Square Garden and showed the world the charm of K-Pop."
Meanwhile, the New York Times article described the singers as acts "any American reality-TV talent show or major-label A&R department worth its salt would be thrilled to have discovered." Billboard posted a review of the concert with the headline, "K-Pop Hits Madison Square Garden at SMTown Live" while the New York Daily News released a special article on the concert, highlighting the interview with Girls' Generation's Tiffany.
Source: [etoday+New York Times(direct quote)]
Translated & Shared by: dongbangdata.net
Momma's Source:dongbangdata.net
Share This