[News] 120430 JYJ's Jun Su names his first solo album "Xia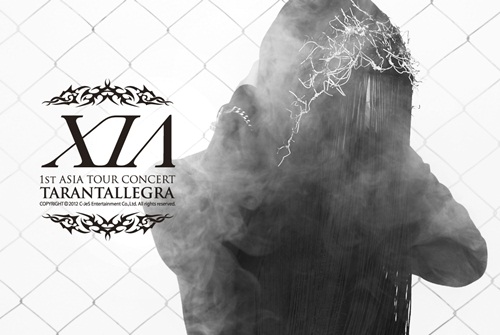 JYJ's Jun Su released the teaser poster and the name of his first solo album after releasing its visual concept, Unequalled, last week.
On April 30, C-jes Entertainment, JYJ's agency, released the teaser poster of Jun Su's first solo album on JYJ's official Facebook account (www.facebook.com/CJESJYJ).
In the teaser poster, Jun Su is wearing a cloak, showing a dark image. There's also a phrase that reads Xia Trantellegra, which is the album's title.
Trantellegra, which is written in a strong style, means a magic spell that makes people dance. It's the lead track composed by Jun Su.
As the teaser poster gives a powerful image of Jun Su, people are now curious about the jacket photo, which will be released soon.
A spokesperson for Jun Su says, "The title of Jun Su's first solo album is Xia. Xia is a representative identity of Jun Su. It also means a type of album that combines all the talents of Jun Su."
The advance sales for Jun Su's first solo album Xia will start on May 4 on and offline.
The second teaser video of Jun Su's first solo album will be released on May 2 on JYJ's official YouTube channel (www.youtube.com/CJESJYJ), and the jacket photo will be released on May 4.
Jun Su will hold his first concert at the Jamsil Indoor Stadium on May 19 and 20. He will then start his concert tour in Asia. He will hold live concerts in six Asian countries, and it will start in Thailand on May 27. Jun Su's popularity in Thailand was proved as all 3,000 tickets, partially out for sale, were sold out only in ten minutes.