[News] 121224 JYJ's Junsu Releases New Digital Single "Thank U For"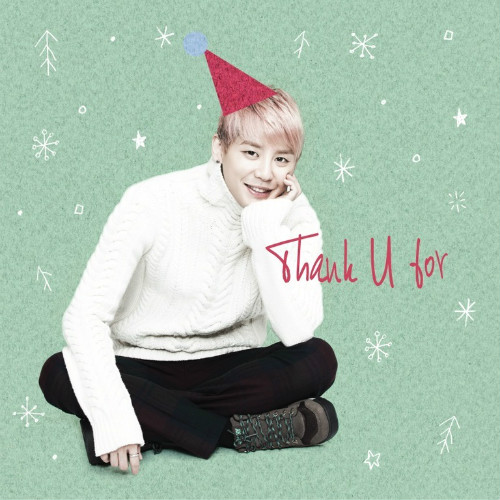 JYJ member Junsu has just released a new digital single titled "Thank U For".
Designed as a surprise present for fans on the day before Christmas, to go hand and hand with Junsu's year-end concert. "Thank U For" is "the work of Japanese composer and producer Shikata and is a sweet love song that will let you feel the charms of Winter".
Junsu himself also shared, "The song being revealed on Christmas Eve is a sweet love story that feels as if it's a love letter sent by a man to his girlfriend. I hope it will be a good present for the fans."
Check out the digital single below, is it everything you were expecting?
credit: BubbleFeetPandaCH2
Composed by Shikata-san, REO
Lyrics by Juno, Kim Jina
[ENGLISH TRANS]
Today snow is shining all over the world
Everyday, excited and waiting for the first snow
Heaven has given me the most precious gift
More precious than my white star
Waking up early in the morning to the sound of the bell ringing
I've been waiting anxiously to meet you
Finding a way to go to meet you
Loving the memories of us
White snow is piled up without sound
Pacing the streets more footsteps pound
I would flutter more
That day I had been dreaming everyday OH
Today
Oh so I came
You and me holding hands, walking down the street
Memories spent with staring and laughing
You always cuddle up to me
Could not say
Today my heart wants to say I love you
Snuggling under the street lamp that illuminates
Your reflection in the transparent-like glass crystal
Little hands in your pocket
Your cheeks stained red
baby
Flow as a city full of white
Is singing
Sounds over the hearts of the people come and go
I would smile at night
Nice and anywhere with me OH
Oh you to hug me
You and me holding hands, walking down the street
Memories spent with staring and laughing
Your innocent smile like a child
Oh I'll protect you forever
We walked down the street, holding hands,
facing each other again
We created the memories one by one with you
Even if there are times when you get tired sometimes frightened
Do not forget
I'll be here for you always like today
Forever by your side
This song for you
English Translations by: Ruby(@rubypurple_fan) of JYJ3
Shared By: JYJ3
Ivory's Source: sharingyoochun.net; JYJ3.net+youtube
Share This