[TRANS] 130405 JYJ Earn 20 Billion Won In One Go… Invite Seol Gyung Goo's Daughter To Their Concert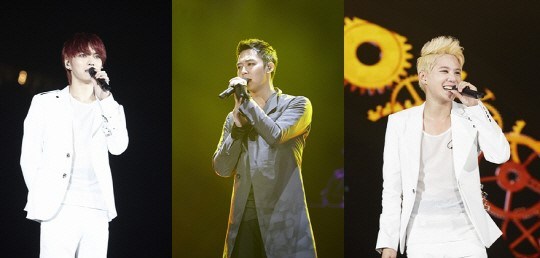 They called it 'The return of the kings'. From the 2nd till the 4th, JYJ held their successful 'The Return of the JYJ' concerts at Tokyo Dome, 'the heart of Japan'.
According to C-JeS Entertainment, 300,000 people applied for tickets before reservations began. Only 150,000 tickets were given out, with the concert selling out instantly.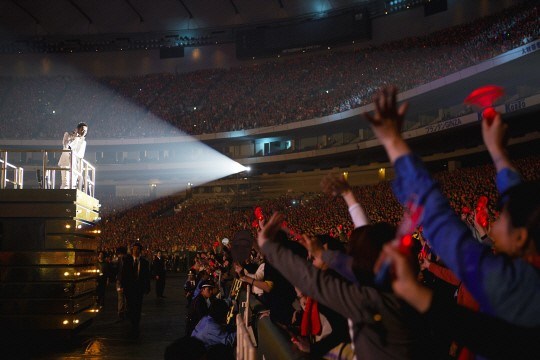 150,000 seats costing 130,000 Won sell out… MD goods 'sell like hotcakes'
The cost of one ticket was 10,500 Yen. When this is converted to Korean currency, each ticket costs approximately 130,000 Won. If we take this into consideration, this means that JYJ earned 19.5 billion Won in ticket sales alone. MD goods were sold in sets of towels, t-shirts and fan-lights, costing 100,000 Won. Even the goods that were sold separately at cheaper prices sold out like hotcakes. Fans gathered near Tokyo Dome from 6am to purchase the goods.
Adding all of this revenue together, we can approximate JYJ's sales for their Tokyo Dome to be over 20 billion Won. The real profit of the event is a mystery. A representative of C-JeS Entertainment stated, "We have to factor in the cost of renting the venue, wages, and paying the Japanese concert management company we hired. So we aren't sure what the real profit of the concert will be."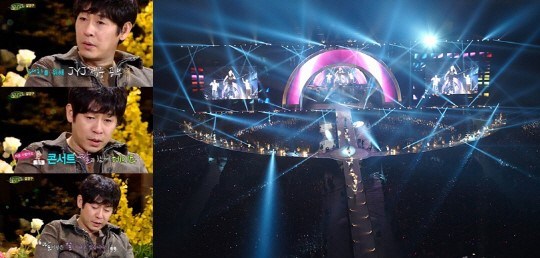 Seol Gyung Goo, asks for a ticket for his daughter
On the second day of JYJ's concerts, a special guest arrived at Tokyo Dome. It was Seol Gyung Goo's ex-wife and daughter. According to a representative, they went to JYJ's concert together.
Seol Gyung Goo recently called C-JeS Entertainment's CEO Baek Chang Joo and personally asked for a concert ticket for his daughter, who is a JYJ fan. Thanks to his daughter, Seol Gyung Goo has become close friends with CEO Baek.
During the episode of SBS' 'Healing Camp' that aired on the 1st, Seol Gyung Goo revealed that his daughter was a fan of JYJ. During the show, he stated, "My daughter is now a high school student as is a big fan of JYJ. Whenever JYJ move around, I get nervous. I wish they'd just stay in Seoul." He also shot down rumors that he had abandoned his daughter as he added, "I wanted to get to know JYJ, so we've met outside of work and we watched 'Tower' together during the movie premier," and "I'm sorry to my daughter. I feel a sense of guilt. But I'm getting along well with her."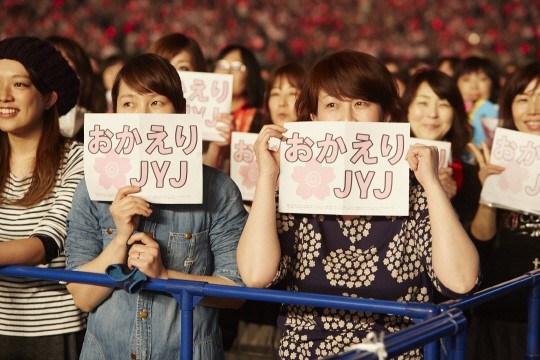 Aired live in 113 cinemas… Fans were 'So proud'
JYJ's last concert was screened live in various cinemas across Japan for fans who were unable to get tickets. The concert was shown in 113 cinemas in Japan, including Japan's biggest cinemas TOHO Cinema and Warner Mycal Cinema.
A representative of C-JeS Entertainment stated, "The Hallyu Wave was died down a little so most Korean films are shown early in the morning or late at night, but JYJ's concert was aired live during the prime time slot," and "Even this proves just how popular JYJ are in Japan."
The reception from fans was equally explosive. Chieko (26, female) stated, "The past three years filled me with a sense of dread. But today's concert makes those past three years so worth it. Of course, because it was JYJ. I always told myself that if I waited, I would be able to see them again. I missed them. I'm so happy and grateful to have seem them at Tokyo Dome again."
Aya (29, female) gushed, "I went to Korea twice last year to see JYJ. Being able to see JYJ in Japan again means something completely different from just seeing them at a concert. I'm thankful that they never gave up, and I'm proud of all of us for waiting for them. I'm sure that the connection we have is something no other artiste has with his or her fans."
Source: [edaily]
Translated & Shared by: dongbangdata.net
Momma's Source: dongbangdata.net
Share This