[TRANS] 130503 Kim Jaejoong Joins The Ranks Of 'Men Straight Out Of Comic Books', "He's Prettier Than A Woman"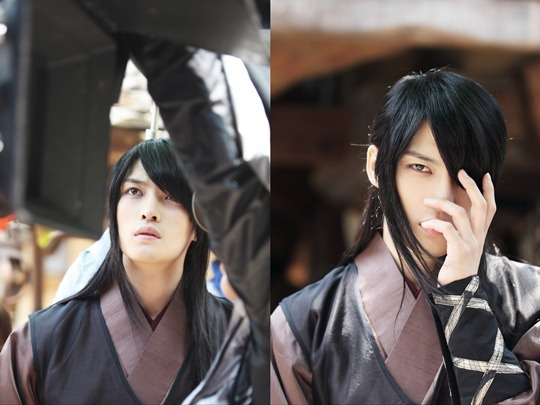 Never-before-seen still-cuts from Kim Jaejoong's movie 'Jackal is Coming' have been revealed to commemorate the release of the movie in Japan.
The photos were posted on JYJ's official Facebook page on the 3rd of May with the caption, "'Jackal is Coming' will be released today in Japan! Enjoy it!"
The released photos show Hallyu star Choi Hyun (Kim Jaejoong) dressed in historical attire for a music video in the movie.
His long hair and unrealistic good looks had fans leaving comments such as, "His good looks couldn't possibly exist in real life", "He looks better with long hair than I do", "He's prettier than a woman. He's a true man who came straight out of a comic book!" and "He makes me feel so bad about myself because he's so pretty."
Meanwhile, 'Jackal is Coming' is a comedy that depicts the kidnapping of Hallyu star Choi Hyun (Kim Jaejoong) by a slightly lacking killer (Song Ji Hyo) and hit the big screens in Japan on the 3rd.
Source: [newsen]
Translated & Shared by: dongbangdata.net
Momma's Source: dongbangdata.net
Share This