– Max Changmin, the mascot of hard work, what was his first badminton match like…
– Changmin + Jong Soo "There isn't a single badminton court in Seoul we haven't gone to!" How much have they practiced?
– Which badminton duo is the best in the celebrity team?
– Max Changmin, his legs are shockingly covered in tape! What happened?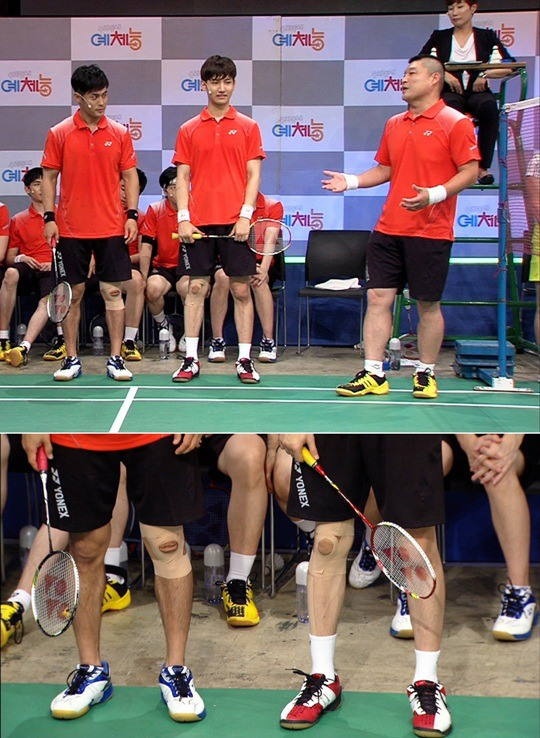 Max Changmin and Lee Jong Soo's taped-up legs have become a hot topic. The episode of KBS2′s 'Our Neighborhood's Master of Variety and Sports' that airs on the 16th will show the team's first badminton match. Having practiced hard for the past week, the celebrity team will surprise everyone in their match against the Joonggok-dong badminton team.
Max Changmin and Lee Jong Soo, who were deemed the 'bumbling couple' in last week's first badminton practice session, completely turned it around and surprised everyone. It was easy to guess just how much they had practiced from the various bruises and scrapes littering their legs that had been taped up.
Regarding this duo, Lee Soo Geun said, "There isn't a single badminton court in Seoul that they haven't been to in the last week. That's the most anyone has practiced in his team." To this, Lee Jong Soo said, "We could only meet in the early hours of the morning because our schedules didn't match up. We met almost every day in the early hours of the morning to practice," and increased the anticipation for the 'bumbling couple'.
The reason why viewers can't help but be excited for this duo is because of Max Changmin. Although he was called 'the fool of table tennis' and 'the fool of bowling' at first, he surprised everyone with his rapid development. However, no matter how much he practiced, he was unable to score a win. During his last bowling match, he was neck and neck with the Gwangju Ssangchon-dong team till the 9th frame but lost in the 10th frame. This caused him to spill tears of disappointment and earned him the nicknames 'Sincere Changmin' and 'Does his best Changmin'.
Seeing him, the bowling ace Lee Byung Jin showed his affection for the team's youngest member as he said, "Although you weren't the best, you did your best, and that is so much better! I love you~' This is why his fellow teammates who have been with him from the start, not just the viewers, are hoping for Max Changmin's first win.
Having practiced so hard that he had to tape his legs up, the body part that is pivotal for idol stars, Max Changmin's results in his first badminton match are at the center of attention.
When Max Changmin and Lee Jong Soo's taped-up legs were revealed, netizens left comments such as, "What about TVXQ's overseas performances.. I can't believe how much he seems to have practiced.. It warms my heart", "Oh my god! Poor Changmin and his legs", "Hopefully, Changmin will win his first match?", "Changmin and Jong Soo must be a match made in Heaven. Lasers seem to beam out of their eyes in the preview," and "I'm expected an uprising from the bumblers. I will definitely watch this episode!"
The badminton match between the celebrity team and the Joonggok-dong team, which completely overturned the expectations of both the audience and staff, is set to air tonight at 11:20.
Source: [WBC times]
Translated & Shared by: dongbangdata.net
JYJFantalk Source: dongbangdata.net
Share This