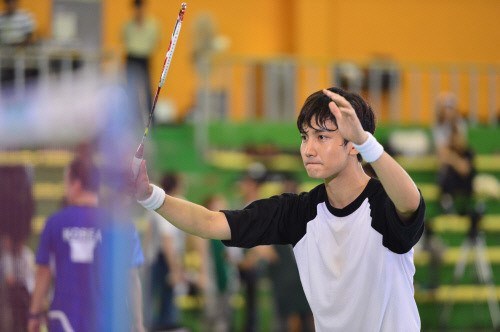 With contents such as dramas and movies being exported to other countries along with the K-pop craze, variety shows are rapidly rising as the money makers of broadcasting companies.
KBS2′s 'Our Neighborhood's Master of Variety and Sports' recently became a hot topic for selling its first 24 episodes to Japan in only four months since starting the show.
It's common for the format of popular Korean variety shows and the shows themselves, such as MBC's 'I Am a Singer' SBS' 'K-pop Star' and Mnet's 'SuperstarK' to be exported overseas. However, it usually takes at least a year and a half after the show ends for this to take place. This is because it isn't easy to overcome the language barrier and make people of other nationalities and cultures laugh.
Even popular shows such as MBC's 'We Got Married' and SBS' 'We Like Sunday – Running Man' were exported only after they scored high viewership ratings in Korea.
Our Neighborhood's Master' has only aired 20 episodes but is already set to export its first 24 episodes, which include episodes from September that have not aired yet, to Japan.
Multiple representatives of the broadcasting industry stated, "Ever since the show started airing, 'Our Neighborhood's Master' has been receiving many offers from Japanese broadcasting companies. We have been notified that an exportation contract has been signed at a high price with Digi Kore. We believe such a contract was possible because of TVXQ's Max Changmin, who is an MC of the show."
Though many dramas starring Hallyu stars are sold overseas before they air, it is rare for a variety show to be exported before or during the show's airing. It is extremely rare for a show to be sold overseas as early as 'Our Neighborhood's Master' was.
Regarding the fact that the variety was sold overseas in only four months, many representatives of the entertainment sector stated, "It proves that Hallyu stars have an effect on both dramas and variety shows now."
A representative of the broadcasting industry stated, "Singers don't have many places to promote themselves, other than music programs. This is also a reason why many singers have become actors, with the rise in popularity of Korean dramas. We believe that the overseas exportation of variety shows starring K-pop idol stars and Hallyu stars will become more active. We believe that singers and actors will focus more on appearing on variety shows in the future."
This is a win-win situation for broadcasting companies as well. Exporting variety shows leaves them with a lot of profit because the production costs are far lower than that of a drama. A representative stated, "Most variety shows are produced by the broadcasting companies, and since there are usually a maximum of ten celebrities in one episode, the production costs are on the cheaper side. If they are exported overseas like dramas, it will be a good source of profit for broadcasting companies."
Source: [sportsseoul]
Translated & Shared by: dongbangdata.net
JYJFantalk Source: dongbangdata.net
Share This