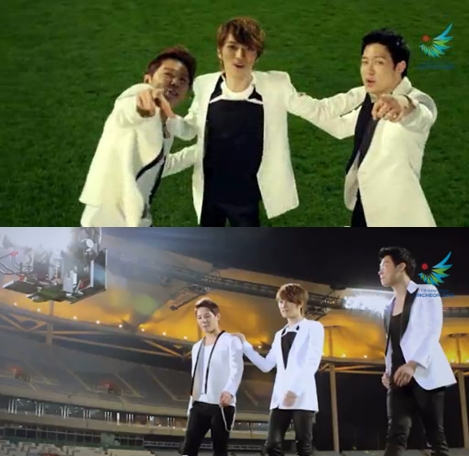 It's gotten 300,000 views in one week. The teaser video for 'Only One', JYJ's Incheon Asiad song, has been met with an explosive response.
On the 3rd, the Incheon Asian Games committee uploaded the video on their official YouTube channel (http://www.youtube.com/Incheon2014) and it garnered over 300,000 viewers in one week. Fans from all over the world, not only Korea and Asia, have shown their interest in the song with over 1,600 comments made in various languages such as English, Korea, Japanese and Chinese.
JYJ, who are at the center of Asia's Hallyu Wave, were chosen to be the honorary ambassadors of the Incheon Asian Games in February. They have been working since the early months of this year on an Incheon Asiad song and music video that the four billion people of Asia can enjoy together.
The teaser video, which is around 38 seconds long, shows the members of JYJ entering the main Asiad stadium and cheering for their Incheon Asian Games. Shots of the three members recording the song, practicing the choreography and shooting the music video have Hallyu fans and sports fans alike excited to see what comes next.
The full audio and music video of 'Only One' will be released all across Asia on the 16th, exactly one year till the games begin. Afterwards, JYJ will be promoting the Incheon Asian Games on a 'road show' across Asia in countries such as China and Vietnam.
Source: [sports chosun]
Translated & Shared by: dongbangdata.net
JYJFantalk Source: dongbangdata.net
Share This