Max Changmin and John Park were caught trying to climb over Park Jin Young's fence to get into his house.
The 35th episode of KBS 2TV's 'Our Neighborhood's Master of Variety and Sports' had the celebrity basketball team visiting Park Jin Young's house. One of the highlights of the episode was seeing Max Changmin and John Park trying to enter Park Jin Young's house by climbing over his fence.
The trip to the singer's house took place because of the promise Park Jin Young during the team's first practice sessions, when he said, "I'll buy dinner on the day our team gets its first victory." With two victories under their belt, the team was invited to Park Jin Young's home.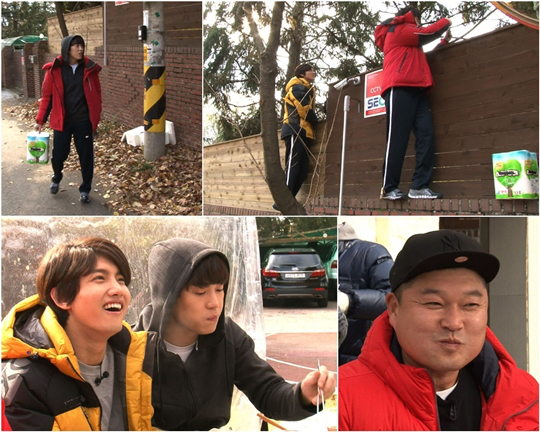 On this day, Max Changmin and John Park arrived much earlier than the rest of their time. Unable to find an entrance to the house, the two singers tried to climb over the fence surrounding the house to get in.
Seeing the rolls of toilet paper that John Park had brought for a housewarming gift, Max Changmin asked what the meaning of bringing toilet paper to a housewarming party was. Not knowing the actual meaning of the gift, John Park said, "Isn't it because moving in to a new house means you probably don't have a lot of toilet paper at home?" Due to fact that John Park has spent the majority of his life overseas, he did not know that toilet paper is gifted so that 'Good things keep rolling' in the house they are given to.
Unfortunately, that day happened to be the day of Korea's first snowfall of the year, and the celebrity team were forced to sit outside and shiver as they enjoyed their barbecue. Unable to bear the cold, Kang Ho Dong said, "Is this an invitation or a punishment," while John Park said, "This is crazy."
The inside of Park Jin Young's house was also revealed on this episode, which will air at 11:20pm on Tuesday.
Source: [newsen]
Translated & Shared by: dongbangdata.net
JYJ Fantalk Source: dongbangdata.net
Share This