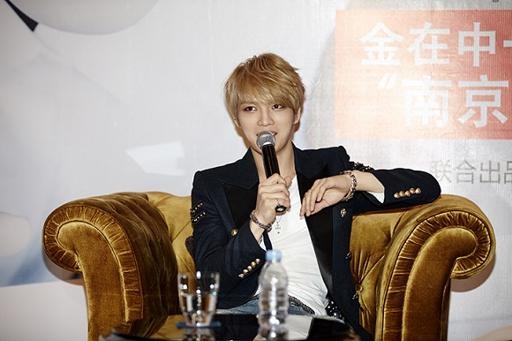 Kim Jae Joong has deeply captured the hearts of the Chinese people because of his well mannered gestures.
Last December 6th, Kim Jae Joong stopped by Nanjing, China for his Asia tour show.
Before his said show, Kim Jae Joong first met up with 50 local media reporters who anticipated his arrival and they were impressed because the idol showed great manner and attitude.
Kim Jae Joong shared, "I added an extra show in Nanjing for fans who are making their way all the way to Nanjing from different regions."
Kim Jae Joong also answered questions pertaining to his new album and how he feels about his stay in China.
One of the media reporters asked him why he chose' love' as the theme of his new album. He responded ,"I think love is the most beautiful motif that people can write music and story from. Everyone goes through it at some point in their lives, but it is always equally difficult to everyone, and I tried to express such feelings through the album. I also tried to include messages into my performance costumes as well. Acting is not similar to acting, not even by a bit, so I need to express the music through outfits, performance, and poses as well."
After the press conference, Kim Jae Joong did a photo op and he showed care for the reporters as well.
In the other news, Kim Jae Joong's latest solo and first regular album WWW: Who, When, Why ranked #1 on iTunes Charts in 12 different countries, as well as Tower Records and dominated Oricon Weekly.
credit: kpopstarz
JYJ Fantalk Source: sharingyoochun.net
Share This