[TRANS] 131209 Kim Jaejoong Captivates The Chinese Mainland With 'Talent + Visuals + Effort'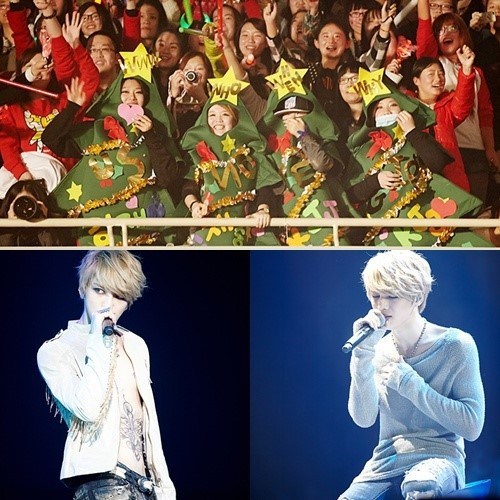 Kim Jaejoong's first solo concert has the Chinese mainland shaking it up.
C-JeS Entertainment stated on the 9th, "Kim Jaejoong held his first solo concert in Nanjing, China at the Wutaishan Sports Center this weekend," and "He attracted a total of 10,000 fans to the two-day event for his first-ever solo album Asia tour, and he captivated everyone with his amazing rock performances."
On this day, Kim Jaejoong performed songs from his first full-length album and mini-album, showcasing his explosive vocal talent and fatal charm. Effortlessly belting out high notes, the singer showcased a variety of rock genres and ballads, captivating his fans with his melodious voice.
As many of the songs featured lyrics written by the singer himself, each performance felt like watching an episode of a drama. Kim Jaejoong changed outfits frequently, matching each outfit to a different atmosphere and touching his fans. The highlight of the concert was the singer's rendition of 'Just Another Girl', which was followed by cheers from his fans to return to the stage for an encore.
After performing 'MINE', the title song of Kim Jaejoong's mini album, Kim Jaejoong said, "Unfortunately, I have to say goodbye with the song 'Paradise'. I'd like to thank all the fans who came from all over China to see me, and I'm so happy that we were able to share this special moment. I hope to see you again soon."
The Chinese mainland's passionate love for the star drew the attention of many. Banners were hung at the entrance of the sports center to show the fans' support for the singer, and they began chanting Kim Jaejoong's name 10 minutes before the start of the performance.
Each fan had a different backstory to how they reached Nanjing to see Kim Jaejoong perform. Jiang Myung (22), who came from the northeastern region of China, was unable to buy a plane ticket to Nanjing and had to ride a train for 22 hours to get there. There were many fans who traveled over 1,000km to get to Nanjing from Beijing.
A representative stated, "Fans flocked to Nanjing from all over China because they aren't sure when Kim Jaejoong will return to China after this performance. We added an additional concert because we wanted to give more fans an opportunity to see the singer perform, and this became a hot topic in China."
Source: [enews24]
Translated & Shared by: dongbangdata.net
JYJ Fantalk Source: dongbangdata.net
Share This