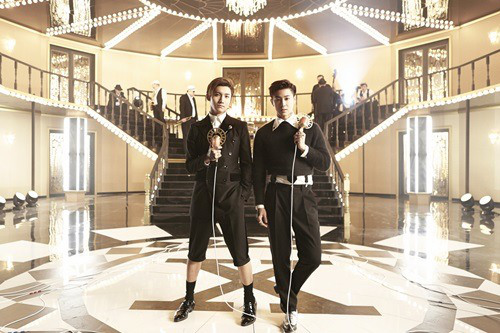 The line performance of TVXQ's newest song 'Something' has become a hit.
'Something', the title track of TVXQ's new album 'TENSE', is a swing jazz piece. The combination of the lively music and TVXQ's dynamic performance makes each performance look like a scene from a musical, earning much love from TVXQ's fans.
What's drawing the attention of many is TVXQ's 'line performance', a dance that has never been done before in Korea, which utilizes microphones and thick cords of rope to imitate string plucking, a boxing ring, standing microphones and a marionette doll. It has been said that TVXQ have put in a lot of hard work and effort into their rehearsals to make sure that they could pull off such difficult choreography.
The sophisticated yet energetic choreography, which includes a rhythmic and stealthy tiptoe dance and powerful solo dance breaks, as well as TVXQ's coordination with their backup dancers makes the dance a sight to behold. Many have praised TVXQ's comeback performance for being a solid and unique performance, that goes beyond normal choreography and focus on the three-dimensional aspects of dance.
The choreography of 'Something' was created by world-renowned choreography Tony Testa, and was completed with the help of SM's performance director Hwang Sang Hoon. Tony Testa has already worked with TVXQ before on their last song 'Catch Me', and his work has been praised for emphasizing TVXQ's best assets as performers.
Meanwhile, TVXQ will be continuing their promotional activities on Mnet's 'M! Countdown' on the 9th, KBS' 'Music Bank' on the 10th, MBC's 'Show! Music Core' on the 11th and SBS' 'Inkigayo' on the 12th.
Source: [fnnews]
Translated & Shared by: dongbangdata.net
JYJ Fantalk Source: dongbangdata.net
Share This