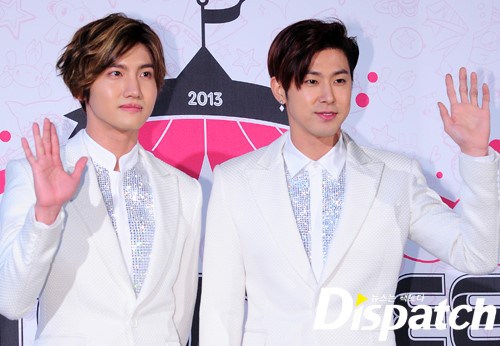 10 years. 10 years are an epoch. And 'TVXQ' have changed in those 10 years. No, they have transformed. And their new album 'TENSE' is a result of that transformation. 'TENSE' has the meaning of 'full of nerves and tension'. This is meant to reflect the nerves and tension that TVXQ feel when they're on stage. It also reflects the pronunciation of '10th', to commemorate the group's 10th anniversary.
TVXQ's change is refreshing and exciting. This can be felt through their title track' Something'. As a swing jazz song, a genre that TVXQ have never tried before, it is lively and refreshing. Completely opposite from the grandiose and strong music they've created so far, the song is appealing to the masses.
"We wanted to show a lively and refreshing side of TVXQ that we've never shown before to celebrate our 10th anniversary. We chose swing jazz because our goal to strive for new music and new genres. We wanted to be more appealing to the public. Shall we call it a gift for our fans?"
Why did TVXQ choose 'Something' as the title track of their 10th anniversary album? There's 'something' there that has yet to be uncovered. Here is that 'something' of 'Something', as told by the members of TVXQ themselves.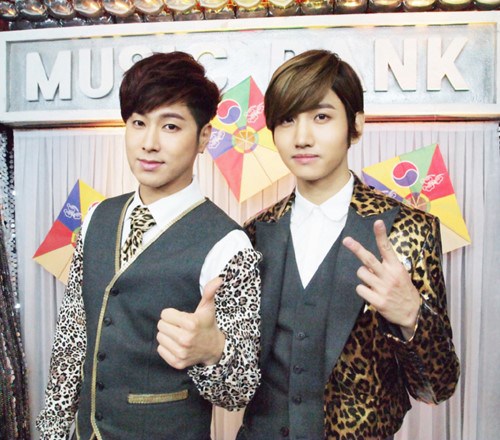 ◆"'Something' marks a flare of change." (by Yunho)
We first asked about the musical aspects of their choice. We wanted to know why they chose 'Something'. Their answer was simple. It was 'A flare to mark a transformation'. Changmin said, "We wanted to showcase a variety of our charms. We searched for fun and lively music that we could enjoy singing, and 'Something' seemed to tick all the boxes."
Yunho expressed his agreement as he added, "We added a modern twist to a classic genre that never goes out of style," and "We wanted to get our music out to as many people as possible. It was like a flare to signal that TVXQ are ready to continue trying out a variety of new genres in the future."
Does that mean their composers have changed? A surprising story behind 'Something' is that is was created by the Yoo brothers (Yoo Young Jin, Yoo Han Jin). As the brothers are famous for their 'SMP' (SM's signature music that focuses on powerful performances) music, fans were shocked to discover that they had written the song. Could this signify a change for the Yoo brothers as well?
"TVXQ have always strived to created music that focuses heavily on the performance aspect of things. And because the Yoo brothers wrote most of our title songs, the image of 'Yoo Young Jin + Yoo Han Jin = SMP' seems to have stuck. But those two composers have worked with a huge range of genres. They will continue to surprise everyone with new music." (TVXQ)
What was the musical aspect they focused on the most? It was their vocals. Swing jazz is easy to listen to but difficult to sing. This is because rhythm is the key to a successful swing jazz piece. Yunho explained, "It's a 24-beat song. We tried to bring the rhythm to life. We decided to focus on creating nuances for terms like 'Sneak up' with our pronunciation."
Changmin said, "The key point of his song is to keep the lively rhythm going. We wanted to bring the rhythm to life through our singing," and "We did our best to make it fun enough for people to dance along to. The vocal range is actually lower than our previous songs, and I think this makes the song more appealing to our listeners."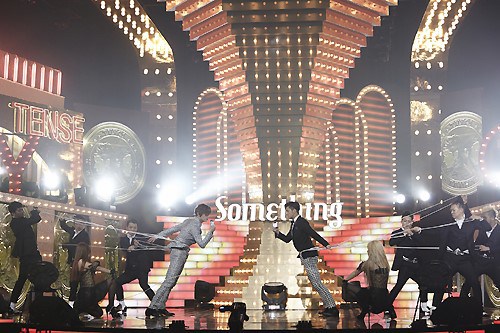 ◆"The choreography is a musical with a story" (by Changmin)
There's something that can't be left out when talking about TVXQ, and that is 'performance'. They've come back with an extremely difficult dance number that uses ropes. From pretending to play the guitar to creating a boxing ring, standing microphones and the strings of a marionette doll, viewers are bombarded with an array of exciting dance moves.
The choreography was created by Tony Testa, who has worked with stars like Britney Spears and Janet Jackson. Where did the idea come from? Yunho said, "The swing jazz genre reminded us of shows in Las Vegas. We were trying to think of something that could reflect that, and that's how the idea of our line performances was created."
Here is the second interesting story. Both TVXQ and the dancers use the ropes in their line performance, and we wonder if any accidents have occurred during rehearsals. Yunho said, "While rehearsing, we kept stepping on the ropes, bumping into each other  and falling over. Our final product is a result of countless hours of rehearsals. But we can never let our guard down because we don't know what could happen at any moment."
Changmin stated that the ending is the most difficult move of all, which has them leaning forward with nothing but the ropes keeping them upright. He said, "We're the first to try out a performance with ropes. Personally, I've fallen over a lot during the end part of our performance. That part still worries me, but I've gotten used to it through constant practice and the exchange of opinions."
They've emphasized a change from other jazz dance sequences, with a story-based musical as their goal. Changmin said, "We wanted to differentiate ourselves from the choreography of other swing pieces. I think our line performance helps us do that. We practiced whenever we had a spare moment so we could get used to it."
Yunho added to this by saying, "There are a lot of dynamic and large-scale moves in our new dance," and "Our ensemble consists of our backup dancers and ropes, and we've created a performance that feels like a musical with a story. I think our new performance style has helped showcase a new side of TVXQ."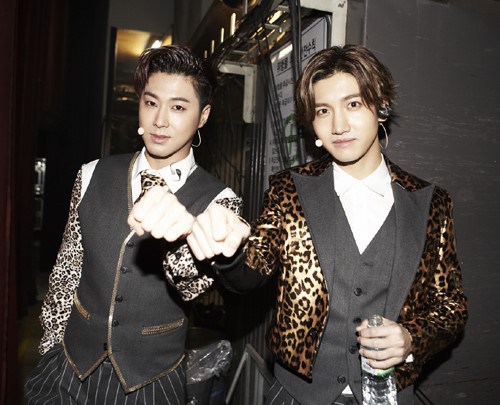 ◆"Our style? Cute and sexy…?" (by Yunho)
They've completely changed their style as well. It's gotten much lighter than before. Short pants that show their ankles, and leopard-print pieces of clothing are used to give off a lively image. Changmin said, "We didn't want our outfits to be too serious because it wouldn't go with our expressions or performances, so we changed our look to match the song."
Yunho said, "The overall concept of our song is a big band. But we've added a modern twist to it," and "We've taken classical suits and added a modern twist with checkered prints. We've created a new look for TVXQ that is lively, but still has an impact."
The hairstyles are the biggest change for TVXQ. They've taken risks that they've never taken before. Changmin said, "I've dyed my hair and parted it down the middle with curls. It's a style I've never tried before. I've gone through a variety of hairstyles in the past 10 years, but I've never done this one before. I wanted it to match the song."
Yunho also tries out wavy curls or a 1:9 side parting. Yunho said, "Instead of emphasizing flamboyance, I opted for a natural look. It's a style that goes well with the suits," and "To put it in one sentence, it's a cute but sexy look."
Each member's style preference has been taken into account. Though the style and colors of their suits are the same, small differences have been made in the details. Yunho has a brighter and cuter look while Changmin prefers a more formal look. Their outfits reflect this difference.
TVXQ said, "We don't make a lot of differences between the outfits worn by each member. We prefer to find a balance through different details," and "The difference in how we're styled is that Yunho wears vests for a lighter look, while Changmin prefers to wear jackets for a formal look."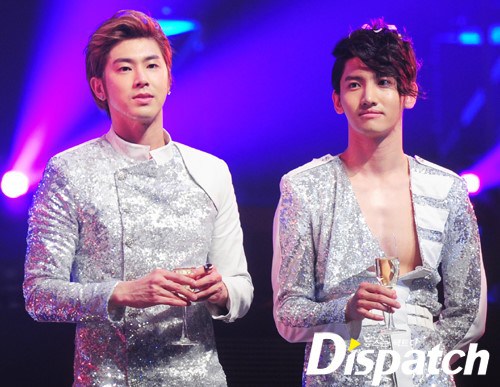 ◆"A joy for the ears, as well as the eyes~" (by Changmin)
To conclude, 'Something' reflects TVXQ's transformation. Their goal was to break the stereotype of 'TVXQ=performance' and connect with the public on a deeper level. Yunho said, "We want people to think of us as versatile artistes, rather than just focusing on our powerful performances. I want us to be a group that is appealing to the public."
Changmin shares the same opinion. He said, "If TVXQ's music till now has been 'music to watch', I hope 'Something' helps transform our music into 'music to listen to as well as to watch'," and "We want people to know that TVXQ can create 'easy listening' music, and that's what we're doing right now."
They also revealed a secret to enjoying 'Something' more. Yunho said that people should sing this song at karaoke rooms as he stated, "I recommend that people sing 'Something' when they go sing karaoke. You can use the microphones there to follow along with the choreography, and that will make it even more fun."
TVXQ concluded with remarks about their 10th anniversary, and what comes next. Yunho said, "We plan to continue our never-ending transformations," and "Our goal is to keep trying out new music. Our 10th anniversary marked our plan to become more appealing. I'm excited to see what our 11th anniversary will bring."
What's on Changmin's mind? "When people think of TVXQ, they immediately think of strong performances," and "I'm determined to show people that TVXQ are capable of a variety of genres through 'Something'. I'm confident that we'll be able to do so. This is want I want to say most, with 10 years of experience under my belt."
Source: [Naver StarCast]
Translated & Shared by: dongbangdata.net
JYJ Fantalk Source: dongbangdata.net
Share This