JYJ became the first K-pop band to advertise themselves through a TV commercial.
The commercial to promote JYJ was first broadcast on July 21 right after the closing of MBC's 23-episode action drama "Triangle," starring group member Jaejoong.
The TV commercial brings JYJ's three members — Jaejoong, Yoochun and Junsu — into the spotlight, with the catch phrases "One for all" and "All for one."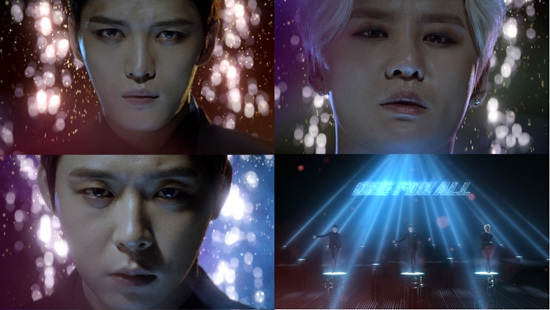 "We invested 1 billion won into this three-week TV commercial campaign to raise JYJ's brand power," their agency C-Jes Entertainment said Wednesday.
The ad air on major TV networks and cable channels until Aug. 8.
The group's long-awaited comeback is imminent, with their second studio album "Just Us" and the music video for the title track "Back Seat" to be released on July 29.
Following the album's release, JYJ will hold the third "JYJ Membership Week" expo in Seoul from July 31 through Aug. 3 for their fan clubs. The event has been held annually in the capital for free since 2012, drawing more than 20,000 fans each year from home and abroad.
The band has also scheduled its Asia concert tour "The Return of the King," with the first concert to kick off on Aug. 9 in Seoul. The idols are set to visit eight cities across Asia including Hong Kong, Beijing and Shanghai.
By Ock Hyun-ju (laeticia.ock@heraldcorp.com)
credit: koreaherald
shared by: sharingyoochun.net
JYJ Fantalk Source: sharingyoochun.net
Share This