[News] 111028 Kim Junsu (Xiah Junsu) Starring In 3rd Musical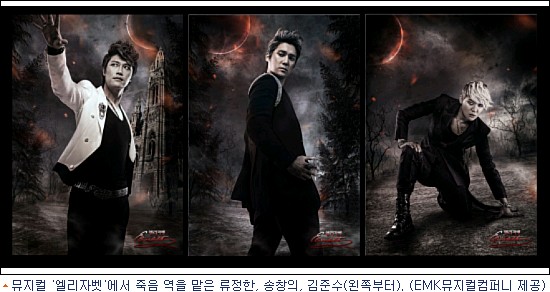 Kim Junsu (Xiah Junsu), member of the idol group JYJ, will be starring in his third musical.
Kim Junsu, who left a deep impression with his singing and acting abilities through the musicals [Mozart!] and [Tears of Heaven], has been casted as the character who personifies 'Death' in the first Korean musical production of [Elisabeth], which will take place next year. The role 'Death' plays is one which seduces and draws Elisabeth to her fate through a predestined love.
Having increased exceptional love and interest of the public towards the musical scene, there has been a triple casting as he will work with musical actors Ryu Jung Han and Song Chang Eui.
Ok Ju Hyeon, singer turned musical actress, and Kim Sun Young will play the role of 'Elisabeth'.
Also, playing the role of narrator 'Lucheni' in the musical are Kim Su Yong, Choi Min Chul and Park Eun Tae. Lee Seung Hyun will also be making his debut as a musical actor through the role of 'Rudolf', son of 'Elisabeth'. Taking on the role of 'Emperor Franz Joseph' are Yoon Young Seok and Min Young Ki, with Lee Tae Won playing the role of 'Sophie', mother-in-law of 'Elisabeth'.
The musical 'Elisabeth' was unveiled to the world for the first time in Vienna, Austria, in 1992, and depicts the life of the last Empress Elisabeth of the House of Hapsburg in Austria.
It will be performed for the first time in Korea next year, from 9 February to 13 May, at Blue Square, Hannam-dong.
Source: [nocut news + ilove5stars]
Translation credits: mandasoh@tohosomnia.net
Shared by: tohosomnia.net
Do not remove/add on any credits
Momma's Source: sharingyoochun.net
Share This