[TRANS] 121230 JYJ Kim Junsu, Receives Great Response For Solo Ballad Concert…"The Best Vocalist"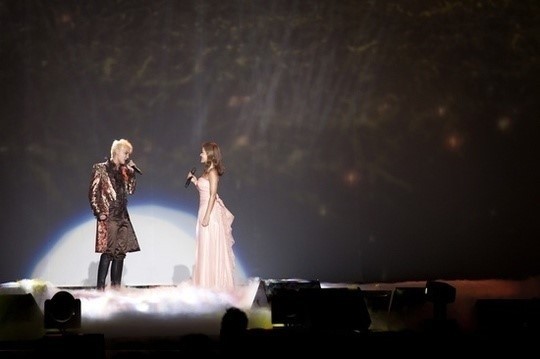 On 29 December, JYJ member Kim Junsu held his Musical & Ballad concert at the COEX D Hall, a solo concert of 120 minutes together with an all-live orchestra.
Kim Junsu, who released his first solo album "Tarantallegra" this year, and successfully completing his world tour this year, worked perfectly with the live orchestra this time. The musical chorus and grandeur of the orchestra helped to recreate his musical stage, and he also performed ballads from his album as well as popular OST songs together with the band and pop chorus.
During this concert, Kim Junsu's emotional and powerful vocals touched the hearts of the audiences, as they cheered and clapped loudly below the the stage.
Kim Junsu said, "Mozart! is the piece that allowed me to stand on the musical stage, and also gave me my first award in the musical industry, which means a lot to me. Through Mozart!, I was able to gain inspiration." He also performed numbers from his various musicals in the past 3 years such as "Tears of Heaven" and "Elisabeth." Also, Junsu performed a "Tears of Heaven" stage with musical actress Kim So Yeon, who was also his co-star in "Elisabeth," and received much applause.
An orchestra personnel said, "To perform in an all-live concert together with an orchestra is relatively difficult, but Junsu has done an admirable job. His exceptional vocal ability which worked well to lead the band and orchestra, and he can really be considered as the best vocalist. He also performed the acoustic version of "Tarantallegra" together with the orchestra, showing off his charms to the fullest and received an enthusiastic response from the audience. I'm happy that his sincerity can be felt by the audience."
This concert will be held at COEX until 31 December.
Source : [KStyle.com]
Translated & Shared by : dongbangdata.net
Momma's Source: dongbangdata.net
Share This