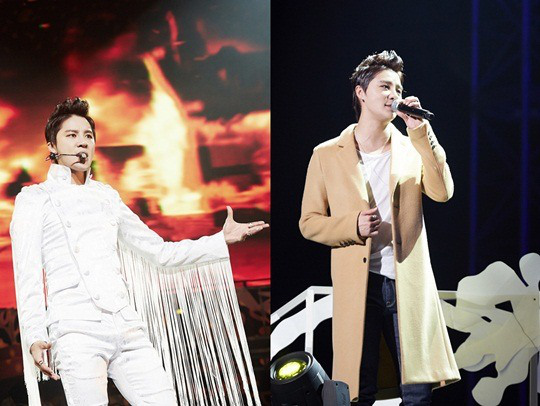 Kim Junsu's 150-minute-long performance of sincerity and vocal talent has left a lasting impression in the hearts of his fans.
C-JeS Entertainment stated, "Following the previous year's concert, Kim Junsu held his '2013 XIA Ballad&Musical Concert with Orchestra vol.2′ and met with 13,000 fans. The concert, which featured a 35-member orchestra and a 100% live performance, had the singer expressing his hopes, dreams and love through musical numbers, ballads and OSTs.
The musical numbers reflected Kim Junsu's four-year career in the musical industry. Kim Junsu reinterpreted memorable numbers from 'Mozart!', 'Elisabeth' and 'December'.
'The Shadows Get Longer', 'Last Dance', 'Golden Star', 'What A Cruel Life' became bigger than ever with a chorus and orchestra, while Kim Junsu and his dancers prowled the stage for a more theatrical effect.
His duet with Kim So Hyun was a highlight of the show. Standing on stage together for the first time in four months since 'Elisabeth', Kim Junsu and Kim So Hyun sang 'If You Love Each Other, You'll Know Each Other' from 'Mozart!' and 'A Brushing Touch' from 'December', showcasing an amazing harmony of voices. Kim Junsu introduced Kim So Hyun as 'The goddess of the musical industry' and said, "I was a fan of Kim So Hyun for so long, and I got to work with her on 'Elisabeth' and perform with her during this concert. I'm so happy and grateful to be sharing this stage with her."
Kim Junsu continued to transform with the help of the various instruments in his orchestra. From melodious ballads to extravagant and overpowering musical numbers and OSTs, Kim Junsu proved why he is called one of the greatest vocalists in the industry. To commemorate his 10th anniversary, a video montage was shown to show how much Kim Junsu has grown in the past four years to become a pillar of the musical industry. The video showed the sincerity and passion Kim Junsu holds for the musical industry, as well as his gratitude for the people who showed their love and support for him in his new career path.
Kim Junsu's ballads created a beautiful drama for the lovers and families attending his concert. Warmth was added to '11 o'clock', a favorite from his second solo album, through an accompanying acoustic guitar, while the ballad version of 'Incredible' was met with a positive response from fans.
The OST performances were also another highlight of the show. From 'Too Love', which featured a violin solo to his most recent OST 'I Love You' and 'Love is Like a Snowflake', Kim Junsu sang various OSTs to the delight of his fans.
For 'Thank U For', Kim Junsu ran up to the second floor to get up close and personal with his audience. The singer was joined by his dancers as they gave fans high-fives. To go along with the sweet melody of the song, a small event of passing out sweets and chocolates to fans was prepared and the singer was met with a standing ovation.
The countdown event was a rare sight to see. Kim Junsu's comment that it was 11:55pm, five minutes before the new year, had the screen showing a scene from Times Square in New York. When the clock struck twelve, the orchestra started playing to greet the new year. Kim Junsu was surprised by the audience and staff, who had prepared a birthday party for him as his birthday is on the 1st of January. The romantic countdown event, and Kim Junsu's surprise birthday party created unforgettable memories for all those who were present.
Kim Soo Min, a fan who attended the concert, stated, "LIstening to 'Father', I began to think about my family and those most dear to me. I will be leaving this concert with happiness and excitement for the new year. It was an emotional performance that will be hard to forget," while Jeon Hyun Sun said, "The musical performances were so touching, and I cried and laughed throughout the whole three hours. I felt happy as it gave me a chance to reflect on the past year. Kim Junsu's music makes me happy."
Kim Junsu did not forget to talk about his dreams and aspirations, as he had done in the previous year. He said, "I suffered from my voice cracking for three years. The doctors all told me that I wouldn't be able to become a singer. But I couldn't let go of my dreams, so I worked hard and am now standing on this stage. As long as you have the determination, never give up on your dreams and work hard till they come true."
He also stated, "I'm so happy to be with you all. I'm so happy to hold a concert where I can showcase such great songs from my albums and musicals. I want to hold a Ballad&Musical concert every year. I plan to greet you all with a variety of activities this year. Please anticipate it."
In 2010, Kim Junsu was pulled out of his despair when he was given the opportunity to appear in a musical. The past four years have seen him greeting fans time and time again on the stage. After his concert ended, Kim Junsu walked around the stage and gave a bow in all directions. He kept saying his farewells, up until the curtains finally closed on him, his dancers and his orchestra. It was a concert that reflected his affection for the stage and his gratitude for his audience members. The fans left his concert with smiles on their faces as they began thinking of their own dreams and aspirations for 2014.
Meanwhile, Kim Junsu will return to the stage on the 2nd of January for the musical 'December'.
Source: [TV Daily]
Translated & Shared by: dongbangdata.net
JYJ Fantalk Source: dongbangdata.net
Share This