[News] KPOP Stars Overseas Fanclubs – More Passionately Devoted Than Their Managers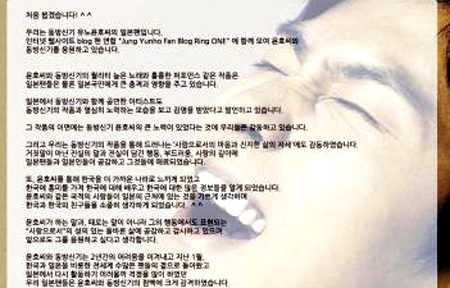 <Going As Far As Doing Press Publicity, Donations & Community Services>
"We Japanese fans are also thankful that U-Know Yunho-ssi is able to have many activities. We wish to convey U-Know Yunho-ssi's Japanese activities in Korea."
In the middle of last October, gratitude was conveyed to approximately 20 media outlets for press reports regarding idol group Tohoshinki member, U-Know Yunho. Letters requesting for reports on his Japanese activities were also relayed. The place where the letters were posted from was U-Know Yunho's Japanese fanclub "Fan Blog Ring One". Comprising of approximately 800 Japanese fans, these fans sent letters and Tohoshinki's albums, which went on sale in Japan the previous month. The places where they sent these letters and presents did not merely include Korea's media outlets. To promote and publicize U-Know Yunho's activities, "Fan Blog Ring One" also sent letters and albums etc to music broadcast outlets in Europe and America.
An administrator of "Fan Blog Ring One", Koto Kiyumi-ssi said, "There is an underlying commemoratory significance for Tohoshinki's album, which went on sale in Japan in approximately 2 years. We wanted to do activities which could leave memories, so we commenced support activities." More than just enjoying seeing K-Pop stars, the culture of overseas fanclubs is now evolving to the level where it involves assisting the stars' activities and taking part in the management of their activities.
The "fan support culture" of these fans did not merely include the promotion of the albums, they have even gone on to overcome cross-border boundaries to do volunteer work. This fanclub raised 10 million won last February to donate to two social welfare organizations in U-Know Yunho's hometown, Gwangju, conveying 5 million won to each of them. They commented, "As fans, while wishing U-Know Yunho on his birthday, we want to share these congratulatory wishes with the children of U-Know Yunho's hometown, Gwangju." As soon as the huge earthquake in Eastern Japan last March happened, they even used the name of U-Know Yunho's fanclub to raise and donate 5 million yen (approximately 73 million won) through the Japanese Red Cross Organization.
Koto Kiyumi-ssi said, "Even before the K-Pop fever in Japan, U-Know Yunho has received love from the Japanese." Further, she continued, "The fate with the individual star extends to looking on at that country and that country's people. We've evolved so as to be able to look warmly at that country's people too."
Source: chosun
Translated by: CTVXQstaff_mug_ping @ ContinueTVXQ.com
Distributed by: CTVXQstaff_mug_ping @ ContinueTVXQ.com
Please Keep All Credits Intact, thanks.
Momma's Source: sharingyoochun.net
Share This