[Trans] 111119 A K-Pop Cafe Opens In Myeong-dong, The Heart Of Seoul
A K-pop attraction that recently opened in Myeong-dong, the heart of Seoul, has become a hot topic.
'Kstory' promises to provide a unique display of over 100 personal signatures from K-pop stars, as well as outfits and bags that the stars use on and off stage.
It isn't easy for overseas K-pop fans to see personal signatures from K-pop stars and 'Kstory' gives them the opportunity to see what the signatures of groups like Girls' Generation and KARA look like with their own eyes.
'Kstory' provides a variety of attractions. Korean albums, which are hard to find in Japan, are sold at inexpensive prices. With these albums costing a third of what fans would pay when buying Korean albums in Japan, it would be smart to visit this store to stock up on CDs when visiting Korea.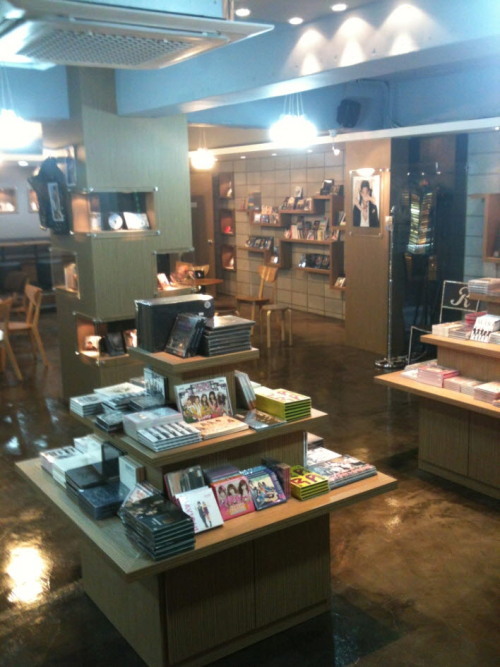 Fans will also be able to purchase all DVDs that are being sold in Korea. The owner of this store has worked as the manager of many celebrities for over twenty years and is Gang Chan, the CEO of Chani Music. Hallyu stars visit 'Kstory' often as he is friends with many of them. If one is lucky, one may even be able to bump into their favorite star during a visit.
As the store has become a place that is often used by Korean reporters when interviewing singers, fans may also be able to see stars sharing intimate stories with these reporters.
One corner of the store is a cafe so fans will be able to enjoy a variety of caffeinated drinks in comfy seats. Fans may find themselves sharing a cup of coffee with a famous star and can take a breather while watching the music videos that are playing.
img src="http://jyjfantalk.com/wp-content/uploads/2011/11/kpopcafe1.jpg" alt="" title="kpopcafe1″ width="500″ height="280″ class="aligncenter size-full wp-image-11581″ />
Currently, over 100 limited edition CDs with personal signatures from stars such as Girls' Generation, Super Junior, KARA, JYJ, Wondergirls, 2PM, FT Island, 4Minute, Secret and After School have been set up around the store while accessories, personal items and stage outfits are also on display.
Source: [herald biz]
Translated & Shared by: dongbangdata.net
Momma's Source: sharingyoochun.net
Share This