[Review] 120928 The Unforgettable Night of SMTOWN World Tour III in Jakarta

The night of SMTOWN World Tour III in Jakarta started young; fans mobbed the entire area of the concert venue, Gelora Bung Karno a day before and more even joined in enjoy the concert from the outside for they held no tickets. This is the largest K-pop concert thus far held in Indonesia, and fans from all over the nation came to watch, more with their parent, or with a group of friends that shares the same passion through fanclubs.
This was truly a hard one for me, how could I ever encapsulate a night worth of tears, joy, happiness of all the audience present, who has literally fought their way through by purchasing tickets, flown to the city, and be welcomed by another mob of traffic, heat, and unsightly entrance? SMTOWN clearly has made its permanent mark that fans will be more devoted than ever to their favourites, and the new ones will come to appreciate and learn more in this new popular culture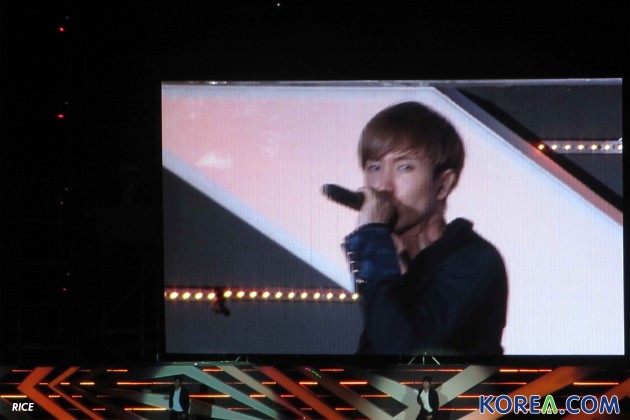 As scheduled on time at 6:30PM for the concert to start with no delay, due to the artiste's tight schedule for their same night flight.Colors of green, blue, yellow and red dominantly filled the dark evening; fans vigorously holding their light sticks to all the artists that appear – that didn't make any difference for the mega stage was prepared with lighting that spotlighted all over the stadium. Posters of all the SM Entertainment artists decorated around with the iconic SM mascot backdrop. Fans chanted all the names, chorus, took photos together, and shrieked to the videos playing. It was a stupefying sight for even before 6:30 strikes, everyone was in the greatest fever of K-pop, and nothing can stop the sporadic euphoria, even to people not at the concert nor venue, to need to know what was going on. I was part of it as soon as I was 20KM away from the stadium perimeters, a welcoming traffic jam of Jakarta thanks to the concert.
Aptly opened by f(x) 'Hot Summer', the weather in Jakarta was feverish and literally hot, they continued on with a warning of danger with 'Pinocchio'. The level of excitement was deafening with chants and fans, especially when Victoria wishes to return to Indonesia soon! On the other hand, Amber is truly a favourite among the stadium. Unfortunately, due to the SBS drama 'To The Beautiful You', Sulli was not present, and so becomes Minho of SHINee.
The SM director and former H.O.T. member Kangta swooned the crowd after with a ballad 'Remember', and everyong immediately lowed down their voices to enjoy the slow beat. He made the crowd go mad with his simple Indonesian greeting of "Hello indonesia! Selamat malam, saya Kangta… Mantap!" (Hello Indonesia, good evening. My name is Kangta… Super!). He returned the crowd's loud energy with 'Breaka, Shaka' before switching the stage with a trio collaboration stage of f(x) Amber, SHINee Key and EXO Kris of Far East Movement's 'Like A G6′!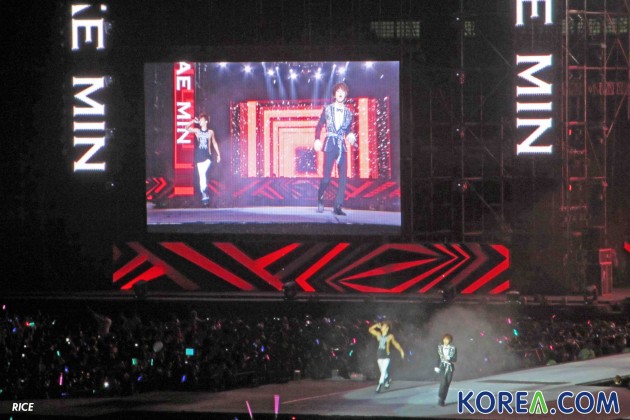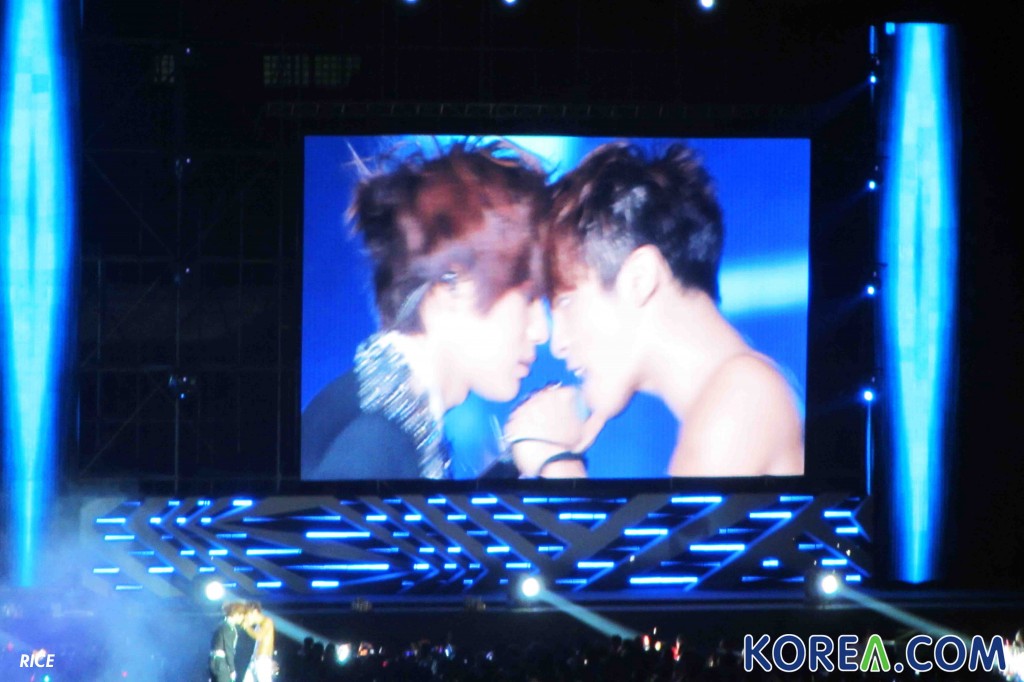 If anyone expects only performances within groups, prepare to view a different preparation for SM TOWN celebrates all the SM artistes within their company and to create special stages found no where else. So who had expected the beautiful sisters of f(x) Krystal and SNSD Jessica partied out with Katy Perry's 'California Girls'; TVXQ! Changmin and Super Junior Kyuhyun in Bruno Mars' 'Just the Way You Are' where a fan was invited to be serenaded by the two; TaeTiSeo trio 'DJ Got Us Falling In Love Again' featuring D.O, Luhan, Sehun, and Chanyeol EXO for a start. Even without vocals, Victoria and Tao did a Chinese dance featuring their talent of flexibility and traditional martial arts from China. The collaboration stages flutters all fans across the stadium and it was all unexpected!
The game was on for the new youngest group, EXO-K and EXO-M to perform their two powerful single hits, History and MAMA. They looked as in par like all the other seniors in SM, and showed their promising energy and power to continue on to the rise of the Hallyu wave with their two groups of Korean and Mandarin.Short but sweet, they greeted a little in Indonesian and the reaction was wild and positive. I look forward to their continuing powerful skills in the future and not only just two songs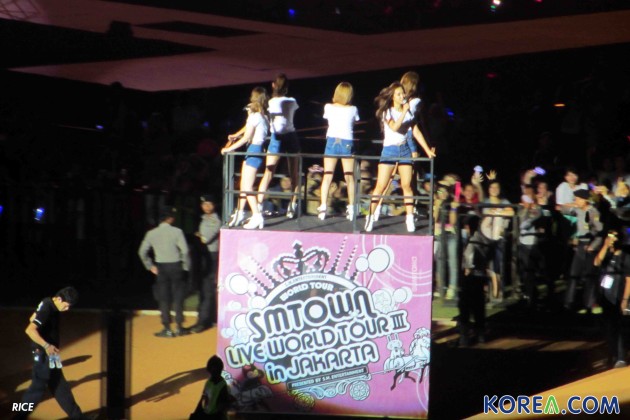 Taeyeon's 'Devil May Cry' mystified the stage in red and black, powerful once again as she presented on thie stage. SONE fans who had seen their Girls Generation Asia Tour will remember the same moment. Continued with 'Run Devil Run', all 9 members were clad in black leather jackets and sexy short outfits for a strong impression. Nonetheless, once the lights were up after their energetic performance, the crowd went wild when leader Taeyeon greeted "Kami dari So Nyuh Shi Dae!" (We are from SNSD!). The devil look might not be the best image of the girls because when 'Tell Me Your Wish' and 'Kissing You' came about with moving stage towards the main stage was prepared, the male fans were heard loud and clear.
Of course, Indonesia's most favourite group due to their recent venture of SUPER SHOW 4 earlier this year, garners the loudest cheer from all other 8 groups – Super Junior started with the duet 'Oppa Oppa' of Donghae and Eunhyuk in stellarly eye-catching costumes. Their other stage that reminds me of their concert SS4 with water fountains and elevated stage was recreated for 'Superman', still mesmerising, still beautiful to see, still thrilling to view all the members to slowly rise from below. The fans could not hold their excitement no more to continue on to watch their other hits of 'Sexy, Free and Single' and 'Bonamana'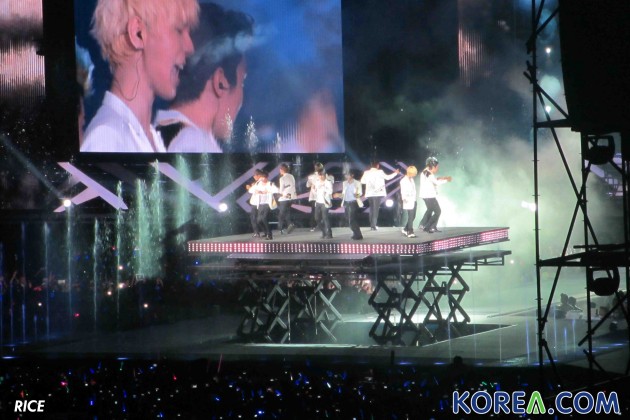 If that was only for a special group, birthdays are even more special where two SM members are having their birthdays in the weekend; SNSD Hyoyeon had been dedicated a special 'It's Hyours Day' banner project for ther birthday is on the same day as the concert, and SHINee Key was to have his the next day. Both had gotten the greatest love from their fans filled the stadium with the "Happy Birthday" song. This was a truly special feat only for the Tour in Jakarta! Both members looked bashful and thankful and said words of thanks, and Key speaking in English.
SHINee, despite the lack of rapper Minho, did not stop their elemental act with water dance splash with their songs 'Love Like Oxygen' featuring EXO Sehun to fill in Minho's shoes, 'Lucifer', 'Juliette', and 'Ring Ding Dong'. The final song from their latest mini-album, 'Sherlock', was the final five song that impressed the fans with their unique choreography. The duet everyone was waiting for was the appearance of main vocalist of the group, Jonghyun, to come topless and show off his built body with the youngest Taemin in 'Internet War'. Boy, did that shake the entire stadium up with the powerful metal rock rendition!
Those who are seniors in the K-pop scene since early 2000s will be ecstatic for the next performer, the best of Asia, BoA. 'Hurricane Venus' made a strong impact from the little dancer, and later with 'Only One', her own penned song featuring SHINee Taemin to dance, and 'The Shadow'. Known since she was still in her early teenager days, BoA talked to the audience and said that this was her second time coming to Indonesia. Her effortless cool style with a casual tank top and baggy pants for her powerful dance choreography proves her stability and image that she is not your usual idol.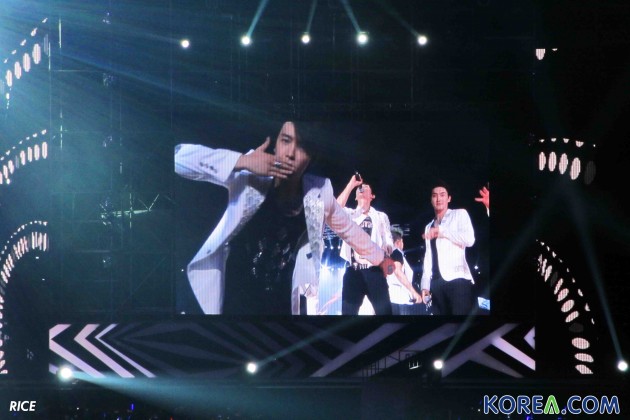 It was a night to remember where fireworks were shot, water fountains glittered the sky, and a lot of pink balloons was released to the sky, noting that the 4-hour concert was at its end. With the last song 'Hope', the entire SMTOWN artists came to say goodbye, running all over the stage and did more interaction with fans who had thrown them gifts and taking pictures together with phones and cameras. It was so hard not to not be seated as all the performances made myself want to jump up and stand to be able to see all things clearly and close while singing along to the performance. The magic of K-pop was brought just for one night that made a plain Saturday into a special one, and a leap of great heights for the entire Indonesian entertainment industry.
Thanks to MP Entertainment and W Productions for making a night in Indonesia a most historical one yet in 2012!
credit: en.korea
Momma's Source: sharingyoochun.net
Share This
credit: en.korea
Share This