Korean Handsome Man Kim Jaejoong Has Not Tried The Horse Dance Yet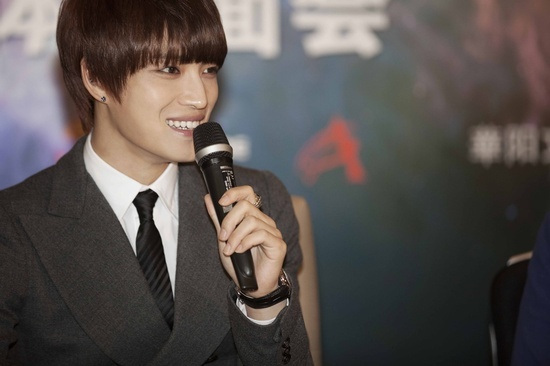 Photo Credit: PrinceJJ.com
Korean handsome man Kim Jaejoong has not tried the horse dance yet.
Last night the Nanjing Olympic Sports Center was so busy, what with the Chinese Super League's epic battle between Sainty and Evergrande, and beside that in the Arena, Korea's exDBSK-current JYJ member Kim Jaejoong held his fan meeting, where 5000-6000 fans from all over China spent 90 minutes with their idol. The recent hit [Gangnam Style] which swept across the world also raised the temperature for the Hallyu wave. In the press con in the afternoon, when asked about the hit song, this model korean flower boy couldn't help but smile and said " Although I have not tried yet, but my manager dances the horse dance often. "
26 year old Kim Jaejoong debuted in 2003 and rose to fame as a member of DBSK, after 2010 he is active as a member of JYJ. Similar to Jiro Wang, they are both singers-turned actors. The roles he played in [Dr Jin], [Heaven's Postman], [Jackal is Coming] have conquered a massive number of fans. Last night's fan meeting has attracted five to six thousand fans. Kim Jaejoong sang two solos LIVE, played interactive games with fans, and within the 90 mins of the fan meeting there was nonstop screaming from fans.
Recently in these two years, China and Korea's dramas have been frequently using time-travel as a theme, and Kim Jaejoong's [Dr Jin] also involves time travelling. When asked if he has a choice, which era he would most want to time-travel to, he smiled and replied " Time-travelling includes to the past and to the future. Actually I would want to travel to the future, because I really want to know what the future holds. "
Online Source: news.xhby.net
Translated by: LovingJYJ of JYJ3
Shared by/Our Source: DKPopNews.net]
Momma's Source; dbskalways.wordpress.com
Share This